Santa Betty - A Craven Danger Mystery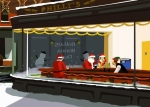 Fri, 13 Dec 2013
The December night was cold and snowy as the street-corner Santa's stood watch over their collection buckets and wished the bustling passersby a Merry Christmas.
Betty Danger adjusted her Santa hat and began ringing her silver bell.
"Merry Christmas!" she said. "Throw somethin' in the bucket and you won't walk away feelin' so ashamed of yourselves for ignorin' the less fortunate! C'mon, mister! Throw some nickels in the pot! Don't go wastin' 'em on the bartender! And, besides, ya wife's gonna be pickin' ya pockets in the mornin' anyway, after she sees how soused ya got the night before! Save her the trouble and give it here! Ya might just get home sane and sober! And wont't that be a suprise to the ol' lady! Maybe you'll even get a smooch or two!"
"Hey, Mom!" said a boy of about five. "That Santa hasn't got a beard!"
"And she ain't ever gonna have one," said Betty. "At least not until I'm my Gramma Emma's age. She's gotta shave every mornin' or Grampa Joe don't let her outta the house."
"Betty?"
Craven Danger stepped out of Sidney Green's taxi toting a shopping bag full of presents.
"Hi, ya, Mr. Danger! Ya finished ya Christmas shoppin' all ready?"
"Yeah," said Craven. "But whaddaya doin' outside the apartment with the bucket? And what's with the Santa suit?"
"I joined the Salvation Army, Mr. Danger. Only I ain't gotta go to war. I just gotta hustle and shame some tight-wads outta their piggy bank money. And I ain't leavin' till this buckets full. Ya'd be surprised at how generous people can get when  they're bein' humiliated in public."
"I'll bet," said Sidney. "That's the same system I use for getting tips from cheapskates in the taxi. And sometimes I'll give FDR a little nudge and he'll poke his nose into the back seat and give them passengers a little growl. People get very generous when they think they ain't gonna make it out alive. Then sometimes they give me extra money just so I stop talking."
"I'll give ya two bits if ya stop talkin' now," said Craven. "You ain't stopped yappin' since we left Macy's department store a half hour ago. And I'll tell ya somethin' else, Sidney, my ears are now ringin' louder than any of these street-corner Santa bells."
"Oh, boy!" said a girl of about thirteen. "Look at all those shiny presents! You must be rich, mister."
"Where? Who?" said Craven.
"I think she's talking about you, Mr. Danger. You looked like ya spent a pretty penny on all them presents."
"What? These? Nah. You can make anything look good if you dress it up right. I just got a few little things to stick under the tree. Mostly for you, Betty. But next year I'll need two taxi's to drag home the load a things you'll be getting."
"I wouldn't go countin' them chickens before they scratch, Mr. Danger."
"That's hatch, Betty," said Craven. "And I'll be hatchin' plenty come next year."
"Did I just hear you're gonna lay an egg, Mr. Danger?" said Sidney.
"I gotta learn to keep my trap shut," said Craven. "I really do."
"What sort of things did you get her, mister?" said the girl.
"It's a surprise," said Craven."
"Go on, Mr. Danger, tell her," said Betty. "I'll put my hands over my ears."
"Well, all right. If I must know. You see, it's like this little lady. I got Betty some sweet looking gloves and ear muffs. They look like they were taken from a leopard, but they weren't really. And there's a matchin' scarf and hat that goes with it. She's gonna look real sweet and warm walkin' around in something like that. I can't wait till she sees it."
"Wow," said the girl. "What I wouldn't give for something like that. All I ever get are hand-me-downs. And nothin' ever fits right."
"No?" said Betty.
"Hey! I thought you said you had your hands over your ears!" said Craven.
"I cheated," said Betty. "I'll tell ya what, little Missy. I could use a little help here at the bucket. My arm gets so darn tired ringing this bell. So if ya were ta help me ring the bell, I'd let ya wear them things right now. But only when ya with me. Ya can't take them home. I don't think ya folks would understand."
"Just give me that bell!" said the girl. "I'll show you some ringin'!"
"All right, Mr. Danger. Hand it over."
"But, Betty, these are for Christmas!"
"Well, Christmas is coming a little early this, Mr. Danger. Now start unwrappin'."
So, as the jingle bells tolled and the snow swirled all around the brightly lit city, Santa Betty and the little leopard girl stood curbside and sang songs of joy and peace.