February the 29th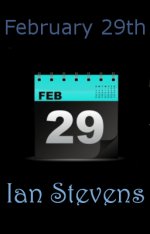 Sun, 26 Feb 2017
Light spilled through the crack in the curtain, bright, intense, catching the motes of dust that swirled in the air.
Toby stirred.
Eyes still closed, he stretched, legs uncurling slowly, arms raising from beneath the covers, palms flattening against the headboard as his spine cracked once, twice.
He rested again.
Contemplated sleeping some more.
Got up instead, though quietly, careful not to disturb Laura, still sound asleep.
Not today.
Five years together. A long time, by anyone's figuring.
He paused.
Looked down at her.
Smiled to himself.
She's sweet, he thought, moving again, away from the bed.
In the kitchen, darkness still held.
He opened the blinds, allowing the day to shine through, surprised at the sunshine.
Pleased, too.
Perfect, he thought.
Eggs in the pan, bacon under the grill, mushrooms chopped and ready for the oil.
It wouldn't take long.
Movement, now.
Upstairs.
Laura, preparing herself for the day. Dressing table first, to run a brush through her long, blond hair. Toilet, for the necessaries. Cupboard to claim the costume for the day.
He smiled at his own thoughts.
Costume? Made her sound like a clown.
She was many things.
But not that.
He flipped the bacon over, adding two tomatoes to the grill tray, both chopped in half, all four pieces turned flat side up, the spherical base resting between the slats.
'Keep still,' he instructed them as he pushed the grill back into position.
Arms encircling his waist.
He hadn't heard her approach, his concentration taken by the food preparation.
'Morning you,' she said, sleep still heavy in her voice.
'I tried not to wake you.'
'I know, but you're like an elephant. A well-fed elephant.'
'Oh yeah. You calling me fat?' he teased as he cracked a couple of eggs into the frying pan alongside the mushrooms.
'A well-fed elephant that hasn't done a stroke of exercise in…oooh…..twenty years.'
'Twenty years, eh? He must be a ghastly sight.'
He felt her hands on his buttocks, cupping, then kneading firmly.
'Great rolls of flesh hanging off him,' she said, trying her best to pinch some excess flab as she did so, failing in her effort, for there was none to be found. 'Like a Jerry Springer guest.'
'Now you've gone too far,' Toby said, spinning round suddenly, catching her off guard, pulling her toward him.
Lips meeting.
Lingering.
Eyes closed, denying any sensation save the warmth of the other.
'Hungry?' he asked as they parted.
'Starved,' she confirmed.
They ate.
The engine purred quietly as they pulled up at the traffic lights, first in line.
Laura watched the lights, though without any sense of impatience.
The lights began their sequence, red-amber, then green, and Toby pressed gently on the accelerator.
Guided the car.
Didn't force it.
No rush, after all.
Too nice a day for that.
Pleasant company, too.
Why spoil it with hurry and stress and rush and anxiousness.
A horn blared from behind, indicating others were in far less tranquil a mood.
'They'll have to wait,' Laura said absently, reading his mind.
'Why do people have to be so rude? Toby asked.
'They don't know any better, is all,' she replied earnestly.
'They'll die young.'
'Perhaps that's what they want.'
He nodded, pleased with the notion.
Onto the dual carriageway via a filter road, Toby took care to take in his surroundings before coaxing a little more speed from the vehicle, pulling into the outside lane.
'Nearly there.'
'How much is it?' Laura asked.
'More than you'd think. Thirteen pounds each.'
She clicked her tongue against the roof of her mouth, as if impressed.
'Thirteen? I suppose it's worth it.'
'It's for a good cause.'
She paused before replying.
'How do you know?'
'I don't. It's just what people say.'
'So why did you say it?'
'Just practicing.'
Silence.
Comfortable.
Warm.
Perfect.
The car veered suddenly, a dull, muffled 'whuuump' a split second before the motion the only warning given, and Toby gripped the steering wheel tightly, suddenly panicked.
'Whaaa…..?' Laura managed, but it did not help the situation at all.
The vehicle skewed across the road, out of the fast lane, plunging to the left, straight across the inside carriageway, Toby thankful that his speed had not been excessive and that nothing was in the way.
Slowing.
Gradually, control regained.
Hazard lights activated.
Pulled up onto the grass verge, two wheels on the road, two on the greenery, obstructing as little of the inside lane as possible.
Toby scrambled from the car.
Trembling.
Laura beside him, holding onto his arm, comfort for both of them.
'What was it?' she asked, this type of vehicle unfamiliar to her.
'Look.'
He pointed at the front left tyre, torn to shreds.
'Puncture.'
'You did well,' she said.
'We were lucky.'
'Can we fix it?'
'I'll need help.'
'So primitive. You inspire me'
He moved her arm from his.
Went to the rear of the vehicle.
Held out a hand.
Waved it.
Signalling the other road users: Citizen in distress. Please help.
Twenty minutes.
Nothing
Then, a saviour.
Middle aged, he pulled up behind their stricken craft and clambered out, a frown etched across his features, which seemed jovial all the same.
'Spot of bother?' he asked redundantly.
'Puncture,' said Toby simplistically, pointing to the damaged front tyre.
'You got a spare?' the stranger asked.
'A spare what?'
'A spare umbrella' the stranger said with a smile, before clapping Toby around the shoulders. 'A spare tyre, man. What do you think I mean?'
No malice, just good humour.
Toby liked him.
Needed his help.
He couldn't fix something like this by himself.
Not here.
'Where should I look?' he asked, bringing a strange glance form the stranger.
'Pop the boot.'
Toby did as he was asked and, after a brief struggle and the occasional grunt, the man came back to the side of the car, rolling a spare tyre before him.
'Wow,' was all Toby could manage.
'Don't mention it. Just get me a pint one of the days,' the stranger said.
'Will do. What's your name?' Toby asked.
'Nigel. Pleased to meet you,' he said, offering his hand, which Toby took dutifully, pumping once, twice, three times.
'Toby,' he felt obliged to say.
Didn't know why.
Releasing the hand.
Staying where he was.
Resisting the urge to wipe the palm of the hand clean.
No need to be rude.
He was here to help.
But he could feel it, all the same.
The residue.
The contact lingering.
Oils.
Bacteria.
Who knew what else?
'Can I do anything?' he asked.
A distraction, really.
'Just watch and learn. You really should be able to do this yourself, you know.'
Again no malice, just earnest sentiment.
Toby nodded.
'I am foolish,' he concurred.
The man did not react, if he had even heard at all.
Pumping the jack.
Hoisting the car into the air.
Wheel nuts, now.
Such efficiency in his movement.
A practiced hand, clearly he had done this many times before.
'You've clearly done this many times before,' said Toby.
'Once or twice,' Nigel acknowledged wryly.
'Is that all? Well, you are very good at it.'
Again, the odd glance.
Had he said something wrong?
It was so hard to judge.
The wheel came off easily, and Nigel had the replacement fixed in two minutes, no more.
He stood.
'That's all there is to it. Give me a call if you ever need help in the future. Even a bit of tuition. My rates are good.'
He handed Toby a card from his wallet.
Toby glanced at it.
Noted the telephone number.
Not so charitable after all, he thought, wondering why Nigel was still lurking.
The pint?
Money.
He wanted payment for his service.
Embarrassed, Toby reached for his own wallet.
'I've only got this,' he began, pulling a five pound note out.
Nigel shook his head.
'No need. Call me. We'll go for a pint.'
'Ok,' said Toby, knowing already that the call would never be made. It would just be too….weird.
'You're not just saying that are you?'
He did not know how to react.
Then Nigel laughed.
'Just kidding. Call if you want. No worries if you don't.'
And with that, he was away, back to his car, out onto the road and onwards, into his own life.
They climbed back into the car.
'Nice man,' said Laura.
'Yeah. I wonder why.'
'It does happen.'
'Normally for a reason.'
'So cynical.'
'They're different to us, Laura.'
He started the engine, and guided the vehicle back onto the carriageway.
The day was hot, the sun reddening their faces. Laura stooped, slipped off her shoes.
'How reckless,' Toby observed.
'Natural,' Laura replied.
The concrete beneath her feet was warm. A pleasant sensation. One she had not known for a long time. Not since home.
'What's this one? Toby asked as they approached the cage.
'These ones,' she corrected. 'African Hunting Dogs.'
'Sounds scary.'
The enclosure was large, dotted with huge logs, medium height grassed areas and assorted shelters. A climbing section was also provided for the animals.
'Lycaon pictus. Vicious beasts, apparently.'
Toby nodded, impressed with the description.
The nearest to them was some three metres away. Mottled brown and black, its appearance was scrawny, seeming underfed, though that could not be the case.
Not here.
Large ears, with black rounded ends jutted straight upwards from either side of its head, and it turned baleful amber eyes in Toby's direction.
'Gives me the creeps,' he said.
'It's just wondering who you are.'
'And how I might taste.'
'Do they eat live food?' she wondered aloud.
'Not sure.'
'They look like scavengers to me.'
'Hard to say. We've got nothing to compare them to.'
'True.'
They watched for several more minutes, though the animals were docile, barely moving, save for an occasional scratch, or to flick away an overly inquisitive insect.
'Next.'
They walked an adjacent enclosure.
'Humboldt Penguin,' he was informed.
A colony of no more than twelve, the penguins were scattered around a pool too small for their usual habits.
'They're silly,' Toby said, watching as one waddled up the gradient from the pool to dry land.
'This isn't their home,' Laura said, by way of an excuse. 'They should be roaming the Southern oceans, not cooped up in a zoo.'
'Would they be any better off?'
'Well, how do you feel?'
'I'm not trapped in a cage.'
'Are you so sure?'
'At least I chose my own prison.'
'We both did.'
He took her hand.
Turned her way.
'I'm glad.'
She smiled.
'Now you're being silly.'
They continued to explore.
The rattle of glass against glass.
The low drone of conversation.
The aroma of freshly cooked food.
Toby poked at his meal with his fork, not sure where to begin.
'Don't you like the look of it?'
'It looks fine. Just never had it before.'
'What's it called?'
'Bangers and mash.'
'Sounds Welsh.'
'Maybe it is.'
On cue, a member of bar staff passed by their table.
'Excuse me,' said Toby politely. 'Is this Welsh?'
'Is what Welsh?' the man replied, kindly.
'The food?'
'Welsh? I don't think so. I can check if you like.'
'Please do.'
Laura watched him from across the table, a smile in her eyes.
'So inquisitive.'
'We're here to learn. It might be important.'
'He just thinks you're weird, you know,' she teased.
'I don't think so. He seemed very nice.'
'How do you decide?'
'Decide?'
'Yeah, who's nice and who's not. Earlier you said people were only nice for a reason. Well, what's his reason?'
'Maybe the money.'
She frowned. 'He's only nice because he's getting paid.'
'I've seen it happen.'
'What a sad world.'
'I'm beginning to think so.'
The waiter returned. 'Well, sir,' he began, before Toby interrupted with a raised hand.
'I'm not sir. I'm Toby.'
He lowered his hand.
Nodded his head, encouraging the waiter to continue.
The waiter seemed briefly flummoxed.
'Erm….ok…erm….Toby…'
He said the name more quietly than the other words, as if he did not want anyone else to hear.
'Will you get in trouble?' Laura asked.
'Trouble for what?'
'For calling us by our names. You can call me My Lady if it helps. Or Laura. It's up to you.'
'No,' the waiter said, seeming unsure of himself, clearly perplexed by the direction the conversation was taking. 'It's OK to use customers' real names.'
'Oh, it's not my real name.'
'Erm, OK…' he said again.'
'Sorry. Back to the food.
'Yeah,' he said, obviously relieved to return to familiar territory. 'The sausages are from Cumberland, made using 100% locally sourced pork, and a selection of herbs, including sage and thyme. The potatoes are grown here in The Midlands, and so are the onions. No Welsh produce. 100% English, I'm afraid.'
'Thanks. Of what?'
'What….of what? What?'
The waiter stumbled over his words, possibly on the point of impatience.
'What are you afraid of? And why are you getting angry?'
The waiter frowned. 'I'm not getting angry, Sir….erm…Toby. I'm not. And I'm not afraid of anything.'
Toby nodded, eyebrows raised.
'Impressive. A warrior, eh?'
'Excuse me?'
'Only a warrior makes such a claim. Where we come from, anyway?'
'I'm sorry?'
'Fearless, he strides into the night, knowing nothing can harm him.'
It was Laura speaking, now, and the waiter looked from one to the other, his face softening, tone mellowing, clearly under the impression that he was dealing with a pair of lunatics.
'The food is excellent, I hope you'll agree.'
'Haven't touched it yet. The smell is certainly unique,' said Toby.
'I'll pass your compliments on to the chef,' the waiter said, turning on his heels, eager to be away.
'Thank you, oh fearless warrior,' Laura said to his retreating back end, before looking at Toby.
'You're right. He was nice.'
'Why are we buying this?'
'Sshhhh,' Laura instructed. 'It's what they do.'
'It's not even food.'
The concession stand attendant returned, a large tub of popcorn placed on the counter in front of them, along with what seemed to be a gallon of Coke.
'£9, please,' she said, smiling.
Laura reached into her purse.
Paid.
'Enjoy the film.'
'Thank you.'
They grabbed a container each.
Laura ensured she got the popcorn.
Nibbled as they walked.
'It may have limited nutritional value, my dear Toby, but it certainly tastes pleasant enough.'
Toby reached over and took a few pieces.
Popped them in his mouth.
Grimaced.
'It's like Stesa-foam.'
Mmmm. Stesa-foam with butter.'
They reached the ticket inspector.
Showed him their stubs.
Passed through, another 'Enjoy the film' sending them on their way.
'They are very polite,' Toby said.
'I like it,' observed Laura. 'It's like they are children trying to please an important adult.'
'We are important, at least. Well, I am anyway.'
Laura elbowed him in the ribs, almost causing him to drop the drink.
'Infant,' he said.
'Human,' she countered.
They reached the double doors to their screening.
Pushed through.
Found seats.
Laura ate.
Toby drank.
The lights went down.
The adverts and trailers played.
Talking all around.
The trailers ended.
The title card came up.
Die Hard 7.
'We missed the first six,' Toby whispered.
Laura giggled.
The room hushed.
A few coughs.
Rustling of wrappers.
A sneeze.
The film began.
'That was great,' Toby said, the road ahead clear, the hour late.
'Lots of shouting.'
'Is that a bad thing?'
'I don't like shouting.'
'It wasn't real shouting. They're actors. That's all.'
'It changes the way I think.'
Toby glanced across.
'How?'
'Makes my head go all fuzzy. Makes my eyes ache.'
'You should have said. We could have left.'
'You seemed to be enjoying it,' she said.
'I was.'
'It's why I suffered.'
She paused.
'I suffered for you, Tobinek.'
'That you did, Lorindis.'
'Remember it.'
'Always.
They sat on opposite sides of the bed, both shedding their clothes.
Naked, now, they stood.
Turned towards one another.
'How do I look?' Laura asked.
'Like you were sculpted from something glorious, at the hands of the finest artisan. Me?
'Like you were carved from the most precious of stone. Perfect in every regard.'
They climbed into bed beside one another.
Took each other's hand beneath the sheets.
'Have you written your report?' asked Laura.
'I have.'
'Have you sent it?'
'I have.'
'What did you say?'
'Just five words: It's been a lovely day.'
'Brief. But accurate.'
They closed their eyes.
Other shorts and full lengths at: http://smellthewriting.blogspot.fr/