Cáfe Cold War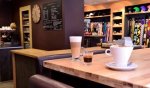 Tue, 18 Aug 2015
There's a thing that happens in high-street coffee shops. There is this animal panic that flashes over people's faces when they walk into a busy coffee shop and find that there are none of the comfy seats available.
It's amazing.
These places often follow a similar layout; you've got the straight up hard wooden chairs in the middle of the room and then somewhere out on the periphery, usually tucked away in a particular corner you have the comfy chairs, the sofas, the armchairs. The prize.
Your customer walks in, usually it'll be a couple or a group and immediately they implement a battle plan. They will often do this without even having to speak to one another. They don't need to, these people veterans and each member of the group knows his or her role. The first thing they do is send out a scout on reconnaissance to look for comfy seating. While that's happening the other person or persons in the group get busy securing a position in the queue, ready to order the drinks.
But wait! It's so busy, all the comfy seats are taken. What now?
At this point things become tense and a state of alert is reached. Everyone is in the same boat and they all employ the same tactic. In lieu of sofas or plush armchairs they settle instead for one of the tables with the hard wooden chairs but watch them carefully and you'll see a stiffness in their posture; like cats ready to pounce.
They'll chat casually, pretending not to mind the harsh wooden surface of the cheap seats. They'll laugh and they'll joke, sipping nonchalantly at their skinny, wet soya lattes but don't be fooled; these people are sleeping with one eye open. They've an eye on the prize at all times, watching the comfy seats for even the smallest hint of departure and ready to launch at a moment's notice should someone leave.
It's a stand-off; each one of them a steely braced comrade engaged in a coffee shop cold war.
And this is where I come in.
I use coffee shops for writing. I find the coffee and the background noise helps me concentrate and to be perfectly honest if I'm going to be sat writing for any length of time, I prefer to be sat on one of the hard wooden chairs. I just leave the comfy chairs for those who care, plus the hard wooden chairs are better for my posture when I'm bent over a laptop for hours at a time.
But sometimes, if it's busy and there's one free, I'll take a comfy seat and that's when my fun begins. It's like fishing. You wait long enough and you'll get a bite and then it's just a case of reeling them in.
I'll be sat at my laptop, enjoying my coffee and typing up something incredible when it starts to happen. I can feel their eyes on me. That's when I know I have them. They're watching me, trying to figure out how much is left in my mug, trying to work how much longer I'm going to be and whether or not they need to be ready to move in at a moment's notice.
Worth noting at this point is the fact that although I'm usually on my own one, it's not enough for people to take the remaining available seats next to mine, they need the whole table. They don't want someone else sat at their table, encroaching on their personal space with a hairy face and a laptop. For all they know I'm, probably looking at weird porn and imagining them naked. I'm not for what it's worth, but people always assume the worst.
So I sit there in my comfy seat, table all to myself and I wait a while. The atmosphere thickens and ferments with anticipation and I begin.
I'll shift in my seat a little.
I watch their faces.
I stand up, trying to look as though this might be it. Two or three tables nearby look anxious; who's going to be first? Will there be an awkward stand off? One lady nearly spills her half-shot macchiato down herself she's wound up so tightly.
I sit back down. They deflate. Visibly. It was a false alarm.
I stand up a second time and start putting laptop in my bag. The tension is palpable and this time one of the besiegers actually stands up to make the move. In the corner of my eye I can see she's moving this way and her face is taught but her eyes are dead. There's no consciousness in what she's doing, she's acting purely on ancient hunter instincts and adrenaline. It's all or nothing now. She's tries to reign it in a little, look casual about it but good God, she wants those comfy seats. It's so important she sit in one of those coveted chairs. Then she can finally relax and look down on everyone else.
These aren't simply comfortable sofas and plush armchairs, these are tastefully upholstered status symbols.
I finish packing my laptop away and by this point she's almost on top of me. Then I take out a book and sit back down.
It was all for nothing. She gambled for the pot came away with nothing. The manoeuvre was a risky one and it hasn't paid off. Worse still she has given away her position to her rivals in the room and they all know now that she's a threat. She has shown her hand in a bold gambit and it was all for nought.
She walks back to her table trying to look nonchalant but she wears all the signs of an embarrassing defeat, despite herself.
I pretend to read my book in peace but I wear all the signs of petty victory, despite myself.