12. Krabi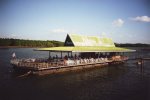 Fri, 09 Mar 2012
30/12/02: Bus to Krabi Town; book into Chao Fah; eat at Pizza Firenze; drink at Old Western Bar with a guy called Egg; nightcap at O'Malleys Bar.
31/12/02: Raining. Watch the Discovery Channel and drink lots of coffee; Mark And May's for lunch; return to guesthouse to write; phone home and talk to my father; eat grilled fish and chicken with the guys back at our guesthouse; return to Old West Bar to see in the new year.
Krabi lies on the Mae Man Krabi (Krabi River) and, to the northeast, tree infested limestone rocks protrude awkwardly from the aquatically severed Koh Maew. Like sheered lead, their naked sides appear to be slowly succumbing to the inevitable tarnishing of oxidisation, as if a huge knife had been used to cut down into the formations to remove wedge shaped chunks of rock. The town is lively but not hectic, benefiting from a lack of any obvious centralisation, and the Old West bar is run by the coolest cowboy in town.
After two nights spent recovering from our island milieu we were off again, this time to Krabi on the western seaboard. Finding our way back to the bus station was straight forward enough. In places like this the staff at reception will often sort these things out for you, if you ask, lumping you in with other departing guests following similar agendas.
This journey was to be briefer than the last – a couple of hours at most – although Krabi's terminus was even more remote than anything we'd witnessed prior, adding a good half an hour to the total journey – maybe more if one factored in the time we spent browsing the local tourist information on offer.
I was beginning to develop quite an enthusiasm for reading, an interest that had been on the wane ever since I'd left university (not that I'd ever read inveterately). After completing The Old Man and the Sea within less than two days, I'd inherited John Grisham's The Client from my companion, who had in turn exchanged it with M for something else (possibly Are You Experienced) back in Haad Yao. I wouldn't normally read books of Grisham's ilk, but The Client had me hooked and helped kill a profusion of time on some of our longer hauls.
In fact, I thoroughly enjoyed being driven around the Thai countryside, especially in the public buses or bigger VIP coaches (I found the smaller minibuses to be crewed by humourless churls): this despite the renowned recklessness of the participating drivers and the speeds at which they travelled. You heard terrible stories, of people falling asleep behind the wheel, of head-on collisions and real fatalities. Nothing can distract a Thai with a vehicle from their mission, and if they find themselves stuck behind a lorry they will commit to overtake, no matter how exiguous any oncoming traffic renders the opportunity.
Chao Fah Bungalows has upped the standard of living a bit. Despite their low ceilings, the rooms are really rather pleasing. I probably wouldn't have bothered with the net curtains, but it's something I can overlook.
We're not paying a huge amount either, but then Krabi Town's that sort of place: most of the people here are either on their way out west – perhaps to Phucket or Koh Lanta – or they might about to head south into Malaysia or north towards Bangkok.  We're heading west, although not as far as Phuket. We'll be satisfying ourselves with a short stay in Ao Nang. Before that, we'll loiter for a few nights in Krabi town, if only to see in the New Year.
Pizza Firenze really looks the part and I am grateful for its European ambience.
I love the weather out here in Thailand but it would be quite nice to need more substantial attire once in a while. I am a little sick of wearing shorts and T-shirts, for the most part (I wear my shirts from time to time), and the frequency of the showers has forced me to favour my Converse over my desert boots, which I'm not happy about at all. What I would really like to do is pop back to England for a few days, just to give my wardrobe an overhaul and maybe find a nice, dark pub to while away an evening in and re-appreciate what it's like to feel the cold. Then I would return a few days later, rejuvenated with a renewed sense of purpose.
So Pizza Firenze is good place to be, but I feel terribly under-dressed. I can begin to understand why living out of rucksack isn't for everyone.
Trang wasn't the source of abnegation it was supposed to be; I'd drunk far too readily, there could be little doubt about it. I instantly felt more relaxed in Krabi – the visible presence of Japanese tourists can have that effect – but there was this thing called the Old Western Bar. Run by a cowboy booted, jeaned and shirted man of impeccable manners, it was very hard to say no to just one more drink there. And up the road there was O'Malley's Bar showing football, which possibly tapped into that whole Pizza Firenze/European thing that I had lingering in me.
On the first night I exhibited some degree of self-control but the following evening – New Year's Eve – I showed no such form, bonding with a local guy called Egg, who seemed content to drink with us for as long as we liked. But I was eating well and I'd finally managed to telephone home, although my mother wasn't in at the time which would mean I'd have to try again sometime soon, a hassle and expense I could do without. (Long distances phone calls suffer a terrible time delay, so trying to have any sort of meaningful discussion is almost an exercise in futility.)
Krabi Town was charming in a sedentary sort of way. It sat on a river – or river mouth – similar in substance to that in Surat Thani, and with a monastery nearby, a neat bit of landscaping up against its walls. The town centre appeared to be made up of nothing but hardware stores, with just a sprinkling of bars and cafes but little else to occupy one's time. This was a shame because after our brief stays in Surat Thani and Trang I was itching to put down roots for more than just a couple of nights, whilst simultaneously avoiding the sort of environment that might encourage excessive drinking. The dilemma I found myself trapped in, then, was that the most exhilarating destinations encouraged drinking and provided ample means by which to do so, whereas the more ostensibly pointless locations offered nothing to do but drink.
01/01/03: Catch a songthaew to Ao Nang and finally book into Hillock Bungalows, on a hillock. Buy a copy of the Bangkok post and stay in, sheltering from a violently protracted storm. No beer, early night.
02/01/03: Discover Jinda, a not particularly attractive looking establishment, but the food's great. Drink at Sea of Love, then drinks on the 'west side' of Ao Nang. Quick drink at the Midnight Bar, play some Jenga, then back to the Hillock to play cards.
03/01/03: Return to Jinda for breakfast – weather very hot; beach and Bangkok post; dinner at Welcome; drinks at Sea of Love and Cheyana; back to the Hillock to play cards.
04/01/03: Jinda for breakfast (if it ain't broke…); Nosey Parker Elephant trekking; dinner at Beach Garden; drinks at Full Moon and Sea of Love; back to the Hillock to play cards.
Pressed against the Andaman Sea, Ao Nang's main drag is dwarfed by a huge limestone formation that behaves like some sort of precipitous vacuum, as if a huge extractor fan has been installed on its peak dehumidifying the resort of any unwelcome water vapour.
It feels like the end of the road but it's not as Phuket lies west-northwest and islands are further plentiful off the Andaman coast. Maybe it's the German families taking their winter vacations, or the plethora of rubber plantations that furnish the surrounding countryside, but probably it's because it's the last place to see before our return to The City that Never Sleeps.
After two days spent ingesting coffee with the guys at Chao Fah Bungalows, and drinking in the evening with the Thai cowboy who ran the Old Western Bar, we perched on the back of an over-crowded songthaew and made our way to Ao Nang. I knew little of this place other than it was supposed to have a pretty beach and was want to attract those who liked to indulge in more vigorous activity, such as scuba-diving or rock-climbing. I was interested in neither. Further, it suffered by association from being in the general direction of Phuket, of which I had heard nasty things, like it was a kind of Koh Samui but on a grander scale.
The truth of the matter would be somewhat different.