24. Siem Reap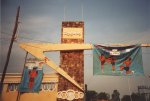 Mon, 27 Oct 2014
20/02/03: Boat to Siem Reap; book into Victory Guesthouse; go for walk with O and colleague – stop for drinks at Red Piano and Green Garden; find the others at Green Park; have dinner at Lucky Crab, followed by drinks at Angkor What?.
The journey up the Tonle Sap River to Siem Reap should have been a sublime experience. It passes through a lake of immense proportion whereupon about half way along you can look both port and starboard and genuinely struggle to identify the riverbanks. Stoked by the confluence of the Mekong it's comfortably the largest lake in Indo-China, yet it was spoilt for me by an act of pure folly. Somehow I had managed to lose a roll of camera film in Phnom Phen and it was on this journey that I discovered so. For solace, I would go on to purge my camera with images of tanks and various munitions at Siem Reap War Museum (although would have probably done so regardless). Russian T-54 tanks are abundant, along with an array of heavy artillery and small arms, and on the forecourt there's both a MI-8 helicopter and a Mig-19 fighter plane.
Yet this is not what Siem Reap is famed for: that's Angkor Wat and the surrounding temples, most dating back to the 1100s, which attract tourists in droves. Imposing, perfectly located amongst the sub-tropical flora, expensive, but a must see if only to throw into some sort of relief this country's more recent and vulgar past.
Herein lies the nexus of Cambodia. One cannot delve into this medieval spectacle without avoiding the all too visible aftermath of over 20 years of in-house fighting. Missing limbs, a reliance on foreign aid, and a bizarrely insouciant sense of humour all come together as a backdrop to this most unique of nations. Ancient ruins, contemporary horror, cool bars and the loveliest people… It may lack the scenery of its Indo-Chinese neighbour to the north but Cambodia's atmosphere is intoxicating.
The last two nights in Phnom Penh had ended up with me, my colleague and O playing copious amounts of cards. So intense was our gameplay that we'd even invented a new game to alleviate the repetition; a game we named Galaxie 500, a nod to a band and a genre of music that O and I both appreciated – the logic of it didn't stretch beyond anything more than that. There were no objections when it was mooted that it might be time to move our operations to Siem Reap. If I'd shown a little more enthusiasm then my colleague and O would probably have been prepared to leave a day earlier, but I had needed to pause for a while after a week of hit-and-run, and Phnom Penh had proved an interesting and suitable refuge.
You read things about this city and I imagine they could all be true. In Bangkok I'd slowly begun to enjoy taking a few chances and exploring beyond the obvious spheres of interest. Vientiane had me almost completely at ease. But In Phnom Penh? It's a strange place, its ostensible insouciance masking a gnarled edge: a place where tourists are drugged and mugged, and have even been known to disappear completely. Drinking in cafes, reading the local papers, I'd get the feeling that I was both respected and resented: respected because I had wanted to come here, but resented because I could afford to.
There are Cambodians whose homes are their peddle-driven taxis. Slap a mosquito net over the top and that's their bed for the night. Drift carefully passed these nocturnal cocoons and be careful not to disturb them. It could just have been our choice of location, but in Phnom Penh a lot of people hanging on.
And where were the other travellers? Up by the lake apparently, getting stoned and being bitten by mosquitoes. I preferred the idea of the FCC, although I never sought to test this supposition.
Phnom Penh's edifices are worthy of note: although the temples differ little from those found elsewhere in the region, the municipal architecture has a more Mediterranean edge, rather like in Laos, but on a grander and dirtier scale. I wished I'd dared to venture further. I should have hired a moto to show me the sights but I was wary of doing business in Phnom Penh.
My colleague and I have been travelling for a full three months now and I'm losing track on how much money it's costing me. I reason that it is best to take a pessimistic view, for fear I might run a little short in New Zealand. Despite this, it's agreed that we should take the more extravagant means of transportation towards our next, and final, Cambodian destination: Siem Reap. This works out at about $25, compared to the $4 or $5 it would cost by public bus. It should take less than half the time, though, and will sail up the Tonlé Sap River and across the freshwater lake of the same name, offering an alternative perspective on the Cambodian landscape along the way. It's always good to take the boat.
We sourced our tickets for our 07:00 charter the day before, scheduled to leave from a pier about 10 minutes' walk from our hotel. It is one of our earliest rises thus far, but the cool morning air makes it bearable.
I haven't really thought much about what will happen when we reach our destination but am forced into doing so by a young gentleman carrying a large mobile phone, who can arrange transportation from the point of arrival to the nearby town of Siem Reap. I suppose I'd thought that our vessel would dock somewhere in the centre of Siem Reap itself, but apparently it doesn't and I had no business assuming that it did. With this in mind, I see no harm in coming to some arrangement now and not having to bother with the competition at the other end of our voyage. Actually, I do see harm in coming to some arrangement now because this guy could be pulling a fast one, but I don't want to find myself in some bidding war the moment we set foot on land. After consulting with O and my colleague, we decide to take our chances.
I've not been sitting down for more than 10 minutes – long enough for the boat to have been freed from its moorings – when I realise I'm a cartridge of film down. I don't know which but assume it's the roll most recently extricated from my camera. I last changed film in the Cambodia's Royal Palace, and I remember struggling to find somewhere suitably shaded to action the exchange. Did I leave the spent cartridge there? Or did I leave a roll back at my room in Last Home? Either way, I'm beside myself – how could I have been so careless?  My journey to Siem Reap is not a happy one.
The views are a bit of a let-down too. Much of Cambodia is very flat and that's certainly true of the landscape bordering the Tonle Sap. The Tonle Sap is not just a river but also a lake. In fact, it's the largest fresh water lake in the whole of Asia – or at least during the wet season. When the seasonal rains fall, the Mekong becomes so engorged that it backs up the Tonle Sap to such a degree that it actually starts to flow in the opposite direction, almost as if it were a tidal entity. Consequently the lake increase four times in mass, from 2500 km2 in the dry season to approximately 10000 km2 in the wet. But the wet season has long since passed and the outlook from our vessel is partially obscured by the high river-banks that have been built up to withstand the variable water-level. It is only when we've reached the middle of the lake and the water's edge has all but disappeared from view, that I've any sense of wonder at all.
After a few hours we arrive at what doesn't very much look like Siem Reap, populated by a mass of hustlers, one of whom is holding up a sign with my name on it written in felt-tip. Our gamble has paid off.
The piers are too high in the water right now, and the local condominiums sit atop tall wooden stilts. Disembarkation is a tricky business and the only way off is to walk what is effectively a wooden plank. Then, like rock stars, we're mobbed. Three drivers have been sent to pick us up, so it's by moto that we'll be driving to Siem Reap. This will be my fourth journey sat on the back of a scooter and I'm beginning to thoroughly enjoy them. Even L appears quite relaxed, her experience back in Chumphon a distant memory now.
We want to book into a place called Green Park where we've been told Welsh L, K, F and G have taken up residence. Typically, our chaperons are a little reluctant to take us there, but they accede. On our arrival, however, there's no sign of our colleagues and nor does it seem like the sort of place they would want to stay in – the grounds are too well maintained, for one, and the staff don't look too enthralled at the prospect of any of us taking up residence. So we permit our drivers to take us to digs of their choosing – with the caveat that they take us somewhere else if we don't like them – which ends up being somewhere tucked down a dusty lane, called Victory Guesthouse. The rooms are clean and tidy there, and rates are good, so we agree that we may as well stay.
Our drivers are still keen to know how we intend to see Angkor Wat, which is a little presumptuous of them. Their line of enquiry gradually begins to make more sense when it becomes clear that they're offering to sell their services for the duration of our stay. They reason that it will be more convenient for us to arrange our travel to and from the temples in advance, that Angkor Wat covers such a wide area that it's not navigable by foot, and that they'll be able to pick us up from and drop us back to Victory Guesthouse whenever we please. I'd rather not have to make such firm decisions right now as I've not fully considered the ramifications, but can appreciate what they're saying, because we'll undoubtedly need regular transportation. Saying that, I don't think it's going to be too much bother finding conveyance to Angkor. Saying that, they think it will be and that we'll be over-charged for the privilege; fix a price a price in advance and they'll be at our beck and call. They need us to agree to this now, because if we're not interested they'll have to find their punters elsewhere. Christ, I hadn't even given a second thought to how many days we should give over to the temples, let alone when we might like to commence our tour of them. In fact, all I was looking forward to was a boozy evening to see off G, followed by a relaxing day tomorrow in recovery.
It is Thursday and we know we've got plenty of time to spare on our month-long visas, so we agree to commence our tourisms on Saturday – that way we can get the low-down off of Welsh L and the rest and dump our contract if we think it's overly balanced in our escorts' favour. Our tour of the temples will necessitate we buy either a three or five day pass, and we'll get a sunset thrown in with that, so that will leave us time to go someplace else before we buy our passes. How about the War Museum? You bet.
After a walk around the town, a drink in the Red Piano, and a closer inspection of our travel guide, we realise that there are two guesthouses with the same name and deduce that Welsh L, K, G and F are more than likely staying at the one we weren't taken to. We know that G has to be back in Bangkok by the weekend to catch his flight back to Blighty, so it is imperative we act quickly if we are to see him before he leaves.
We decide to take a chance on the other Green Park being the Green Park, dash home to change into fresh clothes and hail a tuk-tuk to take us across the river to where the real Green Park should be. It's probably walkable, but we're not aware of this at the time. And they are there, very pleased to see us, and we have a drink with them in the grounds of Green Park, and then look for somewhere to have dinner. We find a restaurant called the Lucky Cafe and somebody takes a photograph that will closely resemble the one that was taken when we ate pizza together in Phnom Penh – a rip-roaring image of decadence to reflect on, even cherish. I have the beef stroganoff with mashed potato. It's the best thing I've eaten since those curries at Nazims.
We then head back across the river and try out a karaoke bar, whereupon F enthusiastically struts his stuff, singing ABBA tunes to the assembled Khmer throng. It's hard to tell how this is going down with the locals, and so we decide to switch location to a bar called Angkor What? back over the river, a pun on the temple Angkor Wat (pronounced the same) located nearby. The walls are given over to visitors' graffiti, and I contribute P.A.F.C. to this scrawled medley. Everybody's in the mood (might even L have let herself go if she was still with us?) and it's a very auspicious welcome to the town of Siem Reap, tinged with sadness that G will be leaving soon, and the faint apprehension that my travels will never quite be this swinging ever again.
21/02/03: To Green Park to bid farewell to G; Lucky Café with O and colleague; random internet café; check out the local 'stadium'; FCC for dinner; cards at guesthouse with O and colleague with The Killing Fields being played on constant rotation in the background.
22/02/03: Breakfast at Aspire Café; go to local market to find sunglasses; trip to the War Museum; trip to the Khmer Rouge Monument and then to Angkor Wat to see the sun set; Green Garden for dinner; Laundry Bar, plus Welsh L, K, and F.
The next morning, hung-over, we walk to Green Park and bid G good farewell. Welsh L, K and F are staying for a few more days and we arrange to meet them for dinner at Siem Reap's FCC.
            The day is given over to nothing in particular. My colleague, O and I return to the Lucky Café for brunch, where they serve tomato soup – which I've been craving – but only cold. We then take a walk around town, check out the local stadium, and feel unwell.
Later, our rendezvous at the FCC feels forced. It's a far more sterile environment than its Phnom Phen cousin, a newer build without any of the colonial affectations. After we've eaten there are no more drinks, and vague arrangements are made to meet the next day for a concert recital by Dr Beat Richner, a Swiss doctor who plays the cello – under the guise of Beatocello – in-between raising funds to build hospitals for the Cambodian disadvantaged (of which there are many). He's built three so far, the piece de la resistance being this one in Siem Reap, with its conjoined music hall constructed out of concrete and bamboo.