24. Siem Reap (Continued)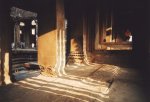 Mon, 27 Oct 2014
The next day is far more productive. My colleague, O and I take another trip into the town, but find the local market this time, where I finally find a half decent pair of sunglasses to replace the ones I broke in Thailand – fake Ray-ban aviators for a dollar.
Then in the afternoon it's off to the local war museum to take photos of military hardware. It's a small museum but there are enough battered Russian T54/55 tanks there to keep me occupied for almost an hour. It's also completely open air, which makes for a sweaty slice of sight-seeing under the midday sun.
Next up is the Angkor Monument, with a school for disadvantaged kids conveniently placed next door, a tour thrown in and a petition for your money. My colleague, a teacher by trade, is made to feel sad and guilty enough to donate $10 to the cause. Not having any particular profession to fall back on when I return home, and with less money in my coffers, I cannot be made to feel as sad or as guilty, and all I contribute is small change.
And now for Angkor Wat.  First, we need to buy our three-day passes so we can claim our free sundown. I find this arrangement quite liberating, for once we have our passes we will be free to visit Angkor as and when we feel like it. Knowing how offices in Asia can open and close on a whim, this could deprive our drivers of any leverage, should they try to impose a timetable of their choosing.
The printing of our passes is a potentially laborious but actually very joyous affair. I suppose I was expecting something like our entry into Cambodia, just without the passport sized photographs. But no, these passes will require our picture upon them, and then they will be laminated, which makes the $40 damage a little easier to swallow. We're not expected to supply our own prints, and neither will be charged 200 baht for one of theirs. Instead, a Cambodian in-house photographer, adopting the persona of Austin Powers as his English speaking template, will steal our image and develop it there and then. He doesn't care how we pose; in fact, he encourages us to smile, laugh, up our thumbs – anything that conveys a sense of rapture in keeping with his own. He is unique among Cambodian men, and one of the most likeably personable people I have ever met. If only the acquiring of personal documentation was always such fun.
Back on the back of our bikes, the assembled throng of vehicles line up like they're in competition with each other. At a predetermined time, the signal is given for everyone to GO GO GO! The motos have the better acceleration so for a while we're leading the pack. More substantial vectors soon overtake.
Angkor is awash with tourists, as it is for every sunset, every day. It's not that spectacular a sight, and I'm hungry. We're also supposed to be attending Beatocello's recital with Welsh L, K and F, and if we're going to eat first then we're cutting it fine.
We cut it more than fine; we miss the whole show. By the time our drivers deliver us back to Siem Reap we're ravenous, and the Green Garden looks too inviting. We do eventually find the others. They're having dinner in a curry house down by the old market. We arrange to meet for a few beers in Laundry Bar once they've finished up, but as much as I try to get the party going the evening looks destined to finish on a low. It's fair enough – they all have to get up early the next morning. They are heading back to Phnom Penh to take in a few of the sights they missed the first time around, and they're catching the early boat. I ask them to keep a look out for that lost roll of film, hoping it might have turned up when they cleaned my room at Last Home.
From our first meeting with Welsh L and K in Vang Vieng over a month earlier – wherein I inadvertently insulted Welsh L by alluding negatively to the dread-locked hippy in Koh Phan Ngan – and our bike ride in Nong Kai, to our drunken beach antics in Koh Chang and our intrepid journeys through the backwaters of Cambodia, they have proved most excellent company. It's a shame, then, that our final evening doesn't feel as poignant as it should.
23/02/03: Lunch at Green Park (Mk.2); trip to Angkor Thom; Taj Mahal for an Indian.
24/02/03: Up early to see sun rise at Angkor Wat; bad lunch at Gecko Mayonnaise; the Blue Pumpkin for a beer; watch the Killing Fields properly at Victory; play cards with O.
25/02/03: O leaves; explore remaining temples with colleague; Lucky Café for lunch; write postcards; Green Park (Mk. 2) for dinner; Angkor Wat for many drinks; catch horse-drawn cart home.
26/02/03: Hangover from hell; Gecko Mayonnaise for coffee and recovery; play cards back at guesthouse – can manage little else in the heat; dinner at Lucky Crab; more card playing – early night.
It's just myself, my colleague and O, left alone to see what all this Angkor fuss is about.
Angkor literally translates as city, with 'Wat' meaning temple; it's a Temple City, or City of Temples, depending on which vernacular you run with. Over a hundred actual temples occupy the area but they were all built at different times and by different peoples. The biggest and most important structure – the central Wat, sometimes referred to as Angkor Wat itself – was built during the early 12th century by King Suryavaram II, and evokes Hindu references. Indeed, this early Khmer Kingdom was not Buddhist at all but had its roots in an earlier colonialization of Indian traders, who arrived there in and around AD 200. Foreign exploration back then was no small undertaking and was dependent upon meteorological factors, the monsoon tidal flows of the Indian Ocean being particularly instructive. Explorers sailing from India to Southeast Asia were therefore committed to a pre-determined tenure, unable to return to their Indian homeland until the following year. In the meantime they built temples, not for strategic purposes, as was once thought, but almost as a whimsical exercise in spiritual time-killing.
In the years that followed the various shifts in political power had its impact on the cultural influences that helped contribute to the many shared Hindu mythologies present in Buddhism to this day. By the time Angkor Wat was being built these similarities were fully assimilated, and although Angkor is now associated with Buddhism and the monks who tend to it, Angkor Wat itself is rampant with images of Vishnu and allusions to Hindu cosmology.
  Most exciting of all, however, is the fact that this ancient complex was lost to the world for the better part of 500 years. After a Thai invasion in 1431, the temple and its inhabitants disbanded and, save for the odd monk hanging around, lay pretty much derelict until 1860, whence a French explorer named Henri Mahout disinterred it and brought it to the worlds' attention. The French colonialists had been hearing stories from Buddhist monks of the remains of a lost civilisation built by Gods or Giants, and on discovering this lost kingdom immediately began its physical resuscitation.
It's quite an undertaking, still going on to this day.  It has been decided that one of the temples (Ta Phrom) should be left undisturbed so one can get a feeling for what the place would have looked like when Monsieur Mahout stumbled upon it. Trees have taken root, quite literally, on top of some of galleries: huge fig trees with green lichen encrusted roots gradually destroying the structures that now support these huge plants. All this might sound like the cutting edge of contemporary exploration, but it's about as remote as a trip to Stonehenge. In and around Siem Reap I counted over 14 hotels in the throes of production, and the only reason they're being built is to accommodate the tourists who come to admire Angkor Wat.
But the temples do impress, despite this heavy commercialisation. We are free to clamber up and down these well-worn structures, and maybe something needs to be done about this. Some of the more popular temples are starting to show signs of excessive wear, but money talks and the Cambodian authorities seem unwilling to take any action that might preserve their investment.
On the second day of our tour of Angkor Wat, we assemble to watch the sun rise up over it. It's marginally more impressive than watching the sun set, and there are certainly less people about to see it, but I just want to get stuck in to see what all the fuss is about. I assume my fellow Englishmen feel the same way because there's a group of them taking pictures of each other striking suggestive poses behind a statue of a lion.
Close up, Angkor Watt doesn't disappoint. Scales its steep steps and you're right in the thick of it: ornate frescos, impressive views, the sound of monks at morning prayer… the colour of the whole thing.  One is free to wander, to delve into nooks and to wander down ancient corridors. One occasionally comes across a monk presiding over an assortment of idols and effigies, and you will be encouraged to pay for the privilege of lighting incense and saying some sort of prayer for whoever it might be you'd like to say a prayer for.
As the tour continues, the propriety of having one's personal chauffeur makes all the more sense. The complex as a whole is so vast that you'd really struggle to cover this ground on foot. After we're done with the main temple our drivers take us to Bayon, a lesser temple no less impressive. Not as big, Bayon's main draw is the huge stone faces built into the towers that form its central peak. Bayon actually forms part of Angkor Thom – or 'Great City' – and, dating back to the late twelfth century, was the last great city of the Khmer Empire.
There are plenty of other smaller temples worth seeing, and the apparently abandoned Ta Phrom should not be missed. Despite its appearance, work has been undertaken to stabilise these ruins and to preserve the façade of neglect. O and I ask that my colleague take our picture standing in front of one of the massive route structures, which clasp its stone quarry like some giant multi-limbed bird of prey.
After five or so hours the heat levels have become increasingly uncomfortable, as our designated drivers told us they would and being the reason why they'd insisted on such an early start. So back to Siem Reap for lunch.
We go to Gecko Mayonnaise, which disappoints and encourages me to pause for a quick beer at the Blue Pumpkin a few doors down. We don't venture out come the evening as O is leaving for Thailand the next day. I am sad to see O go and have enjoyed visiting temples with him by day and playing at cards by night.
My colleague and I still have one day left on the pass that permits us to behold temples and ruins. I'm glad we didn't invest in a five day pass because our final day spent driving around Angkor feels more like a mopping up exercise. It's still an enjoyable experience, made more so by the police officer who tries to sell me his badge for $10. I'm tempted but don't fancy being pulled over for it when I pass through Customs.
It's the Lucky Café for lunch, and then this country's postcards are attended to. The evening beckons a final night at Angkor What? for which I am punished the next day. It's a total write-off, and I spend much of it drinking Gatorade and lying on our bed. It's a shame, but we've done all we really can here and tomorrow we will be following O back to Bangkok.