Cow Hey - 2 The Funeral and the Move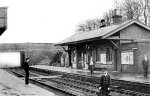 Sat, 30 May 2015
January 13, 1891
Fred had arranged for several of the neighbours who'd got off work to be the pall bearers, and they were to assemble at the house at 9.30 to be instructed by the vicar, Mr. Bradshaw, about what to do.
Gran was still shaken in the morning, but her long rest had done her good, and she felt she could face the day. She said she needed to go over to the house to say good bye to her Joseph, so we all walked along that way, getting there before the pall bearers arrived.
Fred opened the coffin again, and Gran gave her son a long lingering kiss, and touched his cheek.
"I hope he's happy now, and he'll be with his Mary again," she said. "And I'm glad that Thomas is spared having to bury his son. I'll tell him when next I visit him, but I doubt he'll know what I'm on about."
She moved into the kitchen, with tears coursing down her cheeks, and we tried to console her while Fred nailed up the coffin lid. When the men came, they stayed in the front room, so we didn't talk to them.
But at quarter to ten, Fred came through and said they were all ready and would start the procession to the church. The vicar had already gone back to get into his vestments and get the candles lit.
So the six strong men picked up the coffin as if it weighed next to nothing, and walked slowly the short distance to St. John's Church.
My sister, Charlotte joined us at the church, and she and I, with Gran, Aunt Elizabeth and Florie, made up the front mourners' pew. There were perhaps representatives from five or six families in church, as well as Fred and the pallbearers, who sat on the other side of the front, and who were Pa's closest friends.
The ceremony was short and to the point, and after the three hymns, and a short sermon on the forgiveness of sins, it was all over and my father was in the same hole as my mother, quickly re-dug last night, starting his eternal rest.
There were perhaps 20 people who joined us at the Crown Inn for drinks after the burial. I hated this part - having to have all the people come and talk to us, and to try not to cry. Quite a few asked what I would be doing, but I didn't know the answer to that myself.
Mrs. Deanley came up to me and said, "I'm sorry for your loss, Blanche, but under the circumstances, perhaps it was for the best."
I had no idea what she was talking about. What circumstances could make it a good thing for a man to die when he was only 46?
She must have thought that I didn't understand what she was saying so she added, "I expect they haven't told you yet, but that's up to them to do, not me."
But then there were others wishing to speak to me, so I didn't have a chance to ask Fred what she meant, and before long, he was ready to take the horse and cart back to his home in Ludworth.
"I'll send you a telegram in a day or two letting you know if my plan works out," he told me as he hugged me goodbye. "And if it does, I'll expect to see you next Sunday, so you'd best be saying your goodbyes around here too."
What to think? A new life for me, and living with or at least close to Fred. That would be good. But to leave my home, and my Gran and my sister, even though I only saw her every once in awhile since she got her job. But, I guess it is up to me to do as Fred says and get my life in order around here, and wait for him to give me the next set of instructions.
January 14-18, 1891
The telegram was waiting for me when I got back from school on Thursday.
"All agreed. Meet you at Rosehill Station late Sunday morning. Fred"
I showed it to Gran when she came home.
"So you'll be leaving us too, Blanche. I'm glad that Fred was able to fix you up with something near him. I'm too old to have to have responsibility for you, with having your Grandad to worry about as well. Elizabeth has more than enough to do with looking after her own daughter. And once the funeral and the wake were paid for, Fred didn't have anything left to give me to help pay for your board and lodging, so I must admit that I'm pleased that we won't have to worry about that any more, other than your train fare, I suppose."
Gran was a hard woman to please. She liked things her own way. She resented that my sister and brothers and I were always much closer to our other grandmother, and although she was polite to her, she never liked our mother. And I guess once Ma had died, she expected Pa to spend more time with her, but he didn't. He was so wound up with his misery and loneliness that he didn't think much of any of us, these last few years.
On Friday I told Miss Sutton and my friends at school that I was going on the train on Sunday. I had never ridden a train before, so that was an excitement for me. There had been no need to travel anywhere, as most of our relatives live in Bollington - and our shops provided all our needs. Gran and Aunt Elizabeth had been to Macclesfield and some of my friends to Poynton which were both bigger, but I have never felt the urgency to go elsewhere. I guess I'm just a home body.
Gran allowed me to invite my best friend, Caroline, around for lunch on my last night in Bollington. Saturday morning, she and Florie and I took the last load of items to be sold to Mr. Ankers. He is really an iron monger, but does trade in second hand furniture as well. We didn't get much for them, only 7 shillings and 6 pence, but it was enough for my train ticket and a bit over for Gran with a shilling left for me. My sister, Charlotte, popped over later in the evening to say good bye, as she wouldn't be able to get away to see my off at the station. I had picked a photograph frame with my parents' picture inside as my keepsake of the house. Charlotte took the best tea service, and I chose something for Fred, which was Pa's chisel. I would have liked to have taken all the tools to him, but they fetched quite a good price, and would have been too heavy anyway for me to carry.
Sunday
Gran, Aunt Elizabeth and Florie skipped church this morning in order to see me off at the station. It was a bitterly cold day - and we shivered as we waited for the train to arrive from Macclesfield. The train was late - no doubt due to ice on the tracks and having to go more slowly than usual. But it arrived at 11.15, and I was sad and frightened, but also excited as I hugged them both good bye and boarded the train.
I found a seat and put my bag on the empty one beside me. There were no corridors on the train - just four carriages, and doors to get in and out. There were very few passengers on the train, so I didn't think I would need to move my bag for someone to sit next to me. As we were already late, we only stayed a minute at the station, and then the train puffed off up the line. I waved out the window until I couldn't see them any more, and then decided that I must swallow my tears and put a brave face on for this was truly the first day of the rest of my life.
The first stop was Poynton, and it seemed a very big station compared to Bollington, and a few people got off and several more got on. Again, we didn't waste time, but chuffed off. The scenery as we whizzed by was mostly just snowy fields, with hills in the background. We didn't go through built up areas at all. It was very exciting. The conductor came through and checked my ticket. Next was Middlewood. There was quite a big tunnel that we went though, which was rather scary as everything went dark for a few minutes. Then we went to High Lane.
"Will you let me know when we get to Rosehill?" I asked. "I've never been on a train before and my brother will be meeting me, and I mustn't miss it."
"Oh, you won't miss it, love. It's the next stop. So as long as you stay awake, you should have no trouble."
And about five minutes later, the train slowed again. I got up and picked up my case and made the way to the door. The conductor came up to me and said, "Here you are, love. This is Rosehill. (pictured above)  I will open the door for you, as you have your case, and it is a bit tricky lowering the window to get at the outside handle."
So as we stopped at the station, he did as he said he would, and I stepped down onto the platform. It was nearly 12 o'clock, and we were late, as the weather made the journey slower than usual. "Thank you, and goodbye," I called to the conductor.
"Good luck to you, young lady," he shouted back as the train went on its journey which would end up at London Road, Manchester.
I was disappointed that Fred was not there to meet me. But a few others had also got off the train, so I followed them to the station building.
The station was brick built with four rooms - all with doors off the station. The first was the porter's room. Then there was the booking office with a clock over the door, and the station master was in there. The next was the ladies' waiting room, and I was pleased to see their was a convenience. The last small room was the men's toilet.
It was starting to snow and the wind was very sharp. I went to the road outside the station. Several taxis were waiting for customers and one couple who'd been on the train with me got onto the first one and it drove off. The second cabby shouted down to me, asking if I wanted to hire him, but I told him I was waiting for my brother. After a few minutes when nobody else came to hire him, he drove off. I looked up and down the road, not knowing which way Fred was likely to come from - not knowing the layout of this area at all.
But after 15 minutes my hands and feet were so cold and I was shivering all over so I went inside the ladies' waiting room, and sat down. Before long a porter came up to me.
"You waiting for a lift, love?"
"Yes, my brother said he'd pick me up. But he isn't here," and I was on the verge of tears.
"Does he have a long way to come?"
"I don't know. He lives in a place called Ludworth, I think."
"Oh that's miles away - up Marple Bridge and Glossop way. He might have had some trouble with icy roads and such. But the trouble is, love, that we have to close up here. Being a winter Sunday, we have only two trains that come through in each direction, and the next one now won't be until 4 this afternoon. So I need to go home for my dinner."
"But what can I do? I have to wait for him, and don't even have enough money for a taxi if he doesn't come," and this time the tears couldn't be held back.
"Don't take on so, love," he said, decidedly uncomfortable about the my unhappy state. "I'll tell you what. See that pub up the road? That's the Railway Inn, and you could sit inside there, near the window and watch out for him. And we could put a sign on the door here, saying that was where you are. How would that suit you?"
I agreed that that seemed the best option. So when he provided me with a paper and pencil, I wrote:
"Fred, I am at the Railway Inn up the road. From Blanche. Is that suitable, do you think?"
"Yes, that's fine, and I'll tack it to the outside door here, so he's bound to see it when he comes. And I'll walk you up there now and introduce you to the publican and tell him what your situation is."
"Thank you very much. Could I ask you what your name is?"
"Tom Barrett, at your service," and he gave a little bow, and that made me giggle.
"And I am Blanche Hodkinson," I said, with a quick bob.
So Mr. Barrett and I went outside and he locked the door, making sure that our sign was still clearly visible, and we started up the path to the main road.
"What does your brother do, if I might ask?""He's a warehouseman for one of the mills, I think," I said, "But I must admit that I don't even know which mill it is."
"And are you going to bide with him, then?"
"I don't think so, but he said he'd made some arrangement for me. Our Pa died just last week, and our Ma has been dead for five years now. My Gran can't cope with me as she has to deal with my Grandad when he gets home and my aunt and her daughter. My sister is in service, but Fred thought I was too young to go into service, as I'm not quite 11, so he said I should go some place where I could stay in school until I am 12, and then we would see where I go after that. "
We had now reached the big front door of the pub, and it was lovely to feel the heat from the fire. The place was quite full - all men - which rather worried me, but Tom went up to the bar with confidence.
"Hello Samuel," he said. "This here is my little friend Blanche, just come up from Bollington on the train. Her brother Fred was supposed to be meeting her, but he hasn't showed up yet, and I had to lock up the waiting room at the station. I told her she could sit here and watch out the window, if that's okay with you."
"No problem," said Samuel. "Here, take a seat close to the fire. Did you put a note on the door so he'd know to look for you here?"
"Yes," we both said together.
"Well, then, no need for you to watch out the window. Sit close to the fire, and I'll bring you some tea. Would you like a scone as well?"
"I don't have much money, and I don't know how much that would cost."
"Well, don't tell the wife, but I'll treat you this once," he said with a wink.
Having sorted me out, Tom now said, "Goodbye Blanche love, and I hope you won't have too long a wait. When I get back for the next train just before 4, I'll pop in here, and if you are still here, we can think of another plan for you. How about that?"
"Oh, he'll have come by then, I'm sure of it. But thank you again, Mr. Barnett."
"Goodbye love, and enjoy your tea and scone. It isn't everyone who Samuel takes a liking to, I can tell you, so count yourself lucky." And with a wave from the door, he walked out. When he opened the door, I could tell that the wind and snow were getting worse, so again I had to make myself relax and calm down to control my tears.
Before long Samuel (who I found out by looking at the sign over the bar was called Samuel Hough) came back with a pot of tea, a cup and saucer, a milk jug, sugar bowl and a plate with a scone, buttered and spread liberally with jam.
"This is a lovely treat. Thank you so much."
"No trouble love. You just tuck in and I'm sure your brother'll be here in no time."