Day after Day 22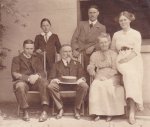 Sat, 20 Sep 2014
7 Lansdowne Crescent, Worcester
March 15th 1905
Dearest Harold,
What a wonderful letter you sent with all those answers to my questions. I have hundreds more, but I will try to confine myself to a few each letter so as not to overwhelm you.
First of all, I will tell you that the quote you couldn't remember comes from Edward Bulwer-Lytton. And I am quite sure with the hints that you gave me, that your last quote was from one of the suffragettes - probably Emily Pankhurst.
You said that you were responsible for the medical care of the workers. How do you go about doing that? What about the women and children - how to they cope and what sorts of things to do they do? I don't think you have ever mentioned the names of your servants, or of your fellow rowers in Ipoh. I am pleased that you are getting a chance to keep up your athletic prowess. Do you do any
other sports?
As far as our plans for going to Warwick and Stratford, we have checked to see what plays are on. As you know the season there runs for two weeks from Shakespeare's birthday each year, and they put on 14 of his plays, a different one every day. We haven't made our final choice yet.
I am rather hoping we can also take in a visit to Coventry to see the cathedral there. I also have heard that in early June they have a Lady Godiva Festival. I think it would be great fun
to be there for that. Charlotte says her father went to it in 1851, and enjoyed it very much. He is such a stiff old sourpuss now that it is hard to imagine him as a lusty young man.
We meet at the Walker house for our whist afternoons. I have now taught two groups of four to play, and so we can have two tables of whist, and then change partners after tea. It is a wonderful way to keep one's mind alert and also socialize at the same time.
Charlotte is so grateful to me for suggesting it, as she is more or less tied to the house due to her father being senile now. Her sister Mary who is a bit on the slow side anyway, is happy to sit with him while we have our afternoons, and even if he says the same thing twenty times over, she doesn't mind. She just smiles and nods and gets on with her embroidery. But it upsets Charlotte so much to see him like this as she is so very fond of him. I wonder how much longer he can last. He misses his wife, who you will remember died in October of 1902.
Charlotte has been reading her mother's journals (when her father is not about to see her doing it) and is amazed at some of the things she is finding out. Apparently she tried to get Mary adopted by a family. She planned to switch Mary with their baby, without their knowing it. It is hard to credit that any woman would do such a thing with their own child.
I will write again soon. It will soon be Easter when John, Jimmy and Tom will be home.
I love you very much,
Muriel
*****
Lahat, Perak,
25th April, 1905
Dearest Muriel,
I hope you had a wonderful Easter and managed to meet my family as planned. I am quite envious of your social life, even though I am not the most sociable of men. Thank you for the photograph of them (pictured above). I wonder where Mark was when it was taken.
I am so pleased that I managed to score a point off you in the quotations test. It was Florence Nightingale who said it, but she might have been considered one of the earliest of the suffragettes.
How about this one? 'How vain it is to sit down to write when you have not stood up to live.'
You asked if I did any other sport. I ride a horse occasionally, which I never did at home, but it is good exercise, and is sometimes necessary when we need to get to a neighbouring area and
no other method of transport is available. I also run. The roads here are very good because they are needed for hauling the tin to the railways.
Next year by this time, I will be home on leave, and we shall be getting married. How I long for that day. I picture you here with me. How much more exciting and fulfilling my life will be when you are here to share these things with me.
Our camp runs schools for the workers' children, and we have a system by which a bonus is paid to the parents for each child born and reared here. This helps largely to reduce infantile mortality.
The Medical Mission trains and supplies the local hospitals with Eurasian and native midwives and nurses. The type of woman required is not easily found, however, in a country where the elder women either have their own homes or are not anxious at their age to learn a new profession. Young women not yet familiar with childbirth are considered unsuitable for the job. At present the
hospitals are practically without midwives, and short of nurses and it is most earnestly hoped that the Medical Mission will see its way to satisfy this need.
Our workers have one day off every week. The wages which they receive are sufficient to enable them to make big savings; so much so that, on an average, each one of them returns home for a
holiday at the end of every two years' work.
It is interesting that a small percentage of our tin actually comes from the efforts of women. They collect the tin whilst doing their washing in the local streams and rivers. A good worker can earn a dollar per day. Panning for tin with a wooden tray (which is called a dulang) is called melanda.
You will have to build up your vocabulary of Malay and mining terminology so that when you come out you will quickly understand what we are talking about.
My servants are called Sum Lui, Gallet Sin and Sey Nawab. My rowing friends are called Osbourne, Craddock, Roberts and Blackwood. All went to schools like mine where one was always known
by one's surname.
I hope you enjoy your time with May in Warwick which I know will be coming up soon. That will make a nice treat for your birthday for you. Happy Birthday a bit early from me. I await
your description of your time there, especially your notes on Lady Godiva. I wonder what John will make of all of that.
Love,
Harold
*****
7 Lansdowne Crescent, Worcester
June 10th, 1905
Dear Harold,
Good news. Your brother Mark has been accepted at Camborne. He is very thrilled.
When you next write perhaps you can tell me more about why the Chinese are involved in Malaya.
I think your quote was from Thoreau. Am I right?
Here's another: 'Wagner's music is better than it sounds'.
Do you like classical music?
We had a wonderful trip to Warwick and then to Stratford, leaving home on the 8th and touring around Warwick and Coventry until the 10th. We managed to go to two plays when we were
in Stratford, Othello on May 11th and The Taming of the Shrew on the 13th.
Frank Benson whom I'm sure you've heard of, directed and acted in them both. Constance Benson, his wife, played Desdemona, while he played Othello. She also played Katerina to his Petroucio. They were both very good, as you would expect them to be.
Have you ever seen a play at Stratford? The Shakespeare Memorial Theatre is a Victorian Gothic building. It opened in 1879 with a performance of Much Ado About Nothing.
We stayed at The Falcon, an inn that had been recommended to us. The landlady told us that the indentation in the window seat was where Shakespeare had rested his bottom when he was
drinking beer there. It was a wonderful place, built in 1615, with dark smoky beams which still seemed to have the spider webs of centuries ago.
We went to visit Shakespeare's house in Henley Street which is preserved intact and also Anne Hathaway's cottage. At the age of 18 he married Anne, who was seven years his senior and
three months pregnant. She was of yeoman stock, and according to the leaflets, her family owned a farm one mile west of Stratford in Shottery. Shakespeare "endured her until he could stand it no
longer" and fled to London to become an actor. He then became actor-manager and part-owner in the Blackfriars Theatre, and afterwards the Globe Theatre.
On our day off from seeing a play, we walked the River Avon. From the East side of the river we could see Holy Trinity Church, where William Shakespeare is buried, a beautiful view with
weeping willows.
Our visit to Coventry went well too, but we were too early for the Lady Godiva festival. When John overheard May mentioning it, he said he would have definitely forbidden us to go. Not that we would have told him about it or asked his permission.
 Godiva's given name was Godgifu meaning God's gift and she was never officially a lady although some call her a countess. Even before she married Leofric she was a woman of high status and owned much land. So when they married they became an extremely wealthy couple who endowed many religious houses with riches, and the monastery in Coventry was described by John of Worcester as being, "so rich in various ornaments that in no monastery in England might be found
the abundance of gold, silver gems and precious stones that was at the time in its possession."
She is mostly remembered for her naked ride through the town on horseback, allegedly in an attempt to persuade her husband to lower the taxes that were crippling the poor citizens of Coventry. He had apparently rashly said he would not do so unless she would ride naked through the town, so she did - although I think her hair was so long that nobody saw much. In fact in one of the
books it said that Leofric forbad anyone to watch her do it. It was written about 120 years later in a book called Flores Historiarum by Roger of Wendover from St. Albans. I am disappointed that we didn't get to see the commemorative ride, but much enjoyed our time in Coventry, and the Cathedral was worth a trip for its own sake.
It is now almost a ruin due to the dissolution of the churches in 1539 and will take much money and effort to rebuild but I understand that there are plans for doing that. Of course we see some evidence of those problems in our Cathedral in Worcester too. Poor King John had his nose chopped off.
Warwick School is very pleasant. The main building dates from the 1870s and contains classrooms, offices and the Headmaster's residence and boarders (about a quarter of the pupils) live on the top floor. The school is situated on the Myton Road, running between Warwick and Leamington Spa to the south of and parallel to the River Avon.
The "Quad" (not strictly a Quad because it's not square, and not surrounded by buildings) and the Fives court (I didn't know what this is but John tells me that Fives is a strenuous game for two which involves hitting a tennis ball against the far wall with a gloved hand). Behind the Fives Court are the
staff common room and music practice rooms. Behind that, is the assembly room with a large stage which is used for plays and concerts.
There is apparently a concert at the end of every term, with orchestral pieces, choral items (at Easter and Christmas usually bits of an appropriate oratorio) and solo or group items. I'm
sure May will come into her own as both an accompanist and a soloist on these occasions.
Apparently, when May comes to be a Master's wife, she will be expected to help with the plays - make costumes, that sort of thing. She was very excited to see what will be her new home
in just over a year's time. Quite a different new home as to what mine will be I think.
'I know a bank where the wild thyme blows,
Where oxlips and the nodding violet grows,
Quite over-canopied with luscious woodbine,
With sweet musk-roses and with eglantine.'
Much love from Muriel