Day after Day 24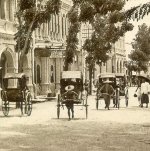 Tue, 23 Sep 2014
Lahat, Perak
March 15th 1906
Dear Muriel,
It seems odd to have you mention politics, as I didn't think you were very interested. Perhaps you
could tell me a bit about that in your next letter.
I think your last quote was from Ambrose Bierce. I too enjoy The Devil's Dictionary.
You asked about Ipoh. Here are some of the bits of information written to attract people to the area.
The Ipoh Railway Station is an impressive landmark (pictured above) which combines Gothic and Moorish architecture with modern embellishments. Surrounded by a beautiful floral garden, it also
serves as a charming welcome to visitors arriving by rail. Some call it the Taj Mahal of Ipoh. In the grounds is the famous Ipoh Tree, a poisonous tree whose sap was used by the natives in the olden days to make poison to tip darts fired from blowpipes.
Above the train station, on the second and third floors, is the Station Hotel, also known as The Majestic, and sometimes called The Heritage Hotel. It boasts of "first class accommodation" and "excellent cuisine" but I have heard differently. A 200 yard long verandah runs the length of the
building. You see planters in rattan chairs, and puffs of smoke from their pipes try to rise all the way to the high ceiling. Fans in that ceiling whirl day-long, cooling the guests. A cosy bar takes care of
the fluid needs of its thirsty patrons. The banisters and wooden stairs stand firm and proud and charmingly pleasant with cool and carefully laid tiles.
If you are thinking that all this sound like a hotel advert, you are right. Most of the words are taken from one.
The railway station is a neo-colonial style building. Adjacent to it is the memorial where J.W.W. Birch, the first British Resident of the state was assassinated by a group of Malay chieftains in Paris Salak in 1875. This memorial is dedicated to the Malay warriors who murdered him. There are plans afoot to build a clock tower as a proper memorial to Mr. Birch.
J.W.W. Birch was an unpopular character. He was arrogant and showed no sensitivity towards local customs, religion and nuances. He did not think much of the Malays. The feeling was mutual amongst the Malays, especially the royalty. It wasn't surprising at all that he was eventually assassinated by Malays, headed by a chieftain called Dato Sago. He is still derided and scorned.
Regarding food, the early Chinese immigrants who poured into the state brought with them the cooking styles of their provinces, mostly from the south. Chinese style blended with the
local cuisine to produce new dishes. I can recommend the fish balls.
The Kinta River runs through the middle of the town. In 1892, a great fire gutted the East part of Ipoh. The town was rebuilt in a newer and grander style, set out on a systematic grid.
The re-building was financed by money from the tin industry. The streets are tree-lined, providing shelter from the intense tropical sun.
Perhaps the grandest building in Ipoh is the school. Missionaries are trying to take it over so that it can be run by priests, but there is a good deal of local opposition to this plan. With your interest in architecture you would appreciate the school building, with its decorated gables and wide arched verandahs. Most of the new buildings are in the neo-classical style.
Padang is the Malay word for field, and appropriately enough we pale British males walk onto the Padang in our starched whites to play cricket. Every so often we leave the field to refresh ourselves with a few gulps of cool beer. The same group of men can sometimes be seen kicking a football around the field.
The Padang has not been touched by recent developments, nor have the beautiful casuarina trees that encircle it. Often known as the she-oak, beefwood, or Australian pine, casuarinas are common in tropical and subtropical areas. The tree has delicate, slender branches and leaves that are little more than scales, giving it the appearance of a wispy conifer. These trees are planted in many places to serve as windbreaks.
Of course there has to be a club. Tin miners, administrators and rubber barons patronise a black and white Tudor-style clubhouse. We athletic ones run about or row beneath the scorching sun while the others exercise their muscles by endevouring to keep a cigar between their fingers while downing another whisky.
The FMS building - Federated Malay States - is the one which you will probably like best. It is believed to be the oldest bar in Malaya. It is a British institution, but there is the savoury aroma of Szechuan Prawns and Belacan Kangkong as you walk by.
I do hope you don't find all this boring. I am sure you will enjoy what Ipoh has to offer.
And here's a quote: 'You can cover a great deal of country in books.'
Love,
Harold
*****
Lansdowne Crescent, Worcester
April 10th 1906
Dear Harold,
I was certainly not bored. I long to visit Ipoh and see all those places that you have described so
well, and visit the FMS. Tell me, are women allowed in your club? If not, I shall find another quest come upon me, I expect.
I didn't guess your last quote. Here is mine, also about books. 'Books are the quietest and most constant of friends; they are the most accessible and wisest of counselors, and the most
patient of teachers.'' I think that is so lovely. What would we do without books?
You asked about politics. The nation is filled with discussions regarding the repercussions of the national elections in January when the Liberals swept into power with an unbelievably large majority. The election was fought on the issues of free trade or protectionism, and home rule for Ireland or rule from the UK.
Everyone is now trying to pinpoint the reasons for this huge shift in public opinion. The papers are filled with stories of bribery and corruption. As I am sure you know Parliament was dissolved on January 18. An election commission is now investigating alleged scandals.
Here in Worcester our Member of Parliament is accused of misappropriating a cheque for £100 and of bribing voters. For every accusation by the Conservatives there is a counter accusation by the Liberals. Sorting through the facts to find the truth will be difficult. I am sure many politicians are feeling nervous, aware that skeletons in their cupboards will soon be revealed.
Labourers are supposed to have been bribed to cast their vote for certain candidates by being given lifts to the polling stations, a drink of homemade rhubarb wine or some other tipple, or sixpence, presumably to buy a drink of their own choice. People are coming forwards to say they were bribed in this way.
This is a huge mess. I will keep you posted as to how the situation evolves. The Church is becoming involved in the row, and this does not please everyone. My father, a staunch Conservative, is very upset because his party are being accused of this bribery. He is eager to help in clearing the party's name, speaking at the Chamber of Commerce, his Masonic lodge and wherever else he gets the opportunity to do so. He is no long the quiet father I usually see.
I can bring you up to date with a few more news items. Something dear to my heart, women's suffrage, has gained another victory. In February Finland give the right to vote to all its citizens of 24 years and older, including women. They are the first European coudntry to give votes to women. I do so hope we can soon get similar legislation in this country. Though my efforts do not seem to have had much impact so far I will be campaigning again at our local elections in November.
Rugby fans, inlcuding May's brother Tom, were very pleased when, in the very first international match between the countries, England beat France.
We are working long and hard preparing for May and John's wedding, now just over a week away. They will be married on Wednesday the 18th at Holy Trinity. We are very pleased that your
Uncle George, the Reverend G. Duncan will participate in the ceremony.
Your parents' new house, which is in our street, is very spacious. Rev. Duncan will be staying there for awhile. I wonder if he is also contemplating marriage, now that he is established at Skipton on Cherwell. We see much more of your family now. We see a lot of your brother Jimmy who has nearly completed his teacher training and hopes to get a job in this area. Una and I have become good friends. She intends to help me in my suffragette activities.
I don't suppose you will be interested in all the details of the dresses, flowers, etc, for the wedding, but I feel I must tell you about them later. You don't have to read the details if you have no wish to do so.
It could have been our wedding day, as well as that of May and John. Now we have to wait a bit longer.
Love from Muriel
*****
May 4th 1906
Dear Muriel,
I don't expect this will arrive in time for your birthday, but know that I am thinking of you.
I long to read whatever you write, down to the last button and ribbon on the dresses. I know that the wedding will have gone down well, and as you say, it might have been us, but we won't be far behind.
I have now had confirmation that I can have leave from December 1st to January 29th, so that will leave us time to get reacquainted before we finally say our vows on January 5th and have our long leisurely honeymoon on the boat coming back here. You will have quite a lot of organizing to do, deciding what clothes and furniture and other things you want to bring, as we probably will not
be given another home leave for several years.
Your last quote was from Charles Eliot, and I agree with the sentiments. You said you couldn't get my last one. It was Andrew Lang.
Just to whet your appetite a bit more, I have found some more information about this area. Ipoh has many limestone caves. The Sam Po Tong, Cavern of Three Precious, is a Chinese temple built within a gigantic limestone cave. It houses a few giant tortoises. Its sister temple, Perak Tong has a steep and long stairway from its interior to the top of a hill, from which there is a panoramic view of Ipoh and its surroundings. The statue of Buddha in Perak Tong is the tallest and largest of its kind in Malaya.
Another sight worth seeing they say is the Kek Lok Tong, Cavern of Utmost Happiness, another cave temple on the other side of the same range of limestone hills which house Sam Po Tong. It
is only accessible through the Gunung Rapat area. Limestone hills extend 12.5 miles north and south of Ipoh.
Here is a quote for you: 'Woe to him who reads but one book.'
Until I hear from you again, I am your eagerly awaiting husband to be,
Harold