Diary of Susannah Woychik, 1868- 11 The End of the Pig and the Cook Stove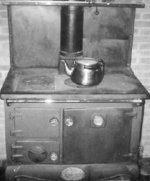 Thu, 12 Feb 2015
Gose w dom. Bog w dom.
A guest in the house brings God in the house.
September 27th.
True to his word, and due to the bonus that he got from Uncle Simon when his crop was sold, Pa went with Uncle Simon into La Crosse today, and came back with a cook stove for us. We were all so excited, especially Moma, who has been waiting for it and wanting it before every meal she has cooked here for us.
The cook stove has a flat bottom so it can absorb heat by direct contact with the heated surface. It came with a boiling kettle with a rounded bottom and short legs to prevent tipping and that is set into an open lid  hole, the hottest setting possible. The stove top has another lidded hole for frying or boiling. There are two ovens, one much hotter than the other. It also came with a whole bunch of pots and pans.
We use small pieces of wood for fuel, but we could use coal, if we bought some. But we have so much wood around it seems silly to spend any money unnecessarily.
The fire is lit with all dampers open, after which adjustments redirect the heat and smoke to a passageway surrounding the oven to heat it. Overheating  is prevented by opening oven doors temporarily, cutting down on the fire's air flow. To maintain temperature, we have to regularly check the small fire-box.
Cooking temperatures are also controlled by the position of the pot on the stovetop. The area nearest the firebox is by far the hottest; the farthest corners are the coolest.
Oct 5th 
John and Thomas started school today. It is located near Mr. Cripps house, as he donated the land for it. All the children are in the one room and divided into seven grades. Carl will start next year. It is a small white frame structure. Fifty students go ranging from age six to twenty.
They said there were hardly any kids there who spoke English as their first language, with lots of Norwegians as well as those that are Polish like us. Luckily the teacher can understand all three languages, but insists that the children speak in English.  The lessons are based on English reader books, and despite my giving them a few lessons, they both had to start on Reader 1. However, I am sure they will quickly progress as they are bright boys and don't want to be labelled as slow learners.
Thomas is complaining because he says they have to memorise verses and and dates in history, and they have to recite things, both as a group and individually. But as he gets better in English, it won't seem so daunting.
School starts at 9  and lasts until 4  and only lasts about six months, starting in late fall and ending in early spring-time. The late start gives the boys time to do their  chores on the farm before going to school. But of course, for much of the day, Moma and I have much more work to do - and we are hoping that Carl will be able to take on some of their chores before long.
I had a little chat with Mrs. Cripss today, after I had walked to school with the boys.
"It is so good that you have a teacher here," I said.
"It is rather hard to keep them," she said, "The school term is for 6 months so that is all we are paid for and we only get paid $25.00 per month and have to do all the janitor work."
She said she had heard that I was writing about the history of the place for our relatives back home, and wondered if I would be interested in hearing about the first meeting of the town - and what was decide. "I can keep it to only mentioning the people who you already know."
I told her that would be very fine, so she began.
"The first town meeting was held on April 5, 1864, and among those who were elected as officers of the meeting were G. H. Markham, clerk, and Giles Cripps, treasurer, justices of the peace, Charles Lyne and  Giles Cripps, constables.. Each of them was elected unanimously. "The following acts were passed:
1. Hogs not to be allowed free commons under a penalty of one-quarter of a dollar for each head.
2. Five dollars raised for the purpose of buying a burial ground.
3. Motion made, seconded and carried that the board of supervisors be appointed a committee to confer with Giles Cripps and W. H. Whitmore for the purchase of a burial ground.
 4. Moved, seconded and carried that we hold the next town meeting at the schoolhouse.
5. Moved, seconded and carried that this meeting be adjourned at 4 o'clock, Nov. 5, 1864.
October 8
We had light snow all day today. Pa is still able to do some hunting, and keeping Moma and me busy with dealing with the salting the meat for winter and canning as many of the vegetables as possible. We didn't manage to get any reasonable corn this year, so we fed the small husks to the pig, who thought they were just fine. I won't be very pleased when we have to butcher him - but that probably won't be for a month or so yet.  Moma says we will have to sacrifice the chickens too. They have been laying eggs for us every day since they were six weeks old at the end of June. But they have been doing less recently, and Moma thinks it is too cold, and if they don't produce eggs, they are a liability for over the winter. That will be a job for Pa and the older boys. I don't fancy ringing the necks of those chickens that I have known almost since the day they were born. But that is what living on a farm is all about - and I mustn't get too sentimental.
October 16th 
It was down to 9 degrees when we got up at 6.30 this morning.  The ground has frozen hard.  Pa killed the chicken last weekend, and we had one of them roast for Sunday dinner. I must say it tasted very good. I think the pig will be going this next Sunday.
October 18
The ground is white with snow. We had quite a job dealing with all the bits of the pig when Pa slaughtered it. First we had to clean out the intestines, but keep them for sausage stuffing. Then we cut off and kept most of its bits - including its brain and feet - as they can all be used in some way or other. The bladder makes good lids for jars, as it is elastic and when it dries out makes a firm seal. The lard will be kept for all sorts of jobs as well as for food. Pa needed to buy a meat saw.
The morning before, Moma cooked a last meal for the pig: squash Finally, we went out to where  the pig was penned. The pig, as usual, was excited to see us, as visitors usually meant  FOOD.
There was a moment of silence after we tossed the squash into the pen.   Then Pa stepped into the pen with the rifle. The pig was a little confused by this, and temporarily slowed down in his feeding; Pa drew a sight on the pig, the pig moved, he drew another sight. Finally the pig bent down to eat again, and Pa pulled the trigger. I won't go into all the grizzly details, but at least the pig died happy, eating his favourite food.
Pa later said, "Butchering our pig - taking the life of an animal that I had helped care for was hard, and in some ways my mind recoils from it. On the other hand, if one is to eat meat (and I do enjoy meat) one should be prepared to carry the act from the inception forward through to the logical end.
Now the men's job is done, it is up to Moma and me to make the sausages, and hams, and bacon.
For the sausages, we chose half from the fatty bits that came from the belly as well as half from the leaner meat from the shoulder. These had to be minced finely, which was my job - and very tedious it was too. We then needed to add a bit of oatmeal (about 5%) to the mixture. This is for a better texture and to help retain the fat and the flavor. Then we added salt and pepper and sage (10 sage leaves) for seasoning. We experimented by taking out some of the meat and adding other spices, like clover, ginger and cayenne pepper to one portion, and mint and rosemary to the other bit.
We then mixed the meat and let it rest for a day before we did the stuffing.
The next day, we decided to make some of the meat into burgers, which we would then fry that evening for supper.
We washed the intestines thoroughly and soaked them overnight in a strong brine solution, then rinsed and washed again. Then we put the mince mixture into a funnell, and while I was holding a length of a yard of intestine (with a firm tie in the bottom) Ma pushed the meat through the funnel into the casing. You have to be careful not to allow air gaps, and not overfill the casing. When the yard of sausage was full, I held it tight while Moma tied the top. Then she and I both tied every four inches along the length - with two connections - so we could cut between them. We finished making six dozen sausages in this way, and were well pleased with our efforts. They will need to be eaten soon or frozen. Now that it is freezing outside most nights, we can use our cellar dugout - and by covering them well to avoid animals getting at them, they will be well chilled and soon will be frozen.
The rest of the meat needed dealing with quickly too, so we had the leg joints prepared as hams - for the best method of preserving them.
Ham is made by soaking a piece of pork in a salt brine for a period of time depending on it's weight and then cooking and/or smoking it.  Traditionally, ham is made from the upper portion of the hind legs and as our pig was not very big, these weighed about 7 lbs each. We also decided to make ham out of the loin which first needed to be rolled into a leg shape.
The brine should be cooled to around 40ºF before the meat is placed in it. It should also be kept near that temperature during the brining period.  Don't  let it get below about 38F though because the cure ceases to function around there. Monitor the brine temp with a thermometer and just remove it for a while if it gets too cold. It takes about four days for a 3-5 lb piece of loin. We also needed to make bacon. We used the belly pork that was left over from the sausages. We rubbed the curing salt over it on both sides, and then slathered a half a cup of maple syrup to get all the exposed surfaces coated. Then we put it in a big bowl with a lid on top and kept it in the root cellary, turning it every day for a week. It shoud be ready to eat as bacon after a week, but can be kept there and used as needed.