Diary of Susannah Woychik, 1868 3 -On board ship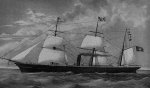 Wed, 04 Feb 2015
Monday 27th April
Nie chwaldnia przedza chodem slonca
Don't praise the day before sunset
I was so busy with packing and last minute things that I have not had time to write in my diary. But I now have it with me on the train, and as this journey will take several hours, I can get a bit written.
We were given a ride by my aunt's husband, Lepold Filla, to the closest train stop. It is about halfway between Poppeleau and Schalkowitz. It does not have a station house as such, but the train will halt if it sees anyone waiting. It was quite a long stop as between us and our neighbours we loaded dozens of packing cases.   This train will take us all the way to Hamburg, but stops for awhile in Oppein and we have to change trains  in Breslau.
Our family took fourteen cases and on six of them we will have to pay excess baggage. Mostly we took clothes and some tools and extra food for the journey. But there were also family heirlooms that Moma could not leave behind and Pa allowed her to pack one case with these things – which will be all we will have to remind us of our homeland as we shall never we able to go back again. It was quite sad, although many of our neighbours gathered by the train to wish us good luck, and we know that we will be seeing most of them again, either this year or the next in our new country.
Later
We are now on the train to Hamburg. Because the first train put all of us in the last carriage with our luggage, they were able to shunt that carriage onto the right train rather than having us all unload and load again. I guess they are very used to dealing with emigrating families. I have been told this part of the journey will take about five hours and we should get to Hamburg before night fall.
Later still
Arriving at one of the four Hamburg train stations, we were met by our agents and were given a list of information and instruction for emigrants for North America. We were taken to the depot of the American-Hamburg line where our papers were examined.  We were all required to take baths and our clothing was disinfected after which we constantly  emitted the delicious odors of hot steam and carbolic acid.
Pa and Uncle Simon filled in the various details in the form asking for the following details for each of us:
Number, Name in full, Age, Sex, Married or single, Occupation, Able to read and write, Nationality, Last Residence, Seaport for landing in US, Final Destination in US, Ticket bought for that destination, Who paid for ticket, How much actual cash do you have on hand, Ever been before in the US, and if so, where, Whether going to join a relative, and if so, whom. And their address. Ever been in prison almshouse or supported by a charity? If so, where. Whether a polygamist? (Lots of Mormons are travelling to the States these days) Whether under contract to labor in the US. Condition of health, mental and physical, deformed or crippled – nature and cause.
Afterwards, the luggage was weighed and the excess cost paid.  Then we were off to the police station where the contracts were signed and names entered into the emigrant register. Men of military service age (22-36) had to provide documentation that they had permission to emigrate or discharge papers.  Luckily both Pa and Uncle Simon are older than that, but their cousin Peter is 36. Also required were our baptismal certificates, but they luckily didn't read them carefully or they would have realised that we children  had lied about our ages.
The agents then suggested that the men take the packing cases directly to the Bavaria  which is in, waiting for us. So Pa hired a man with a horse and cart and arranged for him to take our cases which were labelled "inspected and passed". The rest of us walked to the Emigration Hotel which took about ten minutes.  We had our rooms reserved so we were able to leave our overnight cases  and then we walked to the dock. We saw that Pa and Uncle Simon were getting the luggage onto a ferry used to deliver luggage and passengers to the ship which was docked in deep water.
Pa later told us than one of our cases was labelled "for immediate use" and that was the one with the dishes and food. The other was marked "for later use" and we can have access to that in 10 day's time. The other cases will stay in the hold for the whole journey, and they contained clothing, household and farming equipment, and Moma's heirlooms.
Since they were there, Pa and Uncle Simon checked about our berths.  It is all arranged and all the Silesian people are together in the same section. We are numbers 105-111 and Uncle Simon and his family are 114-117. The single men have to go into another section of the ship. Pa said that as I was a single girl on my own, I had to share my berth with another girl or young woman.
The Bavaria is a very large boat. There are only 30 in first class, and over 800 in steerage, but nobody in second class on this trip.
We toured around the city in the evening, but not for long, as we were anxious to have a good night's sleep. We got on the ferry the next morning about 11. Those in first class don't come on until mid afternoon.  One man after another pushed his cases on board. I'm glad we got ours organised last night.  The sun shone out brightly and there was not a tear or word of regret at our leaving.
We went down a hatch – half stairway – half ladder – labelled Emigrants. It all smelled very unpleasant although the ship was cleaner than I expected it to be.  We were 16 feet below deck and the huge room was about 60 feet long, with another hatch, covered in canvas, leading to the hold where the luggage was stored with another smaller hold at the top end. A mast runs up through the middle, and on each side were rows of doors leading into the family section sleeping rooms, separated from each other by slight wooden partitions. Each family unit is 12 feet long, 10 feet wide and 8 feet high. Each bunk, intended for two people, is 3 ½ feet wide and there is sufficient head space to sit up in the bottom bunk.
It is lighted entirely by portholes under which, fixed to the ceiling are folded wooden tables with benches attached to them.  The remaining space is filled with wooden bunks, row upon row, tier upon tier.
We are to spend time sorting out our space and unpacking so as to make our cramped space as useful and comfortable as possible. We put our mattresses down on the hard wooden slats and the blankets on top.
We took out our cups and plates and ate our first meal from our own supplies – bread and cheese and fruit. Pa had brought some beer along, and milk for us children and we took it up on deck to eat it in the fresh air, as did most of the other passengers.
At 2 o'clock the medical officer came aboard and held a meeting attended by all the crew and all the emigrants.  We stood huddled for three-quarters of an hour waiting for the embarkation officer who had to certify each of us fit for the journey, and the ship's officials who had to pass us as likely to be permitted to land in New York. We were all lined up and scrutinized to see if the doctor could see anything wrong with any of us.  He could refuse anyone who appeared to be lunatic, idiot, deaf, dumb, blind or infirm or crippled, or above 60 years old, or a widow with young children, or a woman without a husband and with children,  or a person unable to take care of himself without becoming a public charge.
At length we were pushed forward past somebody in uniform to whom we handed, without slowing our pace, strips town from our tickets.  We all filed by the doctor in solemn procession. Now and then there would come a halt, while a man or woman, whose appearance suggested some lurkish disease, would be subjected to rigorous examination.
Soon things settled down. The first class passengers arrived with all their friends who accompanied them to their cabins. But then a bell rang and they rushed back out and streamed onto the deck. A waving of handkerchiefs, a crying of good bye and we could see many were tearful.
Friday
The sailors were all busy getting ready for the voyage last night and didn't pay much attention to us. They did provide us with an evening meal of bread, butter and coffee. About 9 p.m. the Captain asked us to go below and said we would be taking off as soon as it was light in the morning.
We set sail at 7.45 on May 1st. Nobody slept much last night due to the excitement of it all.  I will now describe a bit more about our home for the next several weeks.
There are four toilets located just above the hatches – two at each end. We did however bring our own chamber pot and from the list of notices we were given, these must not be left unemptied over night. I think that means that we must empty it before we go to bed, and then you use it in the night, and empty it again first thing. They are to be emptied over the side of the ship. I hope that will not be one of my jobs.
Our living arrangements have been sorted. Three of the older but unmarried women from our group will have to go into the women's section – that leaves Uncle Simon's daughter, Julianna to share with me. She is younger but taller than me, and she could not have passed for 7, as I seem to have done. Uncle Simon and his wife Christine will be nearby by but out other relatives, Cousin Peter and his wife and children will be some distance away. Cousin Louis will be with the unmarried men.
Between our bunks and those of Uncle Simon's family we have created a small living area. The kegs of beer and sour milk that we each brought can act as small chairs and the packing cases as tables, when put one on top of the other. Everything has to be held in place by ropes, as we know there would be much movement of the ship, and don't want our belonging to roll to the edge of the ship.
It was exciting as we chugged out of the harbour, and we felt that it was a good omen that the sun was shining and sea was calm. We thought perhaps the tales of seasickness were greatly exaggerated.
One of the crew called the numbers from each group, and when we were forward he filled the tin bucket water containers for us. We are allowed three quarts of water for each adult, so that makes almost three and a half gallons for our family which seems a lot, but this has to be used for drinking, cooking and for washing. We decided to forego washing this first morning, and see how much water is left at night and have a quick wash before bed.  
The routine is this. We are to go to bed by 10 at night, and awaken aby 7 in the morning at which time the water rations are distributed. Then we clean our bunks and get dressed, and breakfast is served at nine.  We then take our places and cups and cutlery, men come up and down the row filling the dishes with porridge. We are also given coffee in our cups and a slice of bread each. After breakfast, we must take our dishes up on deck to wash them. I went up on top with Julianna to wash our dishes, but we had to wait, and the water we had to use was filthy by the time we used it. But before we reached our section again, the boat was beginning to sway quite uncomfortably. Within half an hour we were wishing we hadn't bothered with breakfast. I cannot write anything more now.