The Great Cley Floods 4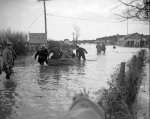 Thu, 10 Jul 2014
January 31st, 1953
8 p.m.
Martin was worried. Mary had gone out for a walk and she hadn't come back. She might have stopped to chat with a friend, she was given to that, but knowing that he would worry, she wouldn't intentionally stay out so long. He knew there was nothing for it but for him to go out and look for her, even though it meant leaving the children alone. He went up and peeked at them, and finding them still soundly asleep, he went to the front door. It was an enormous effort to open it, but as soon as it was open a crack, the force of the water behind it opened it all the way in, and he was knocked off his feet as the cold and dirty water rushed into his house. Martin stood up and tried to close
the door again, but there was no way he could make any progress at all. The water kept pouring in and going higher and higher. Martin knew that he needed to be upstairs away from the water, but he must rescue as much of their furniture and goods while there was still time. Now the water was well above his knees as he waded into the kitchen to gather up any of the food which was easily available on the counter tops and cupboards above, and carried it to the top of the steps.
He was pleased that he had chained his bicycle to the iron post in the back garden, at least
that wouldn't be floating away, or so he hoped.
He made trip after trip, rescuing some of Mary's valuable china ornaments as they floated in
the water before they crashed against the stone walls. He went to the larder in the kitchen. Luckily Mary had left the door open, so he was able to collect the food from the top areas in the larder which were still dry, and also some bottles of milk, floating around in the mucky water, but without the tops having come off. The fireplace was, of course, completely swamped, but he managed to rescue some of the logs that were coming by, because although they didn't often use them, they did have fireplaces in the larger bedrooms, and if they were going to have to live up there for the next period of time, they would need wood for cooking and heating.
Because he was so busy rescuing food and furniture, Mary's absence had for a moment left his mind, but when he finally took a break and sat on the steps, he was suddenly hit with the thought that Mary might have been swept away by the flood, that she might have drowned. He put his
hands over his face, and wept. What could he do? He couldn't go out to find her. He couldn't even get out a message that she was missing. He cried until he could hardly breathe, and then knowing
that he had two other lives as well as his own to deal with, felt that he had better get on and set up what he had rescued in their bedroom and the spare room beyond, and see if he could find some way of making the fireplace light. But the wood was wet, and the chimney sooted up, and he had to give up after several attempts. He fell back on the bed, fully dressed, exhausted, and frustrated with his inability to do anything about the current situation. Just as he closed his eyes, a thought came into his head. He could see Mary, quite clearly in his mind, and she was sleeping in a magnificent four poster bed with drapings all around, with a fancy silk nightdress thrown over the chair, The nightdress certainly was not her own, but it was his Mary.
Martin had twice in his life before had had visions or heard voices, and each time they proved
true. Once was when he was in his first plane which had been hit by enemy fire. He suddenly had heard a voice telling him to turn the nose of the plane so it tilted upwards, and so he did. Later he was told that doing that was what had saved him, the plane wreckage didn't sink and was able to float for sufficient time for him to be rescued. The other time was when he was at Stockport train station, having got an unexpected leave home. He pictured his parents at home in Macclesfield and told them in his mind that he needed a lift home from the station. Not half an hour later, there they were. Somehow his mother's insistence that they drive to Stockport station in the middle of the night was so powerful that his father had gone along with it, and was completely amazed when Martin was there waiting for them. No one knew why or how this telepathy gift that Martin had worked, but now he was very grateful for it, once again, and he managed to drift off to sleep, knowing that somewhere, somehow, his Mary was safe and warm.
As dawn broke on Sunday, 1st February, the villagers looked out of their windows to take note of what had happened. Their main street was like a river, although the water didn't appear to be rising anymore. The wind was still blowing but not quite so strongly. There were men in boats, rowing up the main street, and shouting out if anyone needed help. Martin raised his window and shouted, "I am missing my wife, Mary. Has anyone found her? Do you know where she is?"
"Give us her full name and description and we'll ask when we get back to our headquarters. We've set up a rescue service at the church, which has managed to avoid most of the flood waters. We have helpers coming in from Holt and other villages nearby. Blakeney wasn't hit as badly as we, but
they have had some problems on the sea front and up as far as the Red Lion is flooded."
Martin, interested in what was going on but not wanting them to forget about finding his Mary said,
"Please you must go at once to find out about Mary. Her name is Mary Gardner and she is four months pregnant, (he suddenly had to catch his breath and hold back his tears, for he had forgotten all about his unborn child earlier) and she's about 5'5" and she has short, curly brown hair and brown eyes, and she is 30 years old. She's wearing dark trousers and a green sweater and an oilskin jacket."
The men took note of these details, and said they would be checking in soon, but asked how Martin was for provisions. He said he had rescued sufficiently for the day, and the children were safe, and
they would cope fine, but that they should just find his wife and bring her back as soon as they could.
At almost every house in the High Street, someone put their head out and shouted. All had managed to get to the higher regions of their houses, but few had had the resourcefulness to take food with them, for none of them had ever experienced a flood like this before. So the men rowed up and down the road, writing the details of what was needed in the notebook they had provided for the purpose. Several people mentioned missing pets, but as far as they knew, Mary was the only unaccounted for woman.
Last evening, when they had first started on their mission, they had had two dramatic rescues.
The first was a young man, on the roof a chicken shed, who had sheltered in a tree while the water was at its highest. They collected him in their boat and took him to the church where he was
gradually warmed, as hypothermia would have taken his life if he had been there any longer. An old woman was rescued at the same time, out through her window on High Street. She was floated on a detatched door across and up to the drier ground. She was also now sheltering in the same house as the young man.
As the day broke and the extent of the devastation became clear, rescuers from all over the area
poured in. They were told what to do to provide help. Food of course was needed and clean water, so some were given lists of what to find and distribute to those in the top floors of their houses.
Two of the volunteers on that Sunday morning were Philip Day and Jim Whittell, both 15 and in the 5th form at Gresham School. Philip decided that rescuing their neighbours was a far better way to spend their Sunday morning than going to church, and Jim was quick to agree. They biked the five miles to Cley Church, noting all the way the flood water going inland from Salthouse and Weybourne. But Cley was the worst affected that they could see. They were welcomed by the
rescue group at the church, told to leave their bicycles there, and to go by foot up to Cley Hall, to collect wood, and to put it in wheelbarrows to be brought back down by the church. It would then be
packaged up into bundles and distributed to the locals who would need to be kept warm in their houses, and also to dry out their lower floors, when the flood receded sufficiently for that to happen. The boys enjoyed their work, and had made several trips back and forth before midday. But on the last trip, Philip noticed a woman lying in the hedge, fairly near the allotments. He went up to see if she was having a problem, and when she turned and looked at him, he immediately knew who she was. "Mrs. Gardner, what are you doing here?" he asked.
"Oh Philip, if I only knew myself, I would tell you. What an adventure I've had! But what about my family? Do you know anything of how they are coping?"
"I know they have a group out searching for you, as Mr. Gardner told them you were missing. He was almost out of his head with worry, they said. But come with me to the church, and I will get a boat and row you home myself." Philip was clearly enjoying the occasion.
So having checked in at the church, Mary was asked where she had spent the night. "I was taken
in by friends," she said, without giving any details.
"Didn't you know we would be searching for you?" the man at the church said. "Why didn't you get in touch until now? Your husband is frantic with worry."
"One day, I will tell you my story," said Mary, "but for now, I just want to go home," and she started to cry. So Philip and Jim, having commandeered a boat, and with a selection of wood they had just brought down, set off the quarter mile from the church to Mary's house. There was rubbish
everywhere, dead animals, planks of wood, doors and windows which had been wrenched off, seaweed, bricks, huge swathes of rushes from the nearby banks.
When they got in the area near Mary's house, Philip shouted, "Mr. Gardner, we have a delivery
here for you."
Martin came to the window and opened it, and when he saw Mary, his face burst into an enormous smile. "Thank God you are safe, my love." Philip and Jim held the boat steady by holding onto the window frame below (the water had receded a few feet from the night before) and Martin pulled Mary in through the upstairs window, and they shared a wonderful embrace.
"Oh, we've brought you some wood as well," said Philip, and waited until Martin had disentangled himself from his wife. Alice and John were also at the window, with their arms around their mother's legs. They had missed most of the drama of the situation, but knew that whatever had gone wrong was now being put right again, and they were very pleased about that. Philip pushed the bag of kindling and logs in through the window, and also a packet of farmers' matches, which he said might be useful.
"I can't thank you enough," said Martin.
"No thanks necessary. I did very little," said Philip, "and I'm pleased that you are all together again. I would very much like to hear Mrs. Gardner's story when she is ready to tell it."
"We'll have a flood party, one of these days, old boy, once we've got back to normal again. Give
my best wishes to your parents."
"I think my mother will be over later with her Red Cross ladies to see how they can help," said Philip, "and Jim and I will be doing errands for the rest of the day, so I might well see you again. Will you be coming to school tomorrow, sir?"
"Well, I shall do my best, but we both know," he said with a wink, "that I might just find it too hard and have to deny you boys your lessons in French and English tomorrow. But you had best do your prep in any case, and I did manage to get your essays marked, so don't think you are going to get off lightly."
Jim and Philip returned the boat to the church, and reported that all was well with the Gardner
family. They then went back to their original job of bringing wood from one end of the village to the other.