Marple Bridge Murder - 4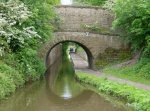 Tue, 21 Apr 2015
Judge Parke: Having perused the case mentioned, which was a trial of Hall and two others for burglary, in which one of the prisoners applied to be admitted as a witness for the crown, for that he had not entered the house but only stood at the door while the other two persons went up stairs to commit the felony. It was contended that his confession, if made with a view and hope to be admitted king's evidence, was inadmissible and the learned judge in the case was of the opinion that it was not a voluntary confession. Now in that case the accomplice made the application and disclosure in the same breath, and whether or not it was right or wrong, it was very different from the present case, where the statement was not made till after very much communication with the magistrate, who told the accomplice that he must have no hope. I have no doubt that this statement is clearly admissible.
Mr. Dunn: I wish to recall William Mosley to the stand. (William comes forward.) Please remember that you are still under oath. Have you been given money to give testimony against your brother and Mr. Garside?
William Mosley: I had ten shillings of my own when Mr. Barrett apprehended me, and that he took it off me and has given bits of it back to me at different times, but he has given me no money except that which was my own.
Mr. Dunn: Did Mr. Barrett tell you to say that Garside was the man who fired the pistol?
William Mosley: He did not.
Mr. Dunn: Had Mr. Barrett threatened to keep you in the condemned cells if you did not make a statement?
William Mosley: No, he did not.
Joseph Mosley: But you were in the condemned cells, you know you were.
William Mosley: Yes, I was but Mr. Barrett didn't say that I would have to remain there unless I confessed.
Mr. Brown: I wish to reexamine Mr. Lockett. (Mr. Lockett retakes the stand.) On the 14th after having cautioned Garside, what happened next?
Mr. Lockett: On the following morning, the 30th, I took the statement up to the gaol, and read it to him very slowly and distinctly. He suggested some alterations to it. They were made; and I told him that I would get a fair copy written, for that was defaced. I did so, and called upon him in the evening to read it to him from the fair copy. I then asked him whether it was right. He said it was perfectly true. I then said to him, "Do you make the statement freely and voluntarily, uninfluenced by promise or threat?"
He said he did, and it was all true. I then had no doubt he would have signed it; but he said, "No, I'll not sign it till I see the justice at Stockport."
Mr. Hill: I wish to reexamine Mr. Charlton. (He returns to the stand.) Please tell us in your own words Mr. Charlton about Garside's deposition when he came to Stockport.
Mr. Charlton: I was before the magistrate at Stockport when Garside's deposition was read over to him. Mr. Clarke and several other magistrates were present. He wished the word "night" to be introduced in on place; and it was done both in the margin and the body of the statement. He then said it was all true and signed a memorandum to that effect. Joseph and William Mosley were present and at that time neither of them made any observation. I asked Garside if this (showing the subsequent statement) was in his own hand-writing and he said it was.
At Chester Castle I attended on the 18th July for the purpose of reading over the statement of William Mosley to Joseph Mosley and James Garside in order that they might know what it contained. I read it in the hearing of all three. When I had done Joseph Mosley immediately turned round to Garside and addressing him, exclaimed with great vehemence, "Thou see'st what thou hast done for us both. Now we'll have it all out."
Captain Clarke, seeing him much irritated and agitated cautioned him not to criminate himself. The governor went out to fetch some paper and in the interval his emotion appeared to subside. He then addressing himself to Capt. Clarke, said, "I thank you, Sir, for warning me; I'll say no more."
Garside, on leaving the room, said to William Mosley, "Bill be sure to say ought, and then they can do us no harm."
Here is the deposition from William Mosley taken at Stockport. (He gives the document to the Judge.) You will find that it agrees with every point of his verbal testimony at this trial - and in many places even literally. The only variations or additional information which on listening to it occurred to us as worthy of noting were the following relating to his testimony about the men who paid them for the murder. In his written statement it goes thus:
"Schofield, I believe was a joiner, and the other man was in a union, and came from near Hyde. Schofield was to bring the £10 for shooting Mr. Ashton, the next day from the union. When the shot was fired my brother stood only about a yard from me. When we got to the canal bridge, I asked if Mr. Ashton was dead, and Garside replied, "I never saw him lift a limb after he fell." And again, "On the Wednesday when we met Schofield who revealed the money they threatened to shoot me if I did not take an oath not to tell. Schofield then produced a book with a red back, and we took the oath. They had signed before and I made a cross. I understood that my brother provided one pistol and Garside the other. The only time I mentioned the affair to my brother was about two months afterwards in Marple and then I asked him if any one was suspected. He said no one was suspected; but if any one dropped anything all would be up. Last summer I was in a boat on the canal with Garside, and on our passing Ashton's factory, Garside, said, "If they knew what we have done, they would not let us pass quickly." I have seen Samuel Schofield but once since, and that was in Marple.
Judge: (addressing the jury): You are not to consider this deposition as evidence against either Garside or any one. It has merely been mentioned here in order to account for the expression used by Joseph Mosley to Garside after hearing it read.
Joseph Mosley: I wish to cross examine Mr. Chorlton.
Judge: As you will.
Joseph Mosley: Can you say exactly what it was that I said to Garside?
Mr. Chorlton: You did not say, "Thou see'st what thou has done by telling a parcel of lies." However Garside said subsequently of the statement that it was all a parcel of lies.
Mr. Dunn: But in all truth, this murder would never have been solved, despite every exertion which was made to discover the perpetrators of the murder, except for the information volunteered by Garside. It was only then that the Mosleys were apprehended and that we procedured several other witnesses. I wish to recall Mr. Locket to read from the written statement made by Mr. Garside when in Derby gaol. (Mr. Lockett retakes the stand.)
Mr. Lockett: It says as follows: "I am 25 years of age. I went by the field road on Monday the 3rd January, 1831, when I met Joseph Mosley and I asked him where he was going to. He said he was going over the hill; he had a bit of a job to do that night. I asked him whether it was a fortune telling and he said it was, and he asked me to turn back, he was not going above a mile. I went with him a few yards down the road to where he said his brother William was to meet him. While Joseph and I were standing in the road, and just as William came up, a middle aged man who lives a Lowsy Thorn came out of the gravel pit, passed us and looked at us, but did not say anything. I had known both Joseph and William Mosley before. Joseph for six months before. I believe he was in the union, and that he was going frequently to the spinners' unions at Hyde and Ashton. I knew William Mosley when we were boys at Marple and again when he was apprentice to Mr. Holmes, Shoemaker. When he left Mr. Holmes he took to boating. Joseph and William Mosley and I went once and broke into Mr. Bowden's shop, a wheel wright in Marple, and stole his tools. We attempted to break into and rob John Hamilton's shop, a draper: but by the noise of forcing the window shutter, the family were disturbed and the robbery was prevented. We had agreed to join in jobs of this kind.
After William joined us, we went together to a plantation on the top of Werneth Lowe, and sat down by the hedge on a bit of backing. They then told me they were going to shoot Mr. Ashton. I asked them for what, and they said for money. I said I would have nothing to do with it. Joseph replied, "Oh aye, thou mun come and go with us. Thou need not do anything but watch: I shall do the job."
He pulled out a horse-pistol; he drew the ramrod, which was on a swivel, and put it in, and it was nearly half-full. He told William and I where we were to meet him afterwards. Joseph and William came both in rather slender shoes, and they brought a thick strong pair with them, and each of them put on one stronger shoe then we left the plantation.
We then went along the cart-road down the foot-path to the turn. Joseph had a hat, a brown cloth shooting coat open in front, and each of them had dark trowsers. William had a rough boatman's cap, a coat of light-coloured cloth, like jean, and dark trowsers. I wore a blue coat, a hat and cotton-cord trowsers.
We went from the plantation down the footpath to the cart-road, and along the cart-road till we turned into the road to Apethorn. I asked what money it was the job was to be done for, and whether Mr. Ashton was to be robbed of it; and Joseph told me he was employed by the spinners' union at Ashton, and he was to have £10 for it. And he said he and the union men had been over the ground the day before and settled how to proceed.
We went along the ground to Apethorn Lane, and as soon as we entered it a man came from towards the mill and passed us. Joseph and William were then on one side and I was on the other, and he went between us. Just afterwards we met a little girl, she had something in her hand and proceeded in a direction from the mill. And before we got to an old building on the road a man met us. He said it was dark, but we said nothing but "hem."
When we got to the old building we separated, Joseph and William went on the left side of the lane and I went over on the right side. We then went on till we were a few yards above the gate. William Mosley on the left and I on the right, stopped. Joseph went forward a few yards below the gate. While I remained in my place a man came up, and passed me. He had passed Joseph who knew he was not one of the Ashtons. We waited and I became impatient when at last I heard somebody come along whistling. I sat down until Mr. Ashton came opposite to me. I then heard Joseph Mosley get over the hedge. I got up and saw Joseph meet Mr. Ashton. When he had gone five or six yards by some, Mr. Ashton stepped aside and stood with his back towards me. Joseph got between him and the hedge, and discharged the pistol at his breast. He then fell on his back across the road. I think the man who had passed could not have gone so far as not to have heard the report of the pistol.
I did not see Joseph and William Mosley after the pistol was fired, till we met on the canal bridge. It was before settled that we should go together on the left side of the road down the fields between Mr. Ashton's house and the factory, down to the canal bank, and thence to the canal bridge. (pictured above)  I ran the other way to the wooden bridge, crossed it, and went by the factory to the bridge where the Mosleys were.
I saw a man twenty yards from the bridge on the tow path side. He saw me, but I was in great haste and do not know whether he spoke to me or not. The Mosleys said they had not been seen by anybody. We stopped a few moments on the bridge, and Joseph Mosley said we should swear to secrecy. We all went upon our knees, and prayed to God to strike us dead if we told what had been done. While we were on our knees, a man passed us under the bridge, along the towing-path, and he could not see us. It was a rough night; rather dark, though there was starlight.
When we left the bridge, and were on the towing-path, we considered whether William or Joseph Moseley should go to Ashton to inform the unions that the job was done and draw the money. It was determined that William should go, for Joseph had a child ill, and he wanted to go home to his wife and family. William went directly from the bridge to Ashton. Joseph and I went on the towing path till we came to Hyde Park under the tunnel. We overtook a coal-boat going in the direction of Marple. There was a man in the boat and another driving the horse on the towing path. The driver of the horse said it was dark. Joe said, "Aye." The boat entered the tunnel, and the man that took the horse off said we were in a hurry, and something more.
When we reached the locks Joseph took the field road to Marple Bridge and I went home. It rained before I got home. I met Joseph Mosley next morning at Marple Bridge and he said William had brought the money for the job from the spinners' union; and that we were to meet the next Monday at Dan Bank to divide it. He swore that if I told they would bring me into it; and that even if I got off, the unions would put an end to my life. He said he would shoot all the Ashtons if the unions would give him £10 a piece. I know no particular reason why any of the Ashtons would be fixed upon; but they had the character of being severe with their men.
On the Monday following I met Joseph with another man at the Dan Bank wood, to divide the money. I did not know the man, and I would not speak. Joseph said not to be afraid; he was one of the union men. He offered me £3 but I refused to take it. He said he believed I had shot the wrong man. I refused to take any money, for I thought our folks would know I had got money and they would betray me.
We separated in about a quarter of an hour, and I went to Stockport. I have no peace of mind since the job. I have been cast down; but I durst not speak for fear of getting into trouble. Last summer I went with William and Joseph Mosley in a boat; I was going with some banding to Ashton and I rode with them.