Our Brothers, Part 2. Warren Francis (Frank) Tree, RIP (1890-1916)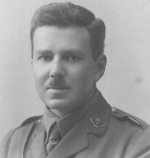 Sun, 04 May 2014
Frank was sunny and cheery to boot
A chubby loveable lad
So proud he was of his first velvet suit
With pockets to prove him a man.
He wasn't the one to shine at school
And left when just sixteen.
But he always expected to work in the law
And that is just what he did.
He excelled at sports, and had the rare gift
to fight to the last against odds
but to lose gracefully – and never fuss
A truer sportsman never found.
 
Even at bridge he often did say
or so I have heard them tell,
The fun is not in holding good cards
but in playing a bad hand well.
 
When the call came for the great war,
He was so full of hope,
Always saying it soon will be o're
His optimism helped us to cope.
 
After training in Belfast, a commission he got
With the sturdy 10th Worcesters gang.
"I think we are starting to stir the Hun now,
and I don't think he'll stop, and we shan't."
In October, he got what everyone craved
A "blighty" from a shell in the arm
Cutting an artery, just bad enough
For six months rest up at home.
 
At the Battle of Somme he was first a reserve
When the boss was killed he was told
to take the charge at La Boisselle,
which they had only just won.
He fell at Bazentin le Petit on July 22,
one day after becoming 28
and two days after in the previous year
when Charlie his brother became "the late".
 
After we heard from his Sergeant-Major.
"The battle was absolute hell.
The battalion had been in the trenches for a week
Bombardment without a spell.
Frank, in his dug-out when the orders came
"You've got to lead over the top."
"I can't do it. Really can't," he said.
He was frozen alive with his fear.
 
Morning came, he was the first to go over,
At night came the order to retreat.
When all had left Frank turned to go,
but a shell then burst at his feet.