Our Brothers, Part 3 Philip Beven (Pete) Tree, RIP (1895-1918)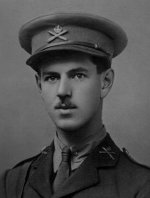 Mon, 05 May 2014
When Pete was a lad and was feeling mad
This is how he's show his temper
He'd curl like a dog outside the door
Waiting for you to come a cropper.
 
But he really was an affectionate boy
Gentle and solemn and meek
When he was naughty he knew for a fact
Because Philip he'd be called, not Pete.
His teacher said he was thoughtful and shy
Steady and very fond of his faith
But he hated Sundays, made to stay clean
A practice not easy to accommodate.
His greatest interest lay in games
But ungifted was how he was seen.
Pathetically Badly is how he played
But always he was very keen.
In 1913, he made it to Keeble
He wanted to be a vicar
But when war broke out he longed to be there
And the Public Schools' Battalion was quicker.
He too believed in the right of our case
And he wanted to strike in great style
He saw it as a lofty crusade
Making hardship gloriously worthwhile.
But tedium was his major complaint
with guarding a trench days untold.
"Anyone can smile in the face of death
But it's hard when your feet are cold."
"Three share a dug-out four feet square
And eating is not what it's been.
We have runny porridge sitting in the dark
with a fork out of one small mess tin."
"They've finally said that I can go
To Blighty and the OTC
I'd 've preferred Oxford but Cambridge will do
I wish six years it could be."
When he finished his training it was just the time,
we heard of Frank and the rest
"Charlie was taken, Frank is gone,
Why not me, not the best?"
The army allowed him an extra month
And he was our tower of strength.
But he became sad and silent as though
He knew his was coming at length.
In September he got his commsion at last
With the mighty machine-gun corps.
He had his last leave before the new year
Then went to Ypres for his tour.
 
He had a good time, not much fighting at first
He tried very hard to learn French.
But not much luck as he'd little skill
Before long he was back in a trench.
 
In the disastrous retreat to Amiens,
help was sent from the line
Pete's machiners job was to cover the retreat
But his head took a shell, and he died.