Remembering Father - 1 Planning the Funeral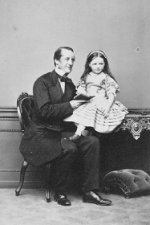 Mon, 19 Jan 2015
October 12, 1911
My darling beloved father died yesterday at Doctor Nash's in Richmond House where he was being treated. We all knew it had to happen and his health has been poor for a very long time, but now it is over. I am in a daze about what to do and how to do it - but I know that I must keep busy. I will now write to all of his old friends and acquaintances, and relatives, if I can find them, to inform them of when the funeral is to take place, and invite them to attend. First I wrote the Obituary which will be published in the Times on Saturday. That should inform those who knew Father but with whom I no longer have contact. Here is a copy of it.
I have also included my favourite picture of Father, taken with me (pictured above)
John Williams
(1822-1911)
Mr. JOHN WILLIAMS
By the death last Tuesday, October 11th, of Mr. John Williams, which occurred at
Richmond House, Turvey, Bedfordshire, one of the last very early employees of Mssr. Jardine and Matheson, has passed away.
Mr. Williams was the 4th son of John Williams, a farmer and considerable land owner of Culmington, Salop, and at a very young age became involved in the tea industry, going to China in 1844 and very shortly thereafter, being employed as a tea-taster by Jardine & Matheson & Co, the famous tea importers. He met his wife, Augusta Fischer (1837-1870)
whilst in Hong Kong, where her father, Maximilian Fischer was also involved in trade with China. Mr. Williams was very quickly promoted up the line, becoming a Tea Inspector. A few years after his marriage in 1854, (the first such to be officiated by the Acting Consul in Canton, Sir Harry Parkes) he and his wife, Augusta, returned to London, where he continued his work for Matheson & Co., and he retired in 1878. Since then he has lived in various places including, Paddington and Kensington in London, Windlesham in Surrey, Bovingdon in Hertfordshire, and for the past several years has resided with his daughter Augusta and her husband, Col. Lionel Edward Blakeney-Booth,
Turvey Cottage, Turvey, Bedfordshire.
All his brothers and sisters pre-deceased him, but he leaves two children, Mary
Augusta Booth and John Fischer Williams, newly married to Marjorie Hay, and four grandchildren, Lionel Edward Robin Blakeney-Booth, Mary Angela Blakeney-Booth, Sylvia Blakeney-Booth and Barbara Fischer-Williams.
The funeral will be on October 22, at 11 a.m. at All Saints Church, Turvey.
I thought that if I kept all my rough notes together in one place, it would make it
easier for me. So I have designated this folder and will start by putting in a copy of the two letters I wrote - one to relatives and one to friends.
All of Father's brothers and sisters have died, so I will write to  their children. Although I met some of them long ago, I must admit that I have no very strong connection to any of them.
One Williams relative to invite is Mrs. Louisa King - her husband, George
Williams King, (whose mother was my father's sister, Ann Williams King) died a few years ago, I remember, and I think their only daughter, who married Harold Day, now lives abroad somewhere. Mrs. King is probably still in Worcester, so I will write to her there.
Turvey Cottage
Turvey,
Bedfordshire
October 12, 1911
Dear (relative or friend)
Our dear father, John Williams, died on Tuesday last, October 11, at the home of his
doctor. He slipped away peacefully in his sleep. As you know, he had been ill for some time, and had his own nurses, Miss Fanny Hoare and Miss Ethel Monte, here in our home. My brother Jack and his new wife Marjorie were here with us when it happened. We were able to say our good-byes to him the night before, as he was conscious enough to
recognize us and squeeze our hands. We will all miss him dreadfully. I have sent the details for the obituary column in the Times.
I don't know if you will be able to come, but we would very much like to see you at
the funeral which we have scheduled for Saturday, October 22nd at All Saints Church, here in Turvey at 11.30. I am afraid our house is full, so I cannot offer you accommodation but there are several very good inns nearby, and I will arrange for rooms for you there, at my expense, if you are able to come. We will be having a meal for all
who attend after the funeral. Please let me know if you are able to come by return of post, so that I can make the arrangements.
Much love, (or sincerely yours)
Augusta Booth
Local friends are quite easy - and don't need a letter as they will have heard about
Father's death anyway.
Then, going back to Father's China days, I will try to get an address Henry
Keswick might come as a representative of Jardine's where he is a Director. I know he is in the country, as it was written up in the paper that he attended the coronation of King George V on the 22nd of June. His father, William, would have actually known and worked with my father. He was related to the original Jardine - William, as his grandmother was his older sister. They always did try to keep the company within the family
Then we have the people from when we lived at Shantock Hall in Bovingdon for four years, and made good friends there. And of course, the children and I lived with him, as it was when Lionel was in South Africa during the Boer War, so we knew these people as well.
I had ordered the funeral stationery some time ago, as we knew Father could not
continue on much longer, so I will start now at writing all these black edged letters.
Although we lived there long ago, we still do know a few people from Windlesham. That is where two of my children were born. After our stint in South Africa, where my eldest was born, I moved back to live with Father, as Lionel's regiment were sent away from Wynberg, and it wasn't right for me to be travelling with him, hither and thither, when I had a young baby. Anyway, his house, Woodlands, in Windlesham became our
home for about six years.
It was a lovely area, and Father's house, which he rented, was quite magnificent.
Windlesham was originally part of Windsor Great Park. I think I will invite Sir Joseph Dalton Hooker, and if he is still alive, I am sure he will make the effort to come for the funeral. He and Father were very great friends. He lives in the house called The Camp. He was a close friend of Charles Darwin, and was director of the Royal Botanical Gardens in Kew for 20 years.
October 22, 1911
  Our dinner party after the funeral was smaller than anticipated. I asked the cook at Ye Three Fyshes to cater for 30.  is a beautiful pub/restaurant. It is a fantastic stone
building and was first recorded selling ales in 1624. The Fyshes was built in 1487 and is believed to have been owned by the Mordaunt family.
I 've enclosed the  Order of Service. 
Rector -
Rev. Campbell Blethyn Hulton (He can trace his lineage to Richard
Plantagenet - and his father was a famous cricketer - so my husband,
who also excels in cricket, enjoys speaking with him about it.)
Organist -
George Edward Hopkins (He is also the headmaster of the National school,
captain of the cricket team, and also a good friend of my husband's.)
Hymn - Lead Kindly Light
Prayer - Rector
Readings - Lionel -"A Blameless Life is ripe Old Age" - Wisdom 4:4-15
Capt. Gustavus Francis Higgins - "Let us Walk in Nearness of Life" Romans
6:3-9.
Hymn - How Great Thou Art
Sermon - Rev. Hulton
Hymn - Be Still my Soul
Eulogy - John Fischer Williams
Hymn - Jerusalem
I've asked Rev. Hulton for a copy of his sermon to put in with my collection of
memories of Father, and also asked Jack for a copy of his eulogy.
(To be continued)