Remembering Father -13 More from Constance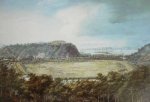 Fri, 30 Jan 2015
Constance is telling us more about her visit to the Mandarin's house, and being entertained by the ladies.
"But of all eccentricities of personal decoration, the oddest, I think, is that of gilding the hair, which, I am told, young Canton girls do on very full-dress occasions. Certainly I do remember a time when some English ladies powdered their hair with gold dust, but then they owned golden locks to start with, whereas these are all black, and glossy as the raven's wing."
"Then what happened?"
"We had a tour of the garden and when we returned to the house, an abundant luncheon awaited us, but only the gentlemen shared it with us. Even the fine old mother could not venture so far to depart from the customs of well-bred Chinese ladies as to cross the threshold, though she just glanced in to see that we were happy. Everything was excellent and abundant and semi-European, some of the party, including our host, using forks, while others preferred chop-sticks. We tasted a spirit called rose wine, and our hosts enjoyed good English sherry. There was much health-drinking, quite in what we should call old English style, which here, however, is genuine old Chinese style."
"Where do the women eat?" I asked.
"I'll come to that. Leaving the gentlemen to finish their wine, we rejoined the ladies, who now  were much more at their ease. They were sitting, as is their custom, in one of their bedrooms and gathered round us to examine such jewels as we wore, and to show us theirs, and were pleased by our admiration of their quaint and very elaborate head-dressing, their glossy hair being ornamented with artificial flowers, valuable hair-pins of gold, pearl, or jade-stone. Some wore butterflies of the kingfishers' feather jewellery, but the principal ladies wore necklaces and bracelets of clear, bright-green jade, the Chinese equivalent of diamonds. One lady who wore large pendants of jade as ear-rings, and also attached to the silken curd of her fan, was the proud owner of enormously long third and fourth finger-nails on the loft hand. These were shielded by golden nail-protectors - excellent, weapons for the infliction of a vicious scratch! They are simply half-thimbles about three inches in length. I have invested in a very pretty silver set of four."
"Can I see them?"
"I'll show you later," she said, and continued with her story.
"Their chief pride evidently centred in their poor little "golden lily" feet, reduced to the tiniest hoof in proof of their exalted station. Of course, the- so-called foot is little more than just the big toe, enclosed in a dainty wee shoe, which peeps out from beneath the silk-embroidered trousers. Whether to call attention to these beauties, or as an instinctive effort to relieve pain, I know not, but we observe that a favourite position is to cross one leg over the other, and nurse the poor deformed foot in the hand."
"That is so sad, and so unnecessary," I interrupted again.
"As they could scarcely toddle without help, their kindly-looking, strong, large-footed attendants were at hand, ready to act as walking-sticks or ponies, as might be desired. However ungraceful in our eyes is the tottering gait of these ladies when attempting to walk, it is certainly not so inelegant as the mode of transport which here is the very acme of refined fine-ladyism. The lady mounts on the back of her amah, whom she clasps round the neck with both her arms, while the amah holds back her hands, and then grasps the knees of her mistress. Very fatiguing for the poor human pony, who sometimes is called upon to carry this awkward burden for a considerable distance, at the end of which it is the lady, not the amah, who refreshes her exhausted strength with a few whiffs from a long tobacco-pipe!
"You asked about what the ladies ate. The only work of the attendants was to fan us, and assiduously feed us with luscious preserved fruits and cakes, which it would have been deemed uncourteous to refuse, though it was terrible to have to swallow so many. One or two would really have been enjoyable, but here hospitality involves surfeit. It was a delightful relief when one of the amahs brought in a basket of pumeloes (the huge pink-fleshed citron), whose sweet acid flavour was a blessed change; and then another woman produced some of the nut-like seeds of the lotus plant, which are very nice. Chinese hospitality is only satisfied so long as the mouth of the guest is well filled. Presumably these were the foods the women normally ate, but none ate while we were there.
"One of the older ladies of the last generation was suffering from headache, and as a cure she wore a circular patch of black plaster on each temple. We very soon felt that the like fate would be ours were we to stay much longer in the small crowded room, where the atmosphere was most oppressive for lack of ventilation, though it is hard to see why it should be so, as there are no doors in any Chinese house, only open portals embellished with the highest open-work carving, and there is much carved lattice-work all about the place.
"As soon as we could venture, we rose to take our leave, which is necessarily a slow process, as in any case Chinese politeness requires the hosts to make every effort for the detention of their guests, and in the case of such women as ourselves, I have no doubt the regret at parting was genuine. When at last we had successfully manoeuvred our way out, hospitality still followed us in the form of baskets of fruit and of rice-cakes made with burnt sugar."
I felt like Constance had got so much more out of her visit to Canton than I had, and I was very interested in all she had to say about it.
Saturday, 15th February
The bishop sails tonight for Foo-Chow, accompanied by Mr. Barry, a clerical friend from Calcutta. Mrs. Burdon had at first intended to go with them, and had kindly invited Constance to join the party, saying that the boat expedition up the Min river is one of the loveliest things in all China. But as she was not prepared for such a sudden start, it is now decided that she and Constance are to follow a few days from now.
Constance said she was glad of the delay, as Mrs. Coxon, a friend of olden days, wishes her to stay with her for the races next week, which are the great event of the Hong-Kong year, so that it really would be a pity to miss seeing them. They last three days, and the race horses are all Chinese ponies, ridden by gentlemen. She says she will see that I am invited as well.
Wednesday, 19th February
Hong-Kong certainly has good reason to appreciate its own racecourse, for a prettier scene could not possibly be imagined. This is the evening of the third day. Mrs. Coxon being one of the very few people here who cares for the exertion of driving a pony instead of being carried by men, drove us out cheerily early each morning in her little pony-carriage, which, I think, was the only wheeled vehicle in that vast assemblage. Every one else went in chairs, borne by two, three, or four men, as the case might be (Chinese law does not allow a Chinaman to have more than two bearers, unless he holds certain official rank, but foreigners generally think it necessary to have their chair with full complement of bearers, if they have occasion to go a hundred yards!)
Each morning the whole two miles to the race-course was one densely-packed crowd of human beings, one-half of the road being absorbed by a double row of chairs and Chinese bearers, and the other half crowded with Chinamen, soldiers, sailors, native police, and all pouring along intent on this grand ploy. Such a quaint-looking throng, yet all so perfectly orderly, they might be going to church or coming from it: and yet these Chinamen, with their impassive faces, are the most inveterate gamblers, and many a heavy stake has been lost and won in these three days. That two-mile-long procession of chairs in double file was a sight in itself. The road is a very pretty one; even the streets being partly overshadowed by large trees, and then the way lies along the bright blue sea. Indeed blue is the predominant colour everywhere, for by far the greater part of the crowd are dressed in blue, indigo-dye being so cheap, and large blue cotton umbrellas area very popular with the Chinamen of this foreign colony.
The race-course itself is admirably situated, being a dead level surrounded by wooded hills, with a broad stream flowing to the blue sea, and the distant hills of the mainland seen through a gap. On either side of the Grand Stand are built a series of large, comfortable, thatched stands, which are the permanent property of the governor, the stewards of the races, and the different great mercantile houses including Jardines, combining a luxurious dining-room on the ground-floor with a comfortable open drawing-room up-stairs, furnished with any number of arm-chairs. The finest stand of all, with flat-terraced roof, is the property of the Parsees. The programme is, that each morning society meets in the Grand Stand, and there remains till the pause allowed for luncheon, when all disperse to the various great luncheon-parties in the private stands, and then spend the afternoon in the drawing-rooms aforesaid, where there is an abundant supply of coffee and ices.
We followed out this pleasant programme for two days, and were vastly amused, but this morning Constance was determined to devote the day to sketching the scene, so she resolutely forsook us, and went by herself to a hill in the Happy Valley, the peaceful cemetery for all nations and sects, whence she could overlook the whole scene; and truly it was a pretty sight, she said, with the amazing crowd of Europeans and Chinamen seeming no bigger than ants - blue ants - and such a swarm of them! (pictured above)
From this high post she said she saw the races to perfection, and especially enjoyed the excellent music of the 74th band and of their seven pipers, headed by Mackinnon, a Speyside man. "The music gained vastly as it floated up to me, every note clear, instead of the ear being distracted by all the jarring sounds of the race-course." 
20th February
Tonight is the usual great race ball, but my friend Constance won't be going. She will be far away at sea, as she embarks for Foo-Chow early in the morning on the S S Samoa. At 2 a.m. this morning we were aroused by the wild clanging of the fire-alarm which brought back all those memoirs of Christmas night. Strange that Constance's first and last experience of Hong-Kong should be marked by such haunting memories! Looking out, we saw the flames rising from a point near the naval yard. Fortunately it did not turn out to be very serious, but Constance's host, Mr. Coxon had to start instantly to join the fire-brigade (of which I think he is captain). Curiously enough he was introduced to her, sitting on his fire-engine, the morning of that awful Christmas night, and this morning he came straight from his engine to the steamer to say good-bye!
As well as Father and me, various other friends also came to say goodbye to  Constance, so hopefully her last memories of Hong-Kong were as pleasant as all the rest, and she said it was with true regret that she looked her last on that beautiful scene, bathed in soft morning light.