Remembering Father - 3 -more about tea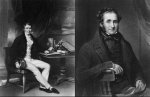 Wed, 21 Jan 2015
"When did you get a turn to speak?" I asked Father, as he was telling me all
about his experience in appearing before the Parliamentary Select Committee.
"Just about now. Shall we continue with this pretend dialogue?"
"Oh, yes. I think it's great fun."
"'Call Mr. John Williams. Mr. Williams, do you work for a tea company?' - 'Yes, I am
an inspector of teas for Matheson & Co.'
"'Did you ever live and work in China?' - 'I was there for eleven years, but that
was nearly 30 years ago.'
"'Do you know about using plumbago in teas?' -Yes.'"
"I don't know what that is," I put in.
"It's a flowering plant native to temperate and tropical areas which had blue lead
coloured flowers. That's where the name comes from as the Latin name for lead is plumbum. It's also sometimes called Leadwort. The sap from the plant creates a lead coloured stain."
"'This plumbago gives a sort of polish, does it not?' - 'It does.'
"'Would not it give the same polish to old used leaves that were dried up again?' -
'It would, I presume, the same as to the new.'
"'And the retail seller probably would not know the difference?' - 'I think that if he
was a judge of tea, or what we call a tea-taster, it would be very evident to him.'
"'If old leaves were polished with plumbago could you still see the difference?' -
'After the water was poured off the tea, if you found that there was a deposit, you could tell that it had been adulterated. Being coloured had a mixed appearance. Several questions have been put about the old leaf of teas, and whether the colouring has been done merely to disguise the old leaf; I do not think that it is done with that object. The Chinese mix together many leaves of different complexions and before any colouring was put on them, they would look very mixed and to make them look one colour they would add a small amount of plumbago.'
"'Then to give it an even face, plumbago is put into a bag with the tea, and the tea is
shaken, which gives it an even face?' - 'Yes, I believe this is so.'
"'And to flavour the tea a kind of jasmine or other flower is added?' - 'Yes, to give
it scent which buyers in this country are not partial to, but they are much more so in the United States.'
"'Orange pekoe, a manufactured article in the same sense as sugar plums here perhaps
would be a manufactured article?' - 'Yes.'
"'How does this addition come about?' - 'The first operation I understand to be that
the tea leaf is rolled like shot, and the flavouring gum is diluted with water, and the fingers of the operator are dipped into it, passing the flavour on to the tea leaf. I believe that to be the case as regards scented teas.'
"'It does not improve the quality of the tea, does it?' - 'No, it does not improve
the quality of the tea certainly, nor does it deteriorate the quality, if moderately used.'
"'But it makes the different coloured teas, and the different qualities of teas to
appear to be the same when they are mixed?' - 'It gives a uniform colour to leaves which previous to their treatment would have looked mixed.'
"'Is the old tea improved in appearance?' - 'I cannot say that it would be improved.
An experienced tea taster or a judge of tea would be able at once to
detect from its appearance whether it was old tea or not.'
"'Is it a matter of fact that tea that has been soaked in salt water and dried would
be passed on which the duty would be paid and would go out to the consumer?'- 'We have been led to believe that such has happened several times.'
"'And that is what you call facing? '- 'I call it over-facing.'
"'The last witness gave it as his opinion that there really was no difference between
black and green tea before it was powdered; it that your opinion?' -
'My opinion is that they come from different districts, and that they have different flavours, but that they are the same kind of leaf, and differences in taste come because some of the cheaper kind, an inferior green tea, has been brought from a poorer tea growing district.'
"'Have you ever turned your attention to some of those magnified leaves taken from a
tea tree, showing the sort of leaves of which the tea is composed?' -
'Very little: I have not done much in that way.'
"'Are you aware that leaves of that sort magnified largely for inspection include the
willow, a tree which grown in China, does it not?' - 'Yes.'
"'Does the elm grow in China?' - 'I think so.'
"'Does the sloe also grow there?' - 'Yes.'
"'With regard to the colouring matter, I presume you have no knowledge whatever as to
its being injurious to health?' - 'Nothing at all. I have seen green tea taken for a good many years, and heard no one complain of it.'
"Dr. Brady then started asking questions.
"'Do you agree that scented teas are made from the worst quality of tea?' - 'Only
common scented teas; there are so many grades of quality in teas of all kinds.'
"'Do you consider that the Adulteration of Food Act works satisfactorily as regards
tea?' - 'Most decidedly not.'
"'In what way would you propose to amend the act?' - 'If the Act is to be carried
out; as to the examination of tea, I would suggest that if adulteration is found, the blame should go back upon the agent in China, if not the owner himself; for it is there where the wrong  originates, and surely the one who brings in any substance unfit for human food is the one on whom the liability should fall, not the retail agent'.
"'Do you think that the present Act works unjustly towards the retail dealers?' -
'Most unjustly.'
"'Is not the real difficult this, that the retail dealer having mixed his teas, cannot
fall back upon the importer?' - 'It would not only be called simply the real difficulty, because the retail dealer might mix two or three kinds of tea together. Supposing iron filings were found in the mixture, a practical man of business would know that iron filings
were not in each of the teas, but just in one, but wouldn't know which one, as they were mixed.'
"'This is not mercantile purity, but it is a purity to protect health and life?' -
'I do not believe that as regards tea, half a million pounds of tea has been imported that would injure health of life. I have tasted tea now for 35 years, and I have still kept my health and I think others will agree with that. The proportion of adulterated tea is not
greater now that it has been over those 35 years.'
"'Do you think that the Act is not at all necessary to protect the public in such
cases where they buy from the retailer and find 1 and a half or 2 % of deleterious matter in the tea?' - 'It is not necessary to make the Act more stringent; I think that a small quantity of matter will do no harm.'
"'If as you have just told us, the proportion of adulterated tea sent over now is not
greater than it was in those days, would it not be true that there is no particular use in having inspectors of which you are one?' - 'The Company's inspectors, I think were chiefly for the company's benefit - not the retailers.'
"'Are you saying you think there should be no federal control?' - 'I have no objection; I should be very glad to see anything that would prevent the importation of tea that was unfit for human food. My disbelief is if a further deterrent power existed this might check
people from shipping bad tea. I think as regards the present year that a good deal of tea, which would have come from Canton of an inferior quality, has not been sent home because of the current legislation.'"
Thus ended our little play, but I really enjoyed learning so much about Father's
work.
I really wanted to get to know more about what sorts of things Father had done in China, so that I would appreciate my visit there more. So another day, I asked him to tell me about the tea industry, and Jardine and Matheson (pictured above)  in particular. This is more or less what he said.
"I will tell you about the men (and their relatives) who employed me. William
Jardine was educated in medicine in Scotland. In May 1817, he left medicine for commerce.
"Jardine's early success in Canton as a commercial agent for opium merchants in India led to his admission in 1825 as a partner of Magniac & Co., and by 1826 he was controlling that firm's Canton operations. James Matheson joined him shortly after, and Magniac & Co. was reconstituted as Jardine, Matheson & Co in 1832. He was thought of as a most conscientious, honourable, and kind-hearted fellow, extremely liberal
and an excellent man of business in this market, where his knowledge and experience in the opium trade and in most articles of export is highly valuable. I never met him.
"James Matheson proved a perfect partner for Jardine. He and his nephew, Alexander
Matheson, joined the firm Magniac and Co. in 1827. Jardine was known as the planner, the tough negotiator and strategist of the firm and Matheson was known as the organization man, who handled the firm's correspondence, and other complex articles including legal affairs. James was known to be behind many of the company's innovative
practices. And both men were a study in contrasts, Jardine being tall, lean and trim while Matheson was short and slightly portly. Matheson had the advantage of coming from a family with social and economic means, while Jardine came from a much more humble
background. William was tough, serious, detail-oriented and reserved while James was creative, outspoken and jovial. Jardine was known to work long hours and was extremely business-minded, while Matheson enjoyed the arts and was very eloquent."
"So how did the trade develop? What did the Chinese want in exchange for their tea?"
"Some of the earliest items sold in exchange for tea were British clocks, watches
and musical boxes. These were not enough to compensate for the trade imbalance of massive quantities of tea. China developed a strong demand for silver. But the British preferred to trade opium rather than silver. The British had access to opium through Bengal in India, and the Chinese smoked opium in an addictive narcotic manner.
"The firm's operations included smuggling opium into China from  India,
trading spices and sugar with the Philippines, exporting Chinese tea and silk to England, factoring and insuring cargo, renting out dockyard facilities and warehouse space, trade financing and other numerous lines of business and trade. In 1834, Parliament ended the
monopoly of the British East India Company on trade between Britain and China. Jardine, Matheson and Company took this opportunity to fill the vacuum left by the East India Company. With its first voyage carrying tea, the Jardine clipper ship Sarah left for England. Jardine Matheson then began its transformation from a major commercial agent of the East India Company into the largest British trading hong, or firm, in Asia. William Jardine was now being referred to by the other traders as Tai-pan, a Chinese colloquial
title meaning Great Manager.
"During the mid-1830s, trade with China was becoming more difficult due to the
Qing government's increasing restrictions on the narcotic trade in part to control the worsening outflow of silver. This trade imbalance stemmed from the fact that Western traders were importing more opium into China than they were exporting teas and silk.
"Nevertheless, Dr. Jardine wanted the opium trade to expand in China. In 1834, William Napier, tried unsuccessfully to negotiate with the Chinese officials in Canton. The Chinese Viceroy ordered the Canton offices where Napier was staying to be blockaded and this was the beginning of the Opium Wars.