running past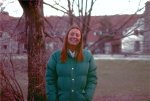 Thu, 16 Oct 2014
Running through the past
Bound  by lines of photographs
of myself and others,
I find a timeline that is shaped within diaries of seconds leaping in time..
An image of myself upon an autumn day clearly stands out
smiling towards a dream,
holding onto a reality that became iceland.
Lavender and moss ,
an early frost ,
words in forms that only  the eye can see.
Inwardly I climbed
and sought the lines of colour
upon paths of a language lost in antiquity.
Lavender and moss.
leaves scattered upon the frost.