The Awakening: Prologue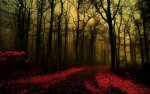 Sat, 07 Oct 2017
(The first bit of this newly awoken novel! Comments would be appreciately accepted!)
Prologue
     "Mommy, did you hear that? "Melanie stopped blowing dandelion seeds into the smooth sailing breeze to spin around in the direction of a snapping twig. She watched in awe as a large figure lunged out from behind the leggy hackberry trees, sending the bright and cheery "Happy 10th birthday" poster gliding softly onto the dark jade grass.  The darkened figure landed a few feet in front of her, its head angled back as it glanced up towards the sky full of clouds; saturated and plump with sunlight.
     It was an abnormally large wolf. Its body covered with charcoal stained fur; all but its elongated muzzle that was a long crimson stripe, one that went from its chin down its entire chest and underbelly. The tufted ears were kissed on the tips with the color of freshly fallen snow. while the young girl's gaze wandered all over, she noticed its massive padded paws contained upright dagger-like claws; their tips as long and arched upward as its bushy-based tail. Melanie finally tipped her head back to stare into the twin orbs full of Saharan sands winking in and out with light as the beast simply blinked at her and then took the time to glance at their surroundings.
     A joyful feeling bubbled to the surface of Melanie's mind as she straightened up eagerly and skipped over to the wolf, her lips rising into a heartfelt smile. While she neared, the animal glanced down once again and caught her staring at it with inquiring scarlet and silver swirling eyes.
     "Hi Wolfy!" Melanie exclaimed, her infectious smile shining like her own personal ray of sun. When the wolf made a hesitant step forward, Melanie gave the limp dandelion stem laced between her fingers a small desirous twirl. As she idly bounced in front of the massive beast, its oddly lackadaisical gaze watched her naked feet press into every blade of grass they made contact with; either crushing or collecting drops of morning dew on the curved tops of her toes. Again, it moved in forward, noisily sniffing every few seconds. She now buzzed with anticipation, the long black hair falling into her eyes instantly brushed away as the flaring sun caused their chrome tinted ends to bounce sunlight into the being's eyes.    
     With a soft harrumph, the wolf narrowed its eyes as it dropped belly-first into the grass, bringing its tail to mimic her rhythmic jumps like a metronome. Melanie giggled in delight and lowered onto her knees in front the wolf. When she settled down, it layed it's head on the plush pillow of grass below her and lapped at her resting hands to reassure her that it met no harm. Vigilantly, she slowly raised her hands and pressed both of her palms into the wolf's broad head, marveling at how steadily her fingers sunk into its crepe-like fur.
     Melanie had suddenly realized that everything surrounding them seemed to have dwindled to a soft and hardly audible whisper. It was only her and this gentle giant; it layed still, only moving to tilt its head back to look up at her with its luminous eyes. She wasn't too sure, but she could have sworn she could read the emotions scrolling through the humanly features lining his relaxed face: contentment, authenticity, longing.
      Melanie lowered her head, breathing in the faint smell of sandalwood and cinnamon lingering on the wolf's loose waving fur. Her lips parted to answer a question she believed hovered in the intensity of its unblinking stare. "My name is…"
      "Melanie! Get away from that creature, now!" The sound of her mother's shriek yanked her back into reality, hard. Panicking, she tore her hands away from the wolf as if it were an irrepressible virus and fell back until her hands pressed in the grass on either side of her back. Abruptly, all the warmth and earnestness in the wolf's eyes became engulfed with confusion and caution; it sat up and cocked its head slightly as it loosed a small cloud of heated air that tickled the tip of her nose.  The shine in its eyes quickly darkened into a shade of onyx with orbs of gold blooming around its pupils, forming into the shades of a European Paper Wasp.
     The wolf threw itself onto its paws and moved to block Melanie from her mother advancing towards them, its snout twisting upward as it bayed out maliciously.
     Melanie's mother froze; her coal black eyes bulged, and an uneasy expression rolled onto her face. She whipped her head towards the porch of their cabin. "Nicholas hurry! It's a wolf," she shouted, fear and hatred rooting into her mother's every word. She whirled around and ran out of the yard in terror; sandy colored hair lashing around wildly as she launched herself at the back gate.
     "Mommy?" Melanie called, but, her mother was long gone; kicking up a patch of grass as she fled. The porch door flew open and Nicholas threw himself over the railing, hauling his 8400 Magnum over with him. As soon as he hit the ground, he broke into a sprint towards the now defensive beast. Melanie could see the wolf shudder as a lower, much more threatening growl erupt from its throat as it bared its saber-like fangs, layed its ears back, raised its hackles and positioned its body into a deadly spring.
     Nicholas, now only a handful of feet away from the towering wolf shifted to aim the rifle at its dilating chest. "Get the hell out of here mutt!" he unfeelingly shouted, venom dripping from his words and into an acidic pool at his feet. The pointer finger soaked with sweat layed stiff on the rifle's trigger.
     "Don't hurt it!" Melanie heard herself blurt out as she stuck her head out from under the wolf's bent legs.
     The shock of her plea broke Nicholas's concentration enough for his eyes to cut towards her; to scan her delicate body lying in a heap of sun kissed serrate leaves and crippled dandelion stems. His eyes widened in horror. "Mel…"
     Whatever came next was callously silenced by the wolf slamming its head into the center of Nicholas's ribcage; entirely knocking the wind out of him. It spun in a blur of fur, fangs and feral ferocity, managing to latch its incisors onto the rifle's chamber and slam Nicholas into the nearest trunk of a hackberry tree. From the force of the impact, Melanie could see dozens of leaves float downward from their branches like care packages.
     Pinning Nicholas into the tree, the wolf's front paws shoved the rifle's metallic mass into his ribcage mercilessly. The canine barked cruelly in his face, snarling hot breaths that stung his eyes and shriveled the fine hairs within his nostrils. Nicholas groaned out as he turned and tossed against his backside, the base of the rifle moving with him. Time it right, time it right, he begged to himself as the wolf continued to only snarl at him, almost as if it only wanted to keep him at bay. Right as his body turned entirely towards the left, Nicholas shut his eyes, held his breath, and pulled the trigger.   
     The bullet tore deep into the skin and fur of the wolf's snout as it flew past the tip of its left ear. When the wolf fell back, it cried out in sync with the falling blood droplets. Nicholas took his foot and swung it into its underbelly, sending the massive animal tumbling across the lawn and into a shrub plagued with old rose thorns near the mouth of the forest trail. The wolf's whimpers could hardly be heard over its and Nicholas's panting. Melanie, who had been watching in utter dismay, was swept up and into Nicholas's arms as he took off into the forest, hurtling them into the swollen base of a pine tree. He layed his head back against its blackened bark to catch his breath.
      "Hold onto me sweetie, as tightly as possible." Nicholas thickly whispered. Melanie looked up at him, a small strained grin shined dimly on his cracked lips, blood filling in the stretching skin like water seeping between cracked rocks. She could only wince and nod as she dug her nails into the back of his shirt and squeezed her eyes shut. Nicholas held her tightly and resumed his sprint down the forest trail and back to the safety of their home, holding that rifle up against his heaving chest.
     Right as they neared the clearing, the jagged edge of a rock caught the back of Nick's pants and caused him to lose his hold on Melanie.
     "Daddy, help!" she shrieked as she was thrown over the oblique pathway and into the dirt-filled mouthpiece lying at the bottom. Nicholas swore under his breath.
     "Melly! Hold on sweetheart, I'm..." he froze as the sudden sound of shuffling shrubbery sent a chill-spider down his lower spine.
     The wolf, slightly dazed and winded was hunched a few feet away from Nicholas, its face distorted with trickling blood, open skin, and corybantic bloodlust. A howl full of saliva crackled from its throat as Nicholas grabbed the rifle by his feet and scrambled to aim again. The wolf was faster, lunging into the air and throwing a left paw across his cheek, the claws slicing into their desired target; scraping away the skin covering his right cheek like a box grater. The wolf backed up and lunged once again, latching onto the collar of Nicholas's shirt and chucking him down the dirt slope Melanie had fallen from. He cried out as he slammed against the bottom, the rifle gripped in one hand and the other tenderly stroking his brutalized cheek.    
     With a triumphant howl, the wolf turned towards Melanie, the joyful glow faintly returning in its eyes as it caught sight of her and proceeded to dart her way.
     Melanie's eyes widened as the wolf advanced, she slowly sat up and watched as it released a series of coughed barks that she considered were laughs. A smile instantaneously coiled onto her lips. Wolfy, she mouthed.
     Nicholas forced himself onto his hands and knees in time to see the wolf running towards Melanie. He took aim once again. "I said get away from her!" the burst of the Magnum overshadowed his words. The bullet whistled through the clearing and burrowed itself into the back of the wolf's left shoulder.   
     Melanie screamed as the wolf's eyes flashed with consternation. It seemed to collapse mid-stride as it crumbled forward and fell, landing a few inches in front of her quivering figure. Tears stung in the back of Melanie's lids as shock kept her rooted in place. Her whole body shook, causing her small white fists to vibrate in place.
     The wolf looked up at the sound of Melanie's shaky breathing. Beginning to whine, it raised its right arm and began to desperately paw at the thin air separating it from her. Tears silently trailed down the sides of her cheeks as she started to reach towards the wolf, but her hand froze as the creature begun to quiver as violently as leaf tormented by a never ending gust of wind.
     "Are y-you okay?" She stammered. The wolf blinked at her. It shook its head very slowly and allowed its eyes to close under the intensity of her tear-filled gaze.
No Melanie… I am not okay.
     Her eyes enlarged and her mouth took the shape of an 'O'. She didn't see the wolf's battered snout move one inch but she heard its voice, his voice as translucent as glass. She shakily gasped; she heard the same words echo over and over again, in her head.
     "What…"
    Melanie rolled back as Nicholas flung his foot into the side of the wolf's snout, aggravating its already bleeding slash. The wolf grunted and tumbled back, its stained black fur whirling as it skidded and crashed into the back of a rock. It struggled to get on all fours, but when it managed to rise, the wolf's left arm remained suspended as it teetered in place.
     "Leave now, and don't ever come back." Nicholas hissed, spitting in the wolf's general direction. Distraught and defeated, the canine lowered its head and limped its way back towards the woods. It paused halfway and turned to look Nicholas directly in the eyes.
     "Niciveres, you will not get away with this. You cannot hide the truth from the girl for much longer. She'll find out what she is." The wolf coughed out a bitter bark; one filled with so much seeping blood that Melanie could feel her stomach churn.
"She'll find out what you are, what you all are."
    Nicholas sucked in his breath and watched as the beat-up wolf limped out of view. As soon as the beast's gargantuan silhouette faded into the distance, he took a slow, rickety breath and turned towards Melanie. After calling her name a few times, she raised her head and looked up at him, tears trailing down her cheeks and lingering on the tip of her dirt-smudged chin Nicholas lowered himself onto his knees and put his hands on her shoulders. He shook her lightly.
"Melanie, wake up."