BELONGING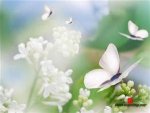 Fri, 19 Sep 2014
Was it a twisted sense of loyalty
That made me linger far too long?
Or a fear of not belonging
That kept me when I should have gone?
Is independence now surrendered
In favour of security?
Should I have held on to my freedom,
Not opted for stability?
'It's not too late, you still could stop it'
He says in such a gentle voice
I close my eyes and answer quietly
'No Dad, I have made my choice'.
What is this thing called love? I ponder
As we walk slowly down the aisle.
Then I see such joy, respect and wonder
And lose all doubts in my man's smile.
 .