FAREWELL THE SUN (IP)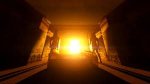 Fri, 02 May 2014
Rain yesterday and today
And every tomorrow;
If the sun again shines
It will be through my tears;
Please show me the way
And Pity my sorrow,
O Goddess divine
O Ancient of years.
I have never failed you
Yet must bear such a cross;
I once cared for the king
But now it's too late.
And I must die too.
So I weep for his loss
And can do not one thing
To alter my fate.
For I know what's to come
As here in this room
They blot out the sun
And seal the door of the tomb.