An Axe To Grind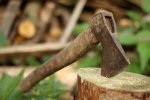 Wed, 31 Jul 2019
The murder of two people,
a most heinous crime,
happened in Fall River
during one summer time.
 
It was on August the 4th
of eighteen-ninety-two
that the killing took place;
who did it no one knew.
 
There was unhappiness
in the Borden household.
Lizzie hated her stepmum
and her father, we are told.
 
If relations were strained
things became even worse
with the sudden arrival
of her uncle, john Morse.
 
All the family's members
had to be interviewed,
their movements checked
and no one was excluded.
 
The finger was pointed
at the main suspect, Lizzie,
who, acting suspiciously,
seemed to be in a tizzy.
 
She therefore was indicted,
charged with wielding an axe
that had caused two deaths
by several, savage attacks.
 
But the verdict was 'Not guilty'
as the prosecution didn't find
any proof though it was stated
that Lizzie had an axe to grind
© Luigi Pagano 2019