The Lady The Butler And The Cat. (Part 1 of 2)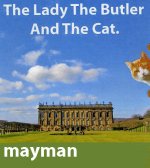 Mon, 04 Aug 2014
The impatient voice of Lady Georgina Mapleberry filled the luxurious hotel apartment.
"Joseph, Joseph.  Where are my spectacles ?  What have you done with them ?"
Joseph appeared from the lounge wearing his usual benign expression.
The missing spectacles were exactly where he expected to find them.
"They are on top of your head Madam."    
"What on earth are they doing there ?"  she still insisted on being angry with Joseph.  Not considering for one second that she alone may be responsible for the last resting place of her spectacles.
Joseph returned to his interrupted chores.                                                                                                                                  "I must have put them there by mistake." he mumbled as he left.
A few years ago Joseph would have been called a butler.  Today, his modern, politically correct, anodyne title is; 'Personal Assistant.'        He had been with Lady Mapleberry for nineteen years now.        His job was to see to all of her requirements, from appointments to wardrobe, domestic chores and every little thing the good Lady couldn't manage herself.  Which was mostly everything.
"Joseph, run my bath will you. And try not to scald me"                                                                                                        "I'll do my very best Madam."   he said dryly.                                                                                                                            Hot water gushed from the beak of a gold swan at the end of a large sumptuous bath.  Joseph poured in the usual selection of expensive frothy scented embelishments.        "Your bath is ready Madam."  Joseph called from the bathroom.  Adding under his breath;   "98.6 degrees exactly."
"Too much froth.  Take some out. " demanded Lady Mapleberry.                                                                      Joseph scooped his hands through the froth and stood holding the suds as though they were on a silver platter
"What time is my appointment with Mr Fayed ?"
"Al Fayed."   corrected Joseph,
"His name isn't Alan."
"No Madam.  His name is Mr Al Fayed."
"What does he do anyway ?"
"He owns this establishment Madam."
"Don't be ridiculous.  He's probably some awful pop star after publicity.  Most likely, he wants to be photographed with me."
"Dinner is at eight Madam."  Joseph ended the conversation before he heard any more.                                "If you'll excuse me madam, I'll just go and give this to the bell boy before it melts."
Joseph leaves, holding his froth filled hands before him like a champagne service.                                       After disposing of the suds on the satin curtains in the lounge, he continued laying out Lady Mapleberry's clothes for the evening.
"Which shoes will Madam be wearing tonight ?"   Joseph called from the lounge.
"My black ones of course."
"Which of your 37 black pairs would that be madam ?"
"The ones that go with my gown, naturally."  came the intolerant reply.
There was a short silence while Joseph looked at the ceiling and counted to ten.
"Which gown will Madam be wearing tonight ? "  asked Joseph, with faux patience.
"The black one Joseph.  Must I do everything myself ?"
Joseph lay a plain black dress on the bed, looked at a large selection of identical  black shoes.....
"Eeny meeny miny mo....you'll do."
He placed a random pair alongside the dress.
"No, not those.  Those.   Lady Mapleberry appeared from the bathroom and tetchily swapped the shoes for an identical pair.
"My mistake Madam.  I thought you meant the black ones."
The sarcasm passed high over Lady Mapleberry's head as usual.
"Of course I meant the black ones. Do try and understand."
"Beg your pardon Madam.  .  I was confused by the immense variety."
"Have you laid out my best mink stole ?"
"This one Madam ?"    Joseph held up the dead animal.
"Well at least you got that right."
"You only have the one Madam."   then muttering;  "The others escaped when they saw you coming."
"Do stop mumbling man.  You sound like the old plumbing"                                                                                       "Beg pardon Madam."   Joseph returns the 'wrong' shoes to the wardrobe.                                                              "It's these second hand dentures.   All I can afford on the crumbs you throw me."                                             "Crumbs ?  What crumbs.  Clean them up immediately."                                                                                            "Of course Madam.  I'll save them for my breakfast in the morning."                                                                                 "Ah yes, breakfast.   I'll have cereals and toast followed by lightly smoked kippers."                                  "Certainly Madam.  I'll smoke them myself."
"Joseph you know I don't like you smoking.  Disgusting habit. You should really try and give it up you know."
"Immediately Madam.  I'll have a word with the kippers too."
"Yes, do Joseph.  At least make them go outside.   I really don't like the hired help smoking around the place."   
"I'll be sure to tell them Madam."
"Good man, see to it.  Now what jewellery should I wear tonight ?"
"I suggest something simple Madam.  Perhaps the gold chain with crucifix."
"Oh how boring.  I was thinking of wearing the pearl necklace with matching ear rings."
"Far too ostentatious for a simple dinner Madam."
"Well perhaps you're right Joseph. I don't want to look as though I'm showing off in front of Mr Fayed.  Envy is never pleasant to see in a man."
"Good choice Madam.  I'm sure Mr Al Fayed will be greatly relieved."  Joseph turned to get the chain.  "Especially as the pearls were pawned last week."
"Prawns ?  No Joseph I distinctly said kippers.  You know I don't like prawns for breakfast.  Far too common."
"Kippers it is Madam." 
"Now then Joseph, I don't expect to be late back this evening. I'll let this Mr Fayed have his photograph taken with me then I'll slip away."
"I'm sure he'll be eternally grateful Madam."
"So he should be. My time is valuable.  Well don't just stand there Joseph, open the door for me."
With a dandy flourish, Joseph took his handkerchief from the breast pocket of his dress coat and polished the doorknob before opening the door. As Lady Mapleberry walked by he gave a hint of a courtesy.  She stopped and gave him a curious look before continuing on her way.                 Joseph gently closed the door after his mistress, then gave an extremely rude gesture in her direction.       As soon as he was alone, he went out onto the balcony overlooking the busy streets of London.  He took a small cigar from his coat, lit it and inhaled as though it were  nectar of the Gods..  This was his treat to himself whenever he was free of the beck and call of Lady Mapleberry.
Along the hotel corridor, Lady Mapleberry stopped in her tracks and searched for something in her clutch bag.
"Bother. That silly man has forgotten my spectacles again." she spoke out loud as though some invisible companion was with her.  Once again she was oblivious to the spectacles on top of her head.     She turned on her heels and headed huffily back to the hotel room.
Out on the balcony, Joseph savoured his cigar and took out his mobile phone. He  only had three numbers stored in the memory.  Saville Row Tailors for his Butlers attire.  His elderly mother on speed dial, and the vet.         Being a butler, or 'Personal Assistant' wasn't a career that allowed much of a personal life.    He pressed the speed dial button and prepared to deliver some bad news.
Lady Mapleberry entered the suite already calling out and ready to berate her underling yet again.
"Joseph, Joseph.  Oh where is that man.  You've lost my spectacles again.  Where are you." 
Out on the balcony, amidst the traffic and his phone call and a finger stuck in one ear, Joseph was oblivious that he was being called to heel.
Lady Mapleberry saw the balcony curtains blowing in the breeze and caught a whiff of cigar smoke.
"How dare that man.  He knows I despise him smoking."  She headed for the balcony, ready for a castration, but a snatch of Joseph's conversation, just one word, stopped her in her tracks.
From inside, she heard the sadness in Josephs voice.
"There's no doubt about it mother.  It's cancer.   No, I've seen three specialists, and they have all confirmed the tests.  It's advanced stomach cancer.  How long ?  About six months at the most.   No there's nothing to be done.  It is final."
Lady Mapleberry's anger over her lost spectacles disappeared.  Deep inside her, a morsel of tender humanity stirred.
"Oh Joseph. You poor poor man."  she said softly to herself.   "How utterly dreadful.  And I've been so beastly to you."  a smidgeon of guilt passed across her mind, quickly followed by a larger smidgeon of self pity and reality.
"What will I do without Joseph.  I'll be lost without him.  He knows exactly how I like things done. And he puts up with my occasional little idiosyncrasies."
The good Lady left silently to resume her evening with Mr Al Fayed, the forgotten spectacles still atop her head and resolving to be the soul of kindness to her manservant for the remainder of his days.
Out on the balcony, Joseph's conversation continued.
"Well she is 18 years old mother.  She's had a good life.  Yes of course we can get another one.  I'll speak to the vet tomorrow, he always has stray cats and kittens needing a home.   Yes you can call it Lady Mapleberry if you want. We can always have it 'seen to'.   Just don't let the old dragon know."
LINK TO PART 2.    http://www.abctales.com/story/mayman/lady-butler-and-cat-part-2-2