The Man Who Couldn't Stay Dead. (Part 4)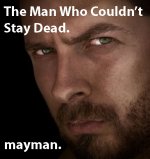 Tue, 17 Jun 2014
MILAN, ITALY, AUGUST 16th SOPHIA'S APARTMENT. 10am.
Anthony and Sophia lay in each others arms where they had slept all night. The deep, happy, contented sleep that neither had known for a very long time. Any final doubts Sophia had about Anthony, had dissolved in the passion she'd only known with one other man. Her soul mate, Antonio Petrini. But this morning she needed answers.
"Antonio, I know now it is you. My prayers have been answered. But I need to understand. Where did you go to ? Why didn't you call ? Why did say you are Anthony from England ? How is it possible that you look exactly the same ?
There were a thousand questions and once Anthony had explained, if he could, there would be a thousand more.
Anthony propped himself up on his elbow and stroked the hair from Sophia's brow.
"Do you believe in reincarnation ? That we can live more than once ?
That thought had already crossed Sophia's mind but she had dismissed it as too ridiculous. Instantly, she didn't like where this was going.
"I don't know. I'm not sure. Why ?"
"Sophia, I was..." Anthony paused, he knew how unbelievable and scary his answer was going to sound but there was no other way to say it.
"I was murdered."
Sophia gave a nervous laugh. "What do you mean, you were murdered ? Don't be silly."
"See this." Anthony pointed to the scar above his left eye.
"I wondered about that." said Sophia.
"That is how I died. I was beaten to death with a heavy object. I think it was a hand mirror. The glass broke and pierced my skull. Right there. He thumbed toward the scar."
Sophie felt her stomach leapfrog. "My Grandmother gave me an antique hand mirror. It was very heavy. Cast iron or something like that. The glass was cracked. You took it to get it repaired. I never saw it again."
Anthony nodded and continued. "There was a fight. In a small room.
An office I think. A large wooden desk in a corner. A sink. Car horns coming from the open window.
The ceiling fan didn't work. The smell of lavender."
Sophie went cold. Her face went pale and she edged nervously away from Anthony.
"That's your office."
"What office. Where ? asked Anthony urgently.
"Don't you remember ? It was your company. Star Diamond Dealers."
The name hit Anthony like a speeding truck, knocking the wind from his lungs. He visibly recoiled.
"Antonio, are you all right ?"
"Yes. I'm ok. Carry on."
"You gave it that name because of this." she stroked the star birthmark on his shoulder.
Sophia's revelations were switching on lights in Anthony's head that had long been extinguished. He remembered a fit he'd had on his seventh birthday when he shouted out a name. The name of his attacker.
"Does the name Paolo mean anything ?" asked Anthony.
Sophia almost spat. "That punk. Paolo Solquine."
Another speeding truck hit Anthony. The missing pieces of the jigsaw in his head were falling into place. Fast.
Sophia continued. "I never liked him. He was your business partner. I warned you to watch him. He would steal his mother's breath if he could."
"Well he stole mine."
"What do you mean?"
"He is my murderer. He attacked me in that office. The last thing I ever saw was the broken ceiling fan and his face, contorted with rage."
Sophia was getting confused and scared.
"He couldn't have murdered you. How could you be here with me now ?
You must have recovered. Lost your memory." she was sounding desperate.
"You said I disappeared on August 17th 1989 ?"
"Yes, I'll never forget that date. We had lunch and I gave you a silly little gift. It was a....."
Anthony didn't let her finish. "On that evening, in London England, a young married couple were in a maternity ward for the birth of their son. He was their first and only child.
He was so troubled they decided not to have any more. Unlike either of them, he was olive skinned, dark hair, brown eyed, classic Mediterranean looks. They called him Anthony. His mother's name was Sophie.
His childhood was plagued with fits, flashbacks and nightmares. Visions of being murdered. Attacked with some kind of mirror or shiny object in a small office with a large desk, a broken ceiling fan and the smell of lavender."
This was the second time Anthony had mentioned the smell of lavender. She stopped him. "The little gift I gave you that day was a scented candle. It was for your office because Paolo smelt so badly of B.O.
The scent was lavender." her comment hung in the air for a second, before she pulled herself up. "But this is too silly. It's just not possible."
Anthony put his finger on her lips and continued.
"Besides a very troubled mind, when he was born, the boy had three distinctive marks.
A star birthmark on his left shoulder. A scar on his forehead above his left eye. And this one." he opened his right hand to reveal on his palm a red oval mark surrounded by a faint circle of five white dots.
"Aged ten, overnight, the boy started speaking Italian and rarely spoke English again.
He would only read books about Italy and jewellery. The flashbacks continued, each time giving more clues. As he grew older, he swore to come to Italy to find his murderer.
But he found much more. Something unexpected. He found his lost love and for the first time in his life he knows what it's like to be truly happy instead of tormented." he kissed Sophia gently on the lips. She was trembling as she struggled to understand the enormity of what she was being asked to believe. Anthony's story defied any laws of nature or religion or common sense that she'd ever known. But all the pieces fitted together.
The evidence was in front of her.
She reached for Anthony's right hand and looked at the mark on his palm. Somewhere in the deep, distant recesses of her mind, it reminded her of something. She put on a housecoat and went to a bookcase at the end of the bed. After a brief search she pulled out a large book, 'Gemstones Of Antiquity'. She returned to the bed and leafed through the glossy pages.
"This was one of your books. You spent hours studying these pictures." she stopped at a full page heading, 'MYTHS AND LEGENDS.' On the opposite page was an artist's impression of a large ring. "This was your favourite.
You always joked that you'd get it for me one day." the picture showed a large ruby surrounded by a ring of five diamonds. Anthony held out his palm next to the picture. The mark on his palm was like a faded copy of the ring in the picture.
Anthony's mind was spinning. He felt another runaway truck approaching. He took some deep breaths and fought away the feeling of dread he'd come to know so well. He'd learnt how to avoid all but his very worst fits by now.
"Now I can see it. Now I remember why I was killed. This ring was real. I tracked it down to a private museum. The owner had died and his collection was being sold off by lawyers.. They didn't realise what they had. It was worth a King's ransom but I paid peanuts for it. Paolo heard about it and wanted half. But it was nothing to do with Star Diamonds. I'd bought it myself for our wedding. As an investment. This ring was our future. A home, children, security for life. Paolo got angry and violent when I wouldn't tell him where it was. He took it all away from us. Our future. For greed. For this ring."
Sophia felt cold anger rising up inside her. She couldn't comprehend any of this, but she knew that she had suffered years of sadness without the man she was meant to marry.
If she believed Anthony's incredible explanation, it was all because of Paolo Solquine, a man she had never liked, but suddenly hated.
"He is still there you know." she said calmly.
Anthony's attention snapped away from the picture. "What ? Paolo ? Still where ?
"In that office. Star Diamond Dealers. He became the sole owner when you were..." she stopped herself. "When you disappeared. He's run it into the ground. Ruined the company and its reputation. I still see him around occasionally. He looks like a tramp. People say he's in debt to the Mafia. I hope so. I hope they deal with him."
"Not before I do." said Anthony with gritty determination.
"Where is it ? Can you take me there ?"
"You were there yesterday, at Café Reale. You ate there all the time. It's where we had lunch the last time I ever saw you. The office is on the floor above."
Anthony snapped the book shut and they both prepared to leave for Star Diamond Dealers. Neither of them read the legend written beneath the image of the ring.
-----------------------------------------------------------------------
'THE PENTANGLE RING consisted of a flawless blood red ruby for luck in affairs of the heart, surrounded by five immaculate diamonds that were each supposed to represent the points of a pentangle, a star shaped symbol reputed to be a powerful tool of mystics down the ages.
THE ring was already ancient when a 10th century Sultan is said to have aquired it for his wife on their wedding day.
LEGEND says that it had been blessed by a powerful Magi.
THE Sultan and his wife had a long, happy life and died in each others arms.
HIS dying wish was that whoever owned the ring would inherit the blessing and have the same happiness.
NEVER dying until they found it.'
------------------------------------------------------------------------
LINK TO PART FIVE.
http://www.abctales.com/story/mayman/man-who-couldnt-stay-dead-part-5