The Newgate Witch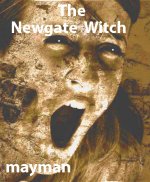 Tue, 09 Sep 2014
 Alan's eyes shot open. The darkness was total, covering him like a blanket. Was she here again ? His hand groped frantically for the switch on the bedside lamp. The warm yellow glow filled the room and Alan immediately felt safer.       He lay on his back and breathed out noisily. Beads of sweat oozed from his brow and trickled down the side of his face and soaked into the pillow. Just as they did every time. He first saw her when he was just four years old. He lived with his parents in an old house in a run down area of Newgate. A part of London, he wouldn't have known had such a dark past.                       The babysitter had innocently turned off his room light and closed the door. He'd never been alone in the dark before. He lay in his bed, like a board, too scared to move or make a sound.                                
They say that you attract what you fear. Alan's fear must have reached out into the void like a beacon, calling out to any stray malevolent spirit roaming the ether. And sure enough, his helpless call was answered.                Out of the darkness, at the bottom of his bed, appeared a haggard old lady. The skin was falling away from her bones, maggots crawling out of open sores.. Her slack jawed mouth dripping ooze. Dusty cobwebs covered the rags, like rotting sacks, that hung off her skeletal stooped shoulders. Ugly fat spiders skittled around the cobwebs and dangled like baubles from her limbs. Alan stared with unblinking gaze glued to her horrible twisted countenance. She didn't make a sound. Her eyes were black bottomless pits of endless death staring back at him. Staring straight through him. Then she glided silently up the bed towards him.   Not round it.  Not over it.             But through it without any movement of her own wretched limbs.    
Alan lay paralysed with fear. The only noise in his tomb like bedroom was the thumping of his own heart. Through the bed she came, nearer and nearer, until she passed straight through his rigid horizontal form. It was like bringing a picture up against his nose, then straight through him and out the top of his head. He didn't hear a sound.   But he felt her. Like brushing against thick cobwebs in a dark dank cellar. When she had gone, who knows where, Alan lay, like a corpse, not even daring to blink in case any movement brought her back.     
His mother found him like that next morning. Hollow eyed, unable to speak, or barely move. He was never able to be in a dark room again, even accompanied, until his early twenties. But then, as though she'd been waiting for the moment, she appeared again. He was in student lodgings in Edinburgh, awoke in the night and there she was. The same pattern occurred. Silence. Hollow eyes. Passing through him like cobwebs. But this time it was worse. Much worse. Because now he knew that it wasn't his old house that was haunted.  It was him.     He couldn't leave it behind. She was haunting him. He was forced to leave university. He couldn't sleep at night. He couldn't concentrate on his studies or much else besides.
He returned to his old home town and got a menial job with a building firm. Just until he could get his head and his life sorted out. But that took longer than expected.          Eight years later he was still trying to 'sort his head out'. His nerves were still ragged. He couldn't remember that last full nights sleep he'd had.              In desperation he'd even had a crucifix tattooed on his chest in the vain hope of warding off any more evil visitations. He was still with the building firm, in his 'temporary' job one cold November day, when his boss gave him the task of digging out the foundations of a long ago demolished row of houses on a stretch of derelict waste land. It was the very land where his own childhood home had once stood.             
The thought of going anywhere near his old house, even as a pile of rubble, sent shivers of horror through Alan's body. But he couldn't refuse. He needed the job and he knew he'd struggle to get anything else. Maybe helping to obliterate the place of his nightmare might even be cathartic, he reasoned to himself, unconvincingly. And so, it was with a gnawing unease and not a shred of enthusiasm, he got on with the job.        He had been shovelling and sledge hammering away for several hours when his sense of foreboding came horribly true. His lifelong nightmare was about to get unimaginably worse.                             Suddenly, he felt the ground give way under his feet. He dropped his shovel and made a lunge for solid ground, but the earth collapsed away into an abyss and Alan left this imperfect but sweet mortal realm, never to return. He fell into a deep, dark hole that had been submerged and forgotten for centuries. His clawing hands grasped for safety as he fell, but just grasped thin air. He landing with a thud and was knocked unconscious. There he lay un-missed and alone for how long he never knew.             
When he came to, he could see nothing.    He was surrounded by his biggest fear. Pitch darkness. Was it night time or had the hole filled in above his head. He didn't know. A stream of sweat trickled down his back and all of his old childhood dread returned with a vengeance.         He rummaged blindly in his pocket for salvation. Thank heavens, the box of matches were there.    He struck one and surveyed his predicament.      He was surrounded by four ancient brick walls that used to be a cellar or a prison cell, it could have been either. A few bricks had fallen from one of the walls and he could feel a draught. His match guttered and blew out. Quickly he lit another and began pulling at the loose bricks. But he hadn't gone far when his hope turned to stark, abject terror. He had been pulling away at a false wall, and there, behind the bricks, hung a body manacled to the wall.   It was her. She looked dead. Two hundred years dead.      But Alan wasn't to be that lucky.
Lying on the floor beneath the body was the mummified corpse of a black cat. A crucifix still embedded in it. Scratched into the wall around the body were symbols. Pentagrams to ward off evil. A cross. Prayers. Words in ancient Latin. 'Exorcizamus te.' was clear enough. As was 'Daemon.' Also, Anno Domini 1692      But largest of all was one word scratched above the body. 'Witch.' Alan recognised her instantly. This nightmare vision was seared deep into his soul. She'd barely left his head since he was four years old.     Alan could feel his panic rising. His heart pounding so hard it hurt. He looked desperately for a way out.     He could see only four sealed walls.                        He felt as though he were trapped in the lair of some wild beast that could return any time. 
 He was right. Out of the corner of his eye in the dim flickering of his final match, he thought he saw something move. Surely not. He forced himself to look towards the movement. Towards the body on the wall. Her sagging head slowly lifted. Those black hollow eyes looked at him again. Just as before.    Slowly, one hand came away from the manacles, followed by the other.      She moved towards Alan just as in his bedroom years before.   Alan stood transfixed to the spot. He was four years old again. Alone in the dark. Rigid with terror. Soaked in fear. His heart trying to beat its way out of his chest. And now he could smell her. Like a thousand dead rats left to rot in the sun.  
 He heaved and gagged, but hadn't even got the strength to be sick. His retching was the only sound as she moved silently towards him. As she reached him, he knew what to expect.    The sickening feeling of old decaying cobwebs and dust going through him. Except this time it didn't go through him. The apparition disappeared into him but did not come out as before. She stayed inside him.   He could feel her. Feel her rags and decaying flesh inside him. He could feel her maggots and insects crawling around his bones. The smell of rotting humanity was locked inside his nostrils.
 But now he could feel her broken spirit too. Despair, grief, hatred, sorrow, fear and vengeance Especially vengeance. All of her life's misery and merciless death was seeping into his own flesh and bones.      Then, slowly, he felt himself moving towards the manacles hanging empty on the wall before him.    He was unable to stop himself.      He was no longer in charge of his own body.        Or mortality. He felt himself turn and slam against the wall just as she must have done all those years ago. He felt the manacles clasp tightly around his wrists. He wanted to cry out, scream for help, for mercy.          But all that emitted from his dirt dry mouth was a gasp of ancient fetid air. And there he hung, rotting, for year after decaying year. Every second like the first.  A living death. An innocent mortal, who'd done no harm and was loved by his kin. Captured by a tortured spirit seeking revenge for her own savage, mistreated life. And death.
Ten years on, the derelict waist land had been fully cleared and renovated. There now stood a modern suburban housing estate of well to do middle class homes. In one of them, little Amy, four years old, lay in the darkness of her bedroom. Something had woken her in the night. She reached for the light switch and stared in silent horror. At the end of her bed was a figure. A man with deep black hollow eyes. Just dark pools of nothing staring through her. The flesh hung from his bones, almost as one with the rags that fell around his rotting body. The figure began moving along the bed towards her. Through the bed. As it got closer and closer, she could see on his chest the image of a crucifix.