The Valentine Ruin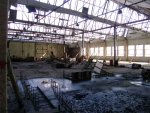 Thu, 16 Apr 2015
The Valentine Ruin
The wind whistles a tune of tattered beauty
Down the pot-holed avenues
Behind the bars of our old school
From me to you
How do I escape this frosty, old town; this trap?
I can't stand insomniac nights, the incessant drip-drip-dripping
Of the broken kitchen tap
But no-one ever made much of a name or flew very far
With aching, butchered hips and a violent caffeine hit
Love begets bereavement begets psychological, deeply, scars
So I conclude that loss is nature's incentive not to love, isn't it?
With a heavy-hearted sigh against the window I let you in
I build my life inside the Valentine Ruin
I haven't seen your unfair face in nine-months-three-weeks-and-a-day
Christ! I think I'll fall to pieces if I don't dream tonight,
But who's counting the minutes and hours, anyway?
Somewhere, little lonely Lucy is trying to read the NME
But her folks are screaming blue murder of another marital regret
They don't notice the £2.50 missing from the mantelpiece
Or the odour from Lucy's box room: latex and cigarettes
I'll always spare a thought for young Lucy, as the English blend is brewing
I build my life inside the Valentine Ruin
(You know Rachel Parris-Lynott?) Well, she bent over, and I didn't mean to glare
But her hips were adorned with self-inflicted scratches
And I glimpsed the frayed waist-band of her Sunday underwear
In the Caecilian café, I mumble under potent, drunk breath,
"Please, don't let these strangers stare at the blood-stains on my knees."
 I begged to my non-God that the Barista wouldn't glance in my eyes, a mental death
But my beautiful demise is written in the stars and whispered in the breeze
And all that remains are fragments of humanity, worth losing
As I build my life inside the Valentine Ruin
I stumbled, stoned, and fell flat outside The Old Slaughter's Coffee House
But chose to dump my pain and shame into a stolen wheelie-bin
On the estate, with a fag, I sparked them, petrol-doused
I watched my human-nature drift off into the black, infinite night
Whilst the air palpitated in bust rhythm with my ailing, sinner's heart
And as that smoke twirled, prettily polluted, out of my blurred sight
I settled for another life, but wherever in this town can I start?
Me, I'll go somewhere grotty; a place no-one is ever queuing
And I'll build my life inside the Valentine Ruin
Coming onto the boring, blonde girls stronger than I oughter
I forget, in stupor, that I am shy and shambolic
Ignoring my liver's pleas that my whiskey needs some water
I let the Catherin Wheel spin-out and leave the splintered gate on fire
I muffle the flame with my tongue and swallow a glass of gasoline
My pyromania climaxing with prophecies of an atheist pyre
Where on a bridge above the Cart, I piss a cold line of kerosene
In the distance a woman is wailing and a stray cat is tunelessly mewing
It cries me back to life and to the Valentine Ruin
Despite everyone's best wishes things just aren't working out
Crushed by loneliness or hunted by another lioness
One will be my death in the end, I do not doubt
In the dole-queue, in the snow, I hear sonic-waves which make my heart pound
Music (only music!) which might save this boy, after all
When Chiara strikes the black keys we cry but in the sadness lies a message, profound
 In a desolated factory I play the radio, at last, and shake these dusty walls
I'm just washing the dishes while Danielle Haim is grooving
And I'm building my life inside the Valentine Ruin
I'm only writing this verse while Chiara's piano is tuning
 And we're finally breathing life inside the Valentine Ruin
Listen!
Because the wind whistles a tune of tattered beauty
Down the cobbled avenues
And behind the bars of your old school
From me to you