ARROWS IN OUR QUIVER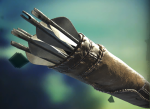 Mon, 16 Jun 2014
a parent never learns to take
a parent is a giver
our children are like arrows
that we stuff inside our quiver
.
a quiver keeps them safe from harm
a quiver would not break them
yet they must bend a little bit
for that is how we make them
.
but tots that live with too much stress
are tots that grow defiant
let love provide the means
to keep them malleable and pliant
.
an arrow soon must find its path
an arrow must be gainful
it's easy stretching out the string
but letting go is painful