BIRTHMARKS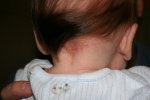 Tue, 29 Jul 2014
we all are graced by birthmarks
often called an angel's kiss
sometimes they are quite subtle
other times, they're hard to miss
.
a nibble from a stork, some say
a little salmon patch
and just like little fingerprints
no two will ever match
.
italians call them "voglie"
that's a wish, unsatisfied
while germans call them "mother's spots"
deriving from that side
.
some folklore claim it's trauma
from a life, already led
or mothers seeing something strange
that stays inside their head
.
iranians have notions
that we get these little nips
when mothers touch their bodies
when the sun is in eclipse
.
we're all tattooed with birthmarks
that are scattered everyplace
but i prefer the mirthmarks
that are etched upon your face