her body is a wasteland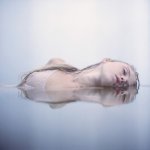 Tue, 12 May 2015
Her body is a wasteland
she swallows headstones and
slices of regret, dreaming
of the day her ribs would be visible
with some starving comfort.
Maybe then, she'd be happy.
///
The girl- her rotting lungs
breathe swollen air bloated thick
with lies that she sees
now so clearly
through newly-blackened eyes.
Her coal sight is unforgiving and the world is oh, so, so sad.
///
Fingers too weak to claw back life
she lets her skeleton fall
and hopes her bones will recycle
into a waterless reminder.
---
It was a prompt from Poetry Rehab 101, titled "recycle". You can find more (most) of my writing on my Wordpress, muddiedthoughts.wordpress.com. Thanks for reading! The image does not belong to me.
✪ Angie