Net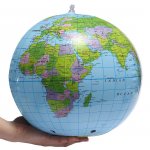 Thu, 05 Apr 2018
The globe was netted -
over time it calcified, fossified, petrified.
Take it out into the sun and swing it around your head -
warmth will soften it.
Poke your finger through the grid 
into a cube of blue.
Lick your tip - if you taste tears
cut through the wire.
Watch sea melt into land to make a viscous gold -
let it run away.
Grasp the secret at its heart -
cast it into the void.