Bring Out Your Dead - Part 31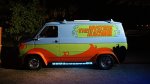 Thu, 14 Mar 2019
Continued from Part 30
A gentle snoring filled the cab of the bright yellow van that D.I. Wood and D.S. Stone were following. Archibald Thurble was dreaming peacefully.  The other occupants of the vehicle were not so relaxed. Chantelle was concentrating on the road ahead whilst Josiah was fighting the urge to join Archibald in his slumbers.  Twice now he had been forced to extricate himself from Archibald's attempts to use his shoulder as a pillow.
"Don't you fancy a nap, Mr. O.?  You might feel better for it when we get to the ferry" Chantelle pointed out.
"Thank you for your concern, Miss Lace, but, as this enterprise has been entrusted to my management, I feel duty-bound to remain awake and aware of our situation"
"Up to you, I guess, but you're not going to be much use if you don't get your shut-eye" She smiled sweetly.
"I hope to be able to redress the sleep deficit, to a certain extent, during our sea crossing" Josiah explained "it is very kind of you to volunteer to drive, I really am most grateful for your help with this"
"Oh, think nothing of it.  I'd been planning to go back to the U.K. at some point, this has just brought my plans forward a bit"
"I fear that we may be keeping you from your work and your home.  Is there a Mr. Lace wondering where you are, currently?" Josiah asked, somewhat fearful of the possible answer.
"Mr. Lace?"  Chantelle asked, puzzled, "Oh, I see what you mean!  No, no, there isn't a 'Mr. Lace'"
Josiah found that he was unaccountably relieved.
"I just thought…well…"
"Come on, Mr. O., spit it out!  We're all friends here" Chantelle beamed at him.
"Well, I suppose my train of thought was that La Manga is a very exclusive and rather expensive place to live.  In the absence of a 'Mr. Lace' I presume you have another occupation in addition to that of masseuse?"  Josiah ventured, and then "Do forgive me, Miss Lace, my interest is entirely unwarranted and uncalled for"
"No problem, Mr. O.  I can see where you're coming from.  I'm a masseuse in my spare time but, for the most part, I'm actually a student"
"A student?"
"Yes, I've just got my Masters degree.  I want to go on to study for my Doctorate but that takes an awful lot of money and time.  That's part of the reason why I want to go back to the U.K., I need to sit down and have a chat with my tutor about possible ways forward."
"I see.  What are you studying?"
"It's to do with the Social Sciences.  I'm interested in Organisational Development with particular reference to the role of Emotional Intelligence"
"Really?  Sounds most interesting" Josiah said without much conviction "La Manga must be a wonderful place in which to study?"
"Ah, you're wondering how I can afford to live in a place like that when I'm just a penniless student, aren't you?" Chantelle chuckled.
"I would not venture to intrude on your financial arrangements, Miss Lace" Josiah said, blushing deeply.
"You're alright, don't worry about it.  The truth is, I had a sponsor"
"A sponsor?"
"Yeah, a gentleman of some means.  He was happy to fund my education and, in return, I lived with him"
"I see!" Josiah said, a little more judgementally than he had intended.
"Now you're shocked aren't you?  You're thinking 'how could a nice girl like me pimp herself out for an education'?"
"I can assure you that no such thought had crossed my mind" Josiah said huffily, adopting the expression of someone who had just won a lemon-sucking contest.
"Yeah, right!" Chantelle smiled at his discomfort,  "Well, if it makes you feel any better" She lowered her voice somewhat, "I have been thinking about ending the arrangement.  I think me and my sponsor have pretty much run out of road and it's probably time for a change"
"I trust you will find a more satisfactory arrangement in the future, Miss Lace" Josiah said, primly.
"Anyway, while we're trading confidences, is there a Mrs. O. waiting and worrying at home?"
"I regret not.  As I have explained to Archibald on more than one occasion, it is an unfortunate fact that our profession does not lend itself to romantic attachments"
"Really?  Why's that, do you think?"
"I believe it was the American cartoon strip 'Li'l Abner' that coined the expression 'inside man at the skonk works' meaning, according to my understanding, someone whose job no-one else would reasonably want to do.  I think that rather describes our occupation.  We fulfil a need that society has, and many people are fascinated by our work but few, if any, would be prepared to join our profession or, for that matter, seek to become romantically linked to someone in that profession"
"You don't mean to tell me there aren't any married undertakers?"
"No, of course not" Josiah shook his head,  "I have many colleagues who enjoy a happily married life and I wish them well.  However, from my limited experience, I have found that the fairer sex become markedly less interested when they learn that you dispose of the dead, for a living"
"Aww, Mr. O. that's really sad! So, there's no-one?"
"Not at present, Miss Lace"
"And there never has been?"
"Ah, I would not wish to mislead you, Miss Lace.  There was someone, once" Josiah looked very thoughful.
"And…?"
"I think that is another story for another day" Josiah said, firmly, "I see the sun is trying to make an appearance over there.  Hopefully, we should be in Bilbao before long"
"I've been meaning to ask, when you get him" She nodded in the direction of the coffin in the rear, "back to the U.K., are the family expecting to be able to view him?"
"Sir Lewisham, you mean?  I'm afraid that I am not aware of the family's intentions but, regardless, a viewing will not be practicable for two reasons.  Firstly, there will be little, if any, time left between our arrival and the arranged time for the cremation and secondly, due to my limited command of the Spanish language, I regret that I was unable to ascertain the precise nature of the embalming carried out, if any.  Therefore, given the hot weather and the time that will have elapsed between Sir Lewisham's demise and his interment, I think it would be prudent for the casket to remain closed throughout."
'That will be interesting for Frankie' Chantelle thought, 'no chance of discovery but, if he gets cremated, no chance at all!'  
She wasn't entirely sure how she felt about that.
Now read Part 32