Shorline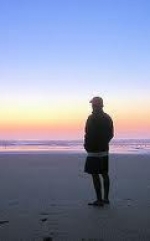 Tue, 17 Dec 2013
As a boy he'd stepped unknowingly on the half-eaten and decomposing remains of a fox. The stench had risen up, made him retch and turned his skin into goose-flesh. 
He stood, eyes closed, fighting that memory and rising bile as his feet sank into the ancient peat bog. Dragging his boot  from the clinging quagmire, he took the second step away from his life, walking into the wilderness and solitude that the The Isle of Skye provided.
The bog resisted, jealously clinging to each step. It was relentless, knowing he would eventually tire and succumb, join those that had gone before to their deaths in this desolate place. Entombed within the depths of the peat were untold travelers; Celts, Vikings, even Kings. But he was determined not join them. The shoreline, that division between kingdoms, hidden on the far side of the bog, deep in the mist, was his destination.
He forced himself on, taking a warming swig from the last precious thing he owned, a bottle of fifteen-year-old single malt whisky, at each step. Deep into the bog, shapes swirled and coalesced out of the mist around him. Shimmering ghosts of the dead, ragged and lost. Peasant farmers materialised alongside Viking warriors and murdered innocents. They began marching alongside. Silent and dead- eyed, searching with him through the gathering fog. 
The setting sun cast a baleful glow to the still, moisture-laden air as another shape materialised ahead of him. A gossamer creature wholly unlike the other ragged ghosts. An angel? But this angel teased and danced away, its features swirling into a smile, glittering eyes laughing as he tried to reach out, to connect. Yet, just as in life, he stumbled and fell. Black mud filled his mouth and his stomach emptied.
When his body stopped convulsing, he found his arms buried in the bog to his elbows, his knees sinking deeper. The ghostly companions stood watching, awaiting his arrival alongside them. Only the angel beckoned, mockingly encouraging him onwards.
The effort to stand drained more energy than he could afford, but he was free. He staggered onwards, the shimmering ghouls marching alongside, the angel tempting, dancing, leading the way. 
The sodden ground grew firmer as he neared the beach, shingle marking the boundary between the Kingdoms of earth and sea. The ghostly companions stopped three paces behind him at the edge of the bog. Through dark eye-sockets they stared, strands of slime stretching from bog to fleshless fingertips, holding them fast to their fate. They would wait for him.
It was the angel that moved beyond, dancing its dance forever ahead of him, leading him to a cave facing a listless sea. There he sat, exhausted, the rock burning its coldness into his back while he watched the sunlight fade and the angel dance.  On the shoreline between Heaven and Earth, the patient dead waited.