We Can Stop The Pain.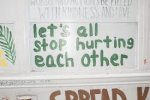 Wed, 14 Jan 2015
It could be a large prominent building,
Packed with hundreds or thousands
Of people,or a solitude hardworking
Man just finished eating his lunch,
On a sunny vibrant,Untroubled day.
Pain, as no heart or soul or regret,
No feelings, not a moments care for
Whom or what it inflicts harsh rage
Upon.Its only purpose is self gain,
Carrying no remorse,or everlasting
Tears,and does not care about
Retribution.
Once it's enforced the kind of impact
It wants,like the speed of light and
Invisibility, its gone, poof,
Only destruction left behind.
But where there is so much affliction there
Must be a paradise in our universe,that
Is not full of suffering and injustice.
But peace and warmth for all mankind.