Good news meets the lack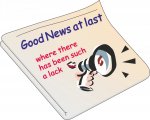 Sun, 15 Oct 2017
[Continuing the hymn-for-Sundays series]
Why did Jesus say he'd come
bringing news that's good?
beaten, scorned though he had done
nothing ever bad.
Those who valued what he said,
purchase of his blood
often found theirs too was shed
for this news so good.
Lacking way of peace with God,
pardon for their sins,
heavenly future with their Lord
– til the news Christ brings:
He had come with gift of grace
– God come down to take
punishment in sinners' place,
way of cleansing make.
So the news that all who turn
in repentance true
can have what they cannot earn,
life begin anew,
is the best good news – become
child of God and share
from the Father and the Son
constant love and care.
'Jesus went into Galilee, proclaiming the good news of God' Mark 1:14
Tune: 75 75 D eg 'Abba Father' by D Bilbrough
[This week's IP: good news … or lack of it]