A helpful tongue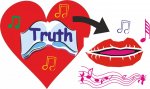 Sun, 06 Jun 2021
[Continuing the hymn-for-Sundays series]
A heart with righteous truth well fed,
a tuned and well-trained tongue
that by that nourished heart is led
will benefit someone.
How good to hear a timely word
to calm or cheer or guide:
rejoice, remembering treasures heard
when wisdom was applied.
But those who only feed on trash
have speech that twists what's right
– deceives, diverts to cause a crash
polluting peace with blight.
"A word fitly spoken is like apples of gold in settings of silver" Proberbs 25:11
Tune: CM