Proffered Promise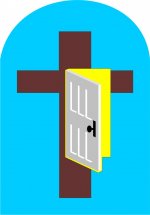 Sun, 19 Jun 2016
[Continuing the idea of a hymn for Sundays]
No pain, and not in need;
completely blessed, and freed
from evil, sin and all
brought on us by the fall.
    Certain hope:
    we know Christ is there;
    Jesus has promised
    our home to prepare.
No fault, or weariness;
temptations cannot press;
no sight of wickedness;
no discontent, distress.
There goodness is complete;
and fellowship so sweet
with God, and with his Son:
we'll see him on the throne.
With all God's saints we'll praise;
fulfilled for endless days;
pure joy, and glory, rest;
in perfect service blest.
    Certain hope,
    beyond all compare;
    righteous, rejoicing,
    and worshipping there.
[Tune: 'Mine by' R Frank Lehman   66. 66. and refrain]
https://soundcloud.com/rhiannon-weber/profferedpromise
[IP: poetry and prose on the theme of hope]