on Psalm 103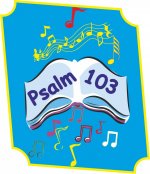 Sun, 01 Jul 2018
[Continuing the hymn-for-Sundays series]
Wholeheartedly praise God, my soul,
forget not all he's given and done,
– and will do soon, completing all
his work of love in me begun.
    Tender compassion, love immense,
    sins far removed, guilt banished hence.
He knows our frame, our weaknesses,
with love so reverent, though we're frail.
Our sins forgiven – our children find
his covenant of love won't fail.
The  Lord is righteous, gracious, just, –
to Israel he revealed his ways.
Established King in heaven, he rules,
and all who serve will ever praise.
'Tune: 88 88 88 eg 'Carey's' (Surrey) [tune of 'Great God of wonders …']