on Psalm 12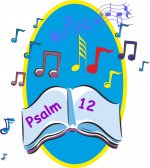 Sun, 23 Apr 2017
[Continuing the hymn-for-Sundays series]
Strutting round with lies, deceit,
flattery, and self-conceit
– for authority, disdain,
boasting falsehood, won't restrain
evil, honouring what is vile,
unashamed of gain by guile.
Words of God are faithful, sure,
flawless and completely pure.
He is trustworthy, protects
from the evil that infects,
and their accusations wrong:
you will still the evil tongue.
Help, Lord, for we feel alone,
vulnerable, truth has gone
from the land, and few fear God.
Bring back righteousness, O Lord.
Soon you will return to claim
rightful honour to your name.
Tune: 77 77 77 eg tune of 'As with gladness men of old'
"'Help, Lord, …Everyone lies to his neighbour; their flattering lips speak with deception. …' 'we own our lips – who is our master?' 'Because of the oppression of the weak and the groaning of the needy, I will now arise,' says the Lord, 'I will protect them from those who malign them.' And the words of the Lord are flawless … The wicked freely strut about when what is vile is honoured among men." Psalm 12: 1,2,4-6,8