Smothering Love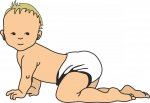 Mon, 05 Apr 2021
1 likes
Hush! Little baby, please don't cry!
Mama your wishes will never deny!
My love for you will always show –
you never will hear me tell you, 'No!'.
I'll watch to make sure you never do
anything to hurt yourself, or let others hurt you;
but not having learned what not to do,
you'll have to be cushioned your whole life through;
real independence you will not find,
but because I love you, you surely will not mind.
[IP: take a nursery rhyme or a fairy tale and bring it right up to date – I don't know whether I've done that, really just given a different slant that seems plausible and apt to think about! It is based on 'Hush! little baby don't say a word, Mama's going to buy you a mocking bird …]