Ghost of a chance (a 007 universe story)
Image: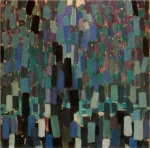 Thu, 24 May 2018
1958
M wasn't accustomed to being summoned. The government car in the street below belched blue exhaust fumes into the arid August air. The driver's arm hung lazily out of the window, idly flicking a cigarette. With the sleeve rolled up, the driver's arm had taken on the distinct colour of boiled lobster.
M closed the shutters to his office. He preferred the dark. Stepping over to the long red leather clad desk, he turned off his polished brass desk lamp. The dim world of his office, allowed him to focus on the reams of intelligence and ciphers within the arc of the lamps narrow beam. The shadows often acting as blinkers.
            "Ready when you are, Moneypenny," he said into the desk phone.         
He digested the communique in his hand. Stamped ULTRA it was higher than eyes-only level. It came directly from the PM and the FO. He creased it neatly into four and inserted it into his inside pocket.
Moneypenny knocked twice and entered. She was dressed stylishly for the late summer heat and her hairspray and scent melded with the miasma of old tweed and pipe tobacco. He entrusted her with the leather-bound files and deflected her pleading glance with a wry smile,
            "That'll be all, Moneypenny,"
            "The man in reception is beginning to become impatient," she said.
            "I'm sure he is," replied M.
She spun on her heel in a slow-burn fury. M took down his Macintosh and donned it in a smooth movement. It was a coat of superior manufacture; the cold nights at sea had given his blood a permanent tinge of ice requiring an extra layer of clothing. This tincture of ice, he believed, allowed his mind and his heart to authorise killings in the name of the greater good.
            "Good luck, sir," said Moneypenny
She flattened down the mackintosh's collar as if he was a slightly befuddled uncle.
The man from the ministry, waiting beyond her desk, fidgeted in his seat. He rose as M walked past him. He then found himself trotting behind and wrestling his briefcase into a manageable position. His ill-fitting suit and pasty face seemed to compound his disarray.
The ministry car with the lobster-armed driver swept along Pall Mall, Hyde Park and turned sharply toward Whitehall. M worked a snatch of tobacco into his pipe and with a silver lighter puffed furiously to ignite it. The car was comfortable, well-upholstered befitting more a foreign dignitary than a government employee.
The man facing him clasped and unclasped his hands, he watched M out of the corner of his eye but averted from M's steely gaze as he smoked.
The car braked smartly and another faceless man from the corridors of Whitehall opened the passenger door, the ministry men trotted like faithful hounds behind M.
A smartly dressed receptionist stood up nimbly and sidled around his desk. Ram-rod straight, he was regimental right down to the waxed tips of his moustache,
            "May I take your coat, sir?" he asked
            "No, you may bloody-well not," replied M
The tired elevator that lurched up to the top floor ground to a laboured halt and M strode down the corridor. Dust motes hung lazily in the air and shafts of burning sunlight pierced the dirty windows. Frosted glass panels to his left portrayed misshapen denizens flitting through the rooms like oddly shaped eels in a departmental tank. The man dressed smartly and no doubt armed, at the last door opened it in a measured fashion,
            "Good afternoon, sir," he said
M was ushered into a room so compact that his desk would have had to be dismantled without any guarantee it could be reassembled to fit the confined space.
            "I take it is isn't a social call, then?" said M
            "Take a seat, M, it won't be long," replied the elegantly dressed under-secretary to the minister. His name was Laidlaw, if M remembered correctly. Laidlaw gestured to the man sitting behind the modest sized desk,
            "This is minister-without-portfolio, Dewar."
Dewar like, Laidlaw was immaculately dressed and seemed to have an electromagnetic field of privilege and power coming off him in waves,
            "Take a seat, M," he said, "Dimpled Haig?"
Laidlaw produced three tumblers from the desk drawer and poured three hefty fingers,
            "I'll get to the point, M. The PM is utterly furious, utterly - at the Suez shambles. As a result, we have lost the trust of our cousins across the Atlantic and have made some very unsavoury enemies in the Middle East. 'Lucky Break'- the agent whose intel prompted Eden to act has led us a merry bloody dance around the maypole, and leaving us all with egg on our faces." Laidlaw quaffed a generous measure and then invited M to sit. Dewar said nothing. He was about sixty years old and though immaculately attired in fine pinstripes had a faint dusting of dandruff around the collar.
Laidlaw had the virile middle-age demeanour of horses and hounds and unfortunate debutantes who fell into his nasty little sphere. M was aware of a dossier was starting to build in another department about him.
            "Your Double-O programme. I need to understand it?" asked Laidlaw.
He produced a packet of Dunhills and lit one up. M thought the whiskey was an eye-opener as Laidlaw's hand had a faint shake as he tapped the ash onto the dusty floor.
            "I keep only three on active service – three and seven are on assignment now. Nine hasn't reported in yet, sir," replied M
            "How many agents have you?"
            "They are intelligence officers, and as to their number - that's classified, I'm afraid."
            "We believe there are twelve, you rotate three at a time and since Burgess and Maclean, an average life span of a 'OO' is about one-to-three years?" said Laidlaw
            "Again, sir – classified."
            "That's a very high turnover, M,"
            "If you say so, sir. But I might add, the stakes have gotten a lot higher too."
Laidlaw swilled his drink and allowed a faint glower at M.
Dewar reached down and from a black dispatch case produced a manila file,
            "This report from one of your officers makes compelling reading M. He suggests that because two of our very best have skipped over the iron curtain, that we need to up our game. He suggests a more intellectual type of agent. One who stands out less in the crowd, but can visualise the objective more clinically. The Russians and their SMERSH section will now have operatives embedded in the west that could wreak havoc, groomed by Maclean to blend in."
            "What may I ask, are you suggesting, sir?"
M drew on the last shags of tobacco and shrugged off his Macintosh. The room began to smell like an Irish snug,
            "A number of people in the intelligence community feel that your department has enough howitzers amid your ranks, and perhaps a more disciplined, elegant kind of intelligence officer should be recruited. A rapier rather than a blunt instrument, so to speak," said Dewar.
More measures of whiskey were poured.
            "We do know you draw from the three services, Navy, Army and RAF, though the fly-boys prefer their supersonic toys these days. A year of intensive training in Scotland and a psychological evaluation before entering the field," said Laidlaw.
Another whiskey down like the bottom of a sink.
            "Your sources are extremely diligent, sir," said M
            "We'd like you to look at recruiting a higher-ranking officer – good family, preferably aristocracy, but having combat experience? This officer, number Nine, when would they be considered overdue?" said Dewar
            "If we don't hear from him in twenty-four hours, its likely he's been compromised."
            "Or killed?" said Laidlaw
            "Highly likely, sir,"
Laidlaw and Dewar sat back and stared directly at M.
            "What happens then – next of kin informed?"
            "I prefer no next of kin, potential compromise, kidnapping, torture – you get the picture. Personal effects destroyed. Accommodation cleared and cleaned, as if they had never existed, sir,"
            "Just like a ghost, M?" said Laidlaw
            "Exactly, sir,"
            "If Nine doesn't report in, we have a candidate that might fit the bill," said Dewar.
He took a small folder and slid it across to M.
            "I usually consider recommendations, gentlemen, not take them as read?" he said
He opened out the file. It was a service picture of man of about twenty-seven. Square jawed and lean. He was dressed in a polo kit and holding the reins of a sturdy pony.
            "Sebastian Ives?" said M.
            "Ives would fit the bill, M," said Dewar.
009, thought M.
            "I'll consider it, sir,"
            "Very good, M. Now I'll appraise the Foreign secretary and Minister of defence about our little discussion. Let's keep it between the three of us, then?" said Dewar.
M rose and downed the whiskey and draped his coat across his arm
            "A particularly good twelve-year old, thank you." He said
The door was opened and M strode down the corridor.
Laidlaw and Dewar smoked and drank for the afternoon.