This uncertain (a poem)
Image: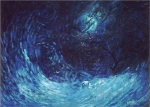 Sun, 28 May 2017
This uncertain, ice-cold core,
This uncertain, twisted braid of thought,
on a distressed page, torn away by tape.​​
A ripped up, de-nuded raw layer of paper dermis,
etched like a tattoo; the nib catches, halts the flow,
giving pause to the flow, the stalled inking of words, a mark
Upon the skin.​​
The pen peels away the distressed dermis; 'Free residue of blocks,
flitting tendrils, looting / shipping love's dream.'
Lost in the headlights, struggling, tripping, falling through this uncertain night.​​
Ripped up, removed and replaced with imperfect words and uncertain futures,
like Hungarian carven headstones, giving clues to the life that's gone below,
a thumbnail wooden journey of nicks and notches exposed to the sun and the
moonlight cold;
telling a lifespan of uncertain years​​​