Big Dreams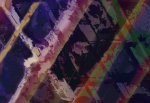 Mon, 16 Nov 2020
We go out walking, not long after dinner, most nights. And this time of year it's still plenty light out there, but the sunset is on its way down and the sky is a water-colour aqua mixed with shades of gold, fire and plum. You reach to take my hand is we walk along the footpath.
There's nothing I want more than to just be here by your side, to feel your hand in mine, be able to rest my cheek against the texture of your jersey.
When we get to the corner of Myrtle and Hopscotch, the view is spectacular, the hills flow over each other, different shades of green, topped with the dark greens of pine forest, dotted with patches of bright gold gorse. The efforts of humanity climb up their sides, the colourwork of roofs and walls, manicured gardens, the evening light glinting off big, panoramic windows. Well, that's the part of town over there where the other half live, where the houses are mansions, and the cars parked outside them gleam in their various colours.
You point out towards a piece of hillside that's just in the process of being subdivided and readied for building. "That one," you say, "that's where we should put the house." And you conjure up a long, languid vision of a terracotta tiled roof, creamy textured cladding, roses growing all outside a wraparound porch. A fountain in the garden, a flow of sea-blue carpets and bubbly, embossed wallpaper inside.
"One day," I murmur in agreement. And I look up into your eyes, at the creases that mark your face, the decades of marriage recorded in that softening skin; and I know without doubt that it is going to happen.
You never get too old to dream big.
Picture credit: author's own work