Blood Red and Beautiful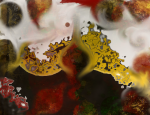 Fri, 28 Dec 2018
You show up at my place.  Pull up ostentatiously in the driveway with the gift of a bottle of wine.  It's red and expensive, it catches in the porch light like rubies.
"You are going to let me come in?"
Yes, with all the double entendre and yes, I'm going to let you in.
Walk through the place as if you own it, as if your footsteps have special rights here.  And you know I'll have glasses ready to pour this, and I'll find cakes or cheese, or something, and I'll turn the fire on, we'll lounge, we'll laugh, we'll kiss.  And for a while, things are going to be great, grandiose.  I know you'll shower me with gifts and compliments and attention, I'll wear my best red lipstick and your favourite red dress, and you'll tell me how gorgeous I look in it.
The bed's turned down for you, the pillowcases are silk.
In-between times, I'll think about Andrew.  I'll be grandiose with Andy while you do your thing with Nolene.
The band will play on.
Picture credit/discredit: author's own work