This Day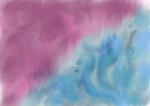 Sun, 16 Apr 2017
I don't think I'm going to see her today. And it hurts a bit more than I would have expected.
I know how we are, I know how far things have fallen. Right now, we're not really talking, she's sleeping in her sister's spare room; and I'm sleeping in a bed that's too big for me, constantly aware of the gap lying next to me, the hollow place she's meant to fill. And we've both said things we shouldn't have; but not – not exactly – things we didn't mean. I can't undo that just by wishing it.
Even on this day.
I just want to forget about it really. Swim in a glass of whiskey. So I turn on telly, pour myself a glass, sink back while the programmes flow over me, most of them skimming the surface, the gist of it at best snagging on my attention.
I know the sound of her footsteps, I know the sound of her particular shoes. Her key turning in the lock. Only two other people have a key.
Light floods my position on the couch, and I struggle to fully seated.
She's brought dinner – crumbed and roast chicken, roast potatoes, yams, a bottle of champagne and a tub of ice-cream.
She says: "There's a man I really love. And it's highly convenient that I happen to have gone ahead and married him. Funny how things work out."
I start to say, "Look, what I said before you moved out-"
"Another day. But not this day."
And it will be. Nothing's healed, nothing's resolved. But just for tonight we should forget about all that, let it go, remember the rest of it. The fight can go on another day.
She raises a glass to me, spitting bubbles. The edges touch. "Happy anniversary," she tells me softly.