"Doug"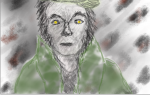 Sun, 25 Dec 2016
A man. He stands in the alleyway, head rested back against the wall. And you can just see he's seen it all, that he's lived a hard life, walked the mean streets. He could be twenty, could be forty – something about his face defies pinning an age on it. But it's pale, it has the marbled look that – if you dared get closer – might prove to be a patchwork of scars.
He's waiting for someone?
His eyes, dark ones, are certainly watchful. A grey plaid cap on his head; stained jeans, a dun-coloured bomber jacket. He keeps to the shadow, one hand in his pocket. The one moves now and then as if it reaches for a cigarette, fingers moving up to his mouth and then remembering that he'll only be smoking air.
Fish and chip smells in the air.
Thunderous sky above his head hides a goldens sunlight slowly growing red.
He looks at his watch, he glances down the road, focussing on the furtherest point, where roofs and lamp-post vanish overhill. He looks down again, kicking at a stone found near his feet.