The Haunted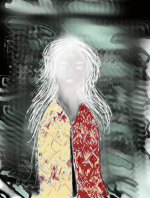 Sun, 20 May 2018
They avoid her.  It's everyone.  And avoidance is contagious; a new face learns quickly that it's supposed to turn away.  Words spread like wildfire, don't they, in a small town?
At first it could be put down to a profundity of grief.  That haunted look in her eyes.  What else should the world expect when someone so loved is taken away so suddenly, so horribly, so young?  Her pale skin and dead eyes were just the aftermath of tragedy.  Cowards, she thinks of them – then and now – cloaking their avoidance in excuses about giving her her own space, her time to grieve, her own counsel.
Never thinking she might want a friend, might want a support beam to hold her up, even a casserole – something she could eat at her lonely table, with a single light turned on and the curtains not drawn, the night staring in at her through the glass.
#
Maria was different.  She guesses maybe that was the thing.  Even growing up she was never quite one of them.  Born here, but not of here.  That's the closest she can come to thinking how it was.  Maybe too bookish, or just to outward-yearning.  There was no-one who'd have imagined her staying here in Lorresville, this dreamy, off-kilter girl who seemed itching to be seeing the world.
Until Brad.
He really had come strutting into town, all chest and finely styled hair, in a shiny new car, a leather jacket, with a challenging and disarming smile.  In this sleepy place, as rural as it comes, he was someone to be noticed.  Life being slow, newcomers not so common, speculation roamed the streets: was he running from the law?  Was there somebody maybe he was looking for, somebody he wanted to forget?
He told Maria: "None of it's complicated.  I figured out the life I wanted to live, and I came out here looking."
"And you found it?"
"I found you."
Such jealousy.  Because he was every other girl's fancy, her secret goal, her hope.  Enough of them launched themselves at him, but it was the odd girl, the funny one, the one who'd never fitted in, that he set his sights on.
Rumour had it that he'd come into some money.  Gambling money?  A lawsuit payoff?  Had he taken a bribe to cover some politician's dirty laundry?
"Just an inheritance," he told Maria gently, winding his arm up around her shoulders, pressing his cheek against hers, "But no sense, I guess, in ruining their fun.
#
They found his car after days of searching. It was at the bottom of a ravine, obscenely twisted.  They didn't want to tell her any more, but she found out, she listened to threads of gossip, to the silences between the words.  He'd tried to climb out of the car, he'd tried to fight his way through the window, in spite of two broken legs, bleeding, alone.  But the metal frame was wrapped around him, twisted into a prison.
There was no way.
And many hours passed.  Maybe half a day…
That prospect lives in her imagination.  His life's last chapter lived in agony, poisoned by desperation, by fear.  She wonders if he thought about her, if his last thoughts belonged to her, or if they belonged to encroaching darkness, heat, a burgeoning helplessness, to falling.
She dreams about him.
His voice plays about in her head.  Her secret, this: I want you to marry me.  Don't think about it, just say the first thing that comes into your head.  Will you?
#
She would have.  In her mind she lives as his widow.
She lives in a shrunken world, telling herself she's comfortable there.  Comfortable here, where his voice is, where his memory walks beside her wherever she goes.  She can feel him like a second skin, a second shadow she casts.  And at times she can see him, or at least she can catch a glimpse, can see that extra shadow when the sun is strong; or catch her reflection in a window as she walks past, and there he is walking alongside her.  Forever young.  Forever in his leather jacket, his red shirt, his faded jeans.
She might have believed it – that this was just the insanity of grief, the retreat of anyone so heartbroken, in such extravagant mourning.  Except that they see it as well.  She knows that his memory floats around her, that it haunts her in grey-scale glimpses, as shadows on her face.  That his image is seen beside her, behind her, within her; a true image, a human figure made out of dust and smoke that accompanies her through the streets.  His image imprinted on the walls of her house, imprinted again in her eyes.
Crazy Maria.  The woman who's all skin and bones, all sunken eyes, all silence.  There's an aura of darkness that goes everywhere with her.  There's a sadness that spills over from her into everyone she meets, into all that she touches.  Rumour has it in some circles that fruit and vegetables die in her hands.  And if that part isn't true, well the rest has more truth in it than lies.  He's there.  He's always.
Her Brad.  Her anchor.  Her chain.
#
"It's the dead lady," some children in the park say.
"Look at her face."
She knows what they see.  It's Brad's face mixed in with hers.  His all concocted out of shadows, superimposed on her own.  His incorporeal form laced throughout her own, arms and legs moving as hers do; or walking beside her, matching her step.
"Is that him?"
"Can you see him?"
"There.  Right behind her, there's his head."
"He's eating her alive, you know?"
"She gives me the creeps."
"Don't ever let her step on your shadow.  He can get you if that ever happens."
Turning her Brad into a monster.  Decades too young to have even known him, to have seen a man filled with life and colour, with energy and hunger for life.  The opposite of everything they see now.  She might turn her head to look at them – turn his head as well – and hear them gasp, see them run for the treeline.
#
But then, in the depth of the night, he'll see her light on.  The light she keeps lit for him.
Her cottage, out in the silence, far enough into the country to attract few eyes, a lack of questions.  Some might say she's become a witch, if they saw him, walking up to the house, so gloriously unchanged.  He stands at the door, knocks, waits for her to arrive, even knowing that the door is unlocked: he always awaits his invitation.  Some days he might have wildflowers to offer her, or an odd-looking stone he's picked up on his way over here.
She wonders at how he can look at her changed body, her wrinkles and frailty.  Does he not understand how many years have passed?
"I don't see that," he tells her, reaching for her, offering a kiss that seems as truly hungry as ever it had been, "I see the woman I fell in love with.  I see her golden hair, and how blue-green her eyes are.  There's nothing different."
"There's time.  Brad, it'll run out."
He shakes his head, wilfully ignorant.
"Look harder.  I'm not that girl anymore."
"You are to me."
She shouldn't – at her age – be melting into his arms like this, tumbling back into her youth, back into love with the man she should have married and lived her life with.  And yet, hasn't she? In this inexplicable way?  Tied to him all these years, and he to her?  A life that's been so otherwise unlived.
She wonders: what have you done to me?
And: what have I done to you?
But for one more night at least, she has all she could ever want.
#
In the morning her bed is empty.
In the morning some children throw stones at her letterbox and run away as fast as they can.
Picture credit/discredit: author's own work