The Hero Who Had To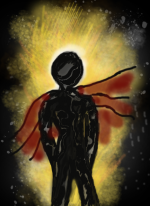 Sun, 16 Apr 2017
I've been called a hero before. Maybe you know me that way. But it wasn't what I signed up for, it wasn't part of my plans, I don't like it, I don't want it. It's just something I'm stuck with.
So here's how it all went down:
I was like any of you, a normal kid, living in a normal neighbourhood, playing ball, smoking pot (yes, sometimes, so sue me), chatting up girls. I was happy enough. Until one day, not long into adolescence: I was walking home from Josh's place, when I felt something inside me. I don't think words are going to cut it here, but my best shot: as if a giant magnet was just run over me, polarising my molecules, blasting an electric charge through everything, along the veins, into the bone marrow, singing away in my teeth. And then the heat started rising, beginning at my feet, filling up like a scalding magma bathtub. It should have hurt. But instead it felt... And it tasted... No, it's really not a word thing.
I had no control of course. The blast just came rocking out of me. All heatwaves and darkness. The bridge was right in front of me, and it came down in seconds. Broke off into chunks and dropped straight into the water.
#
Minutes later. And I don't know how many.
I was still there, clinging to some wall, retching, trembling. Staring at what I'd done. I heard the sirens – they were bladed, lacerating my eardrums – and all the screaming, the running, the people shouting out each other's names. You can't forget.
Strangers. Blurry figures.
"Hey, kid, are you okay?"
"... in shock..."
"...well, don't look at me, I don't know how to treat that...."
"...bloody ambulance... how long...?"
Nobody knew it was my fault. I mean who – who – was going to connect those dots?
#
I hoped. I just squeezed my fists together and shut my eyes and hoped it would never happen again. You see, I wanted my normal life. I wanted to keep going to school, playing soccer, waiting outside the ice-rink for Penny Lisbon to come walking past. I still pictured myself with a future: a successful accountant for some mega-company, an actor on the side, a bit of playboy – I was going to be out every night until 2am, and then bright and all suited-up the next morning in the boardroom by eight.
I had plans.
But then Jimmy Toft made a play for Penny.
We were all out at the beach, drinking, dancing – a few of the guys had taken girls off into the bushes - a bonfire was tossing sparks up into a starless sky. The music was cranked up as high as the generator could sustain, and I was in Penny's arms, gyrating to the beat, drowning in her grin, floating on a sea of whiskey and arousal.
Jimmy thought he'd cut in.
"This one's taken," I said.
"Uh-uh, buddy, share and share alike."
"Take it elsewhere."
One stab of his finger into my chest. Eyes right up into mine. "I said, I was cutting in."
"And I said..." I felt the heat, it rose quickly this time, like a sacuepan of fudge boiling over. I had a couple of seconds to figure out what to do with it, to do something other than incinerate Jimmy. I dropped to the ground, drove my fist into the sand, set off a shockwave, a quake, sent a wave of loose sand out from where I was kneeling, knocked everybody flat with the strength of it. Deafened some kids with a hard-edged thunderclap; burnt the soles of a few feet.
Well, at least I didn't kill anybody.
But nobody would be coming to any of my birthday parties again after that.
#
Now, look: I did the right thing.
Given what I had, what a mess it could make of things. I fled. I caught a plane to the most remote, inconspicuous, uninhabited, unpronounceable location I could find on the map. I set myself up there, and to be honest, for the first few days I sat on the ground and cried. I just dumped my head on my knees and sobbed continuously until I wore myself out with it. Life may not be fair, but this just took the cake.
I texted Penny: sorry about the other night.
Where r u?
I gave it my best shot.
Where?
A second attempt, different spelling.
????
Doesn't matter. I can't come back now.
But soon, right?
No. Never.
Jimmy started it.
Jimmy started it! I can't make sense of regular people. I'm at a loss. I'm the epicentre of a superheated earthquake, I planted that thing in the ground, made the sand sizzle, and: "Jimmy started it!" Girls, right?
I miss u, she texted.
I miss you too. And the tears came all over again.
#
I did what I could to explore my powers. Once I'd built myself a lean-to hut, once I'd roofed it and dug a long-drop a little way away. I discovered a whole host of things I could do. I studied them, I
honed them, I tried to get control.
I felt like I was getting somewhere.
Until that boar charged me.
I acted on instinct. The boar was burnt to hard, charred bones. And that's after being ripped apart, turned inside out. The trees all around it ignited. Fire spread like... well... God only knows how many hectares of prime, endangered rainforest went up in that moment.
I was okay.
But I thought about hikers, native tribes, archaeologists, hippies...
I dreamed that night about a carpet of monarch butterflies all going up in flame.
#
After that, I flew to the moon.
Yeah, turns out flying is one of those powers. And not needing to eat. Or breath. Or particularly feeling the cold.
I didn't know that on the way up there. On the way up there I was out of my mind, hopes dashed, life stretching out before me in misery. I didn't care what might happen when I got there – green cheese for all I cared. I landed in a crater, buried my face in my arms, curled up like a foetus and basically went completely mad.
Someone like me, going off the deep end: that is not pretty. I felt as if I'd done the last good thing I could, getting out of their way, getting clear of people and animals and living things, before I let myself go. There were flares that could be seen from earth, bursts of light, eruptions of rubble that turned red, dissipated in sparks. I huddled there and lashed out with my powers, turned them against every offensive, insensitive lump of moon rock that dared to look at me funny.
But at least I wasn't hurting anyone.
I could sit here, looking down at the earth, wrapped up in its beauty, knowing that I wasn't doing damage to it, that it ticked along in the best approximation it could make of peace. I'd spared it my tantrum. I'd done that much.
But I was dangerous. And I resigned myself to the fact that this was going to have to be permanent. I was just not safe to be around. I consoled myself with the stars, with their timelessness and stillness, with the vastness of the universe. I watched sunsets and sunrises from space, I watched weather patterns float across the earth, saw cities the size of a grain or two of sand, familiarised myself with coastlines and natural wonders: all rendered as still as a painting by distance. I made peace with myself, and slotted into the universe as best I could.
I was, in a way, almost content.
Until the aliens showed up.
#
From my vantage point I was one of the first to see them. Their ships slid into place orbiting the earth, and I watched as they donned their full, terrifying arsenal. This was going to be a bloodbath. And I was just simmering with rage.
I let that first ship have it. I went careening into it, blood boiling, wrapping them up in an explosion that turned the night sky scarlet.
But that was only one ship of many. As the shooting started, I realised that earth would need my help. That's why I flew down there, crashed an urgent meeting of the UN General Assembly and basically offered myself up as a weapon.
The war was long and hard. The aliens were tough. So was I. We fought each other to exhaustion. We lit up the night sky. We disrupted communications. Set Mercury a little off-course in its orbit. Sent a Martian ice-cap hurtling off into space.
At the end of it our truce was grudging. There was hate and bitterness on all sides. No way around that, I guess. And they left – not exactly with their tails between their legs, but with the agreement that we'd never set eyes on each other again. These aliens: strangely animalistic, covered in sleek fur, long faced, with dull grey eyes, knotting little beards coming off their almost wolf-like snouts. Big, bony shoulders. Ugly, splayed teeth. Two tails, in fact, the upper one ending in series of deadly looking spikes.
Maybe, a million years from now, who knows...
But in the meantime, I'm a hero. That's how the media branded me. It's the way people wanted to see me. And yes, I did revel in the confetti, in the parades, in getting to come down to earth and check my text messages, the bombardment of sponsorship deals. The vindication.
The years had only done good things for Penny Lisbon. She fought her way to the front of the crowd, and she threw herself into my arms. I was catapulted back a good ten years, back to a night on a beach when I'd been as captivated by her grin as I was now.
"Don't you ever leave me again," she said.
#
And I tell you, it's not an easy alliance I've made with my powers.
It's a precarious détente.
In the back of my mind I know things could go bad. I feel it filling me. There's no question of not using it. I wield it or it's going to wield me.
I see the bank robbers stop on the steps, guns in hand, contents of safes and tills all stuffed into packs on their backs. I'm floating in the air and I'm blazing, I'm bursting with light – a grenade at the moment of explosion. They know what I could do to them, but I channel my energy into the stone, knocking them flat, sending dust and rubble cluttering around them, while everybody else just steers well clear.
And some say all this makes me a hero. I'm not sure I can agree. Because I don't have that much of a choice about it. The power needs to be used. At best, I can control its direction. Maybe only until I can't. Until the moon beckons.
So don't call me a hero. Stop offering me those book deals.
I'm really only doing what I have to do.