The House that Jill Built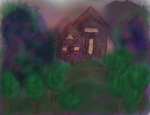 Sat, 09 Mar 2019
She chose this site because it reminded her of her first memory. A different place, an altogether further and older and more inauspicious place, since it was the one her father had left from only a few years after that memory. A memory of sitting out on the back porch, playing with a toy train and with some building blocks. The memory of wildflowers – weeds really – dotting a runaway lawn, dandelions and big daises and thistles and little skinny white things whose name had long slipped through her memory. Her mother coming outside, humming a tune, carrying a glass of that tangy lemonade she used to make back in those faded, edge-blurred days.
Gillian Ramsay chose this site because of the tall pines that stood at the back of it, because of the hardy grasses, and the feral flowers growing all over, because of the tree stump all covered in moss and mushrooms, the little stream down the bottom, the lightning patterned rocks that overhung that stream. She'd been told it was a little bit out of the way, and they hadn't been lying – a 45 minute drive, and then a 10 minute walk. But then: standing in the shade of the pines, looking out over a blue-green view of a deep, verdant valley.
Sights and smells of home.
She went back to the real estate agent that afternoon and said that she wanted to take it.  She had the papers signed before sunset.
#
Sunsets over the city had always been different. Saffron mixed with coffee, mixed with the colours of street lamps as they winked on all at once. Sitting on the balcony there and drinking wine and watching the colours change. That was something she remembered from Dion.  He'd always kept that time of day, a gift to himself, a time to be treasured and drawn out, to be sunk into, luxuriated in. And he shared that time with her, it was the moment she was sure he had given her the key to his heart.
#
Well that key no longer worked.
Those locks had been changed.
Gillian didn't want to go back to the apartment. But she'd agreed.  And they'd been keeping all of this just so very civil. No point in ruining that now.  So she pulled her hair back into a ponytail, took a deep breath, and walked into the building. The wait for the lift felt long, and upwards felt even longer. She fumbled with her key in the lock, and found him already up there and waiting for her.
"I've made a start," he said, gesturing at the stacks and boxes.
"Oh.  Good." She didn't know what she should say to him.
"Over by the west wall for your stuff, the east wall for mine.  There's some stuff I wasn't sure about so I just sorta left it in the middle."
So organised. Always so organised.  "Fair enough," she said.
"We should take a look."
Old furniture, a stack of books, a few dvds.  This is porn, she thought, what makes you think for half a second that it wouldn't be yours?  Funny, the things that've been in your life for so many years that you don't know where they came from or who originally brought them in. His?  Hers?  It was all too long ago. And these things they'd bought together, which were impractical to saw in half. Packets of old dried pasta, rice, that little footstool they'd got as a present. The painting from the little antique store they'd come across on holiday.
She gestured with her hands, tossing them up in the air: "Take anything you want.  It's all as much yours as mine."
"I only want the painting."
"I don't want anything except these books."
"I'll take the good stuff down the Salvation Army. Can you hire a skip for the rest?"
She nodded.  "Sure.  I've got a guy coming to put my stuff into storage."
"Alex and me, we'll come back tomorrow and take mine to the new place."
What's it like? She wanted to ask that. Is it weird and lonely not being here, and not having me sitting in the chair beside you?  She buried the thought, she just nodded, keeping things polite: "We're all set then."
He nodded, "All set."
#
She drove too fast heading back out to the section. It was hard, but she made herself slow down. When her eyes started running with tears she pulled over by the side of the road and rested her forehead on the steering wheel and cried for a good ten minutes.
It'd been over for nearly a year before it was over.  But that had been different, there'd been a sad, parched holding pattern that'd brought no joy to either of them, but it'd been safe and familiar; that could have gone on for years longer if they'd let it.  This was raw and real, scary, there was no ground under her feet.
She ate crepes and drank coffee at a roadside diner.
She reached her new home – minus the home – at sunset.
Gillian sat in the car and watched the colours change.  It was a sharper, cleaner sunset, and yet there were familiar points along the horizon.  I'm looking in the same direction, she realised, and curled up in the front seat of her car to sleep.
#
In the morning she went drove down into town.  It was a small town, numbering perhaps a couple of thousand people, and had the deserted feeling of having once been bigger. Something about a railway station that closed about a decade ago.
She'd ordered the big stuff, but she'd still need some building materials. And some assistance.  So she made the hardware store her first stop.
The round, middle-aged man with the thick grey moustache looked so much like he belonged here that Gillian almost turned around and left. Stupid, she told herself, but his belonging seemed to underscore a feeling she had that she might not, and that she might never, and that she might have done a ridiculous thing for no good reason, but had already signed the paperwork and couldn't turn back now.
"I'm building a house," she explained.
"You bought that old section, just past the McGregor place.  The one off Golding Road."
"News travels fast in a small town, right?"
"When you're the estate agent's brother it does."
"Oh.  Well, I'm Gillian, and it's nice to meet you."
"Roger.  Likewise.  It's a big job for one little lady, if you won't take offence."
Well, she borderline would, but she wasn't going to show it – if she could be so charmingly civil to Dion she could manage the same for her new neighbours.  She said, "Well, I'm hoping not to be doing it entirely on my own. On that subject: where would I find me some potential building labourers?"
#
Well, that's how she ended up at the local.
It was a woody, old-style pub, with men already lounging, playing darts, drinking a beer.  Most of them were too old to offer much in the way of building labour – although they had a plethora of advice – but they were quick to offer up their nephews and grandsons.
No granddaughters.
She decided not to remark on that.
And she wouldn't remark on those doubts in their eyes either: what's a woman doing overseeing a house-building? Men's work. Three generations of change, but we know what we grow up with, and it sticks.
And Gillian had grown up with her uncle, the father she'd been denied, or as close as she could come to it.  When her dad had gone, things had been tense and dramatic, her mother struggling to cope with this sudden change in her life. He'd been her world. She'd been lost in this new one where he wasn't with her. And Gillian had learned – though she'd been too young to put words to it: never love this much, this is dangerous and dumbing, it makes you weak, it makes you dependent. Keep that bit of yourself always to yourself, always ready. So that had maybe been the problem with her and Dion – this part of herself that she didn't let him have – her need, which she never let bloom.
Her Uncle Harry had been her dad's brother.  It was odd in a way that he should be the one to come to the rescue; but he had. A builder by trade, and he'd let her work with him, since she'd been small, because she was lonely and confused and it got her out of the house. Over a decade or so she'd learnt at his side, she'd been something like an apprentice, she'd spent her early twenties working on building sites, before something inside her had bowed and accepted more traditional work, and she'd met Dion, and that's how things had worked out. But the building sites were still there in her memories, still redolent of happier times, of the affection showed by an uncle that should have been showed by a father, the stability that a mother should have offered but right then in that moment, just couldn't.
So she said to these set-in-their-ways old men, "I'm here to build a house, and the more the merrier." She offered good pay, and so the nephews and grandsons gathered quickly.
It looks like we have ourselves a convoy, Gillian thought as she slid into her car, and the whole mottled collection of them headed up the section.
#
It was fun.  Building this house.
It'd started with the digging of foundations, with the carving out of a driveway and a garden path.  And then the concrete truck, and the stacks of long wooden planks. Gillian was in her element.  She'd been afraid she might not be, but she was.  She remembered everything.  She took the plans up in her hands and started giving orders.  She felt as if she'd been born for this. The men started out with perplexed faces, but a few of them knew what they were doing, and once they came to realise that she did too, they swarmed the site eagerly, working from sun to sun, taking their pay home, but not until they'd all sat well into the evening, drinking beers, talking, laying back in the grass.  She felt like a kid. And she felt like a local.
Within about a week, a couple of nieces of and granddaughters had joined the team. Some of their brothers and uncles cast doubting glances, but Gillian wasn't having that. They were welcome here, they'd be paid the same, and everybody would help out.
One of the girls was a curly-haired lass who couldn't be older than her early twenties.  She looked in every way not what you'd expect of a builder: her soft, expansive curls, her slightly crooked teeth, the glasses she wore. She looked as if she should be the town's library assistant.
"I don't think so!" She took the beer Gillian offered her as she came to sit down beside her one evening.
"Not a reader?" Gillian squatted next to her.
"I read. But I don't think I could spend that much time indoors, or quiet."
"I'm sorry. I don't recall your name."
"You are at a numerical disadvantage. I'm Tasha."
"Hey.  I'm just glad to have you here on the team, you know.  You and that other girl, the blonde, is it… Sonya?"
"Very good."
"I can't be the only chick who grew up around building sites."
"You live in the country now.  It's different."
"I've never done it before, you know.  Lived in a small town. I'm a city girl."
"But something brings you here."
"I call it running away."
"Oh." And after a moment of seeming to consider it: "What's his name?"
"Dion."
"And what are you going to do here?"
It felt strange, putting it into words, here and now.  "I'm going to open up a shop, or a studio or something. I've been a graphic artist, but I'm going to be painter now. Or if that doesn't work, I'll freelance online. I'm not sure if this is me reinventing myself or me just putting my head in the sand for a while, but here I am."
Tasha raised the beer bottle, "And here's to reinvention."
Gillian decided.  She wasn't quite sure what did it for her, and maybe the five beers she'd had already tonight played a part, but she looked into Tasha's eyes and felt convinced she saw decency. She said, "When this place is finished it's going to have two bedrooms, I've been thinking I might take in a border. If you're interested…"
#
Gillian's house was finished in three weeks.  It was rustic and charming, but at the same time it big windows and double glazing, and a solar panel on the roof. The section was still wild with weeds and grasses, and for now that suited her just fine.  Some gardening could come later. Maybe.  Her porch wrapped around half the house, and she'd bought some old second-hand couches to drag up there. All these new friends and distant neighbours, with crates of beer and house-warming gifts were all lounging around while she cooked sausages with Tasha's help, and then they were all enjoying the moonlight, listening to the night's sounds, laughing together as it darkened to an almost pitch black. A deep darkness like you would never, never get in the city.
She pulled a crochet rug over herself and Tasha, she laid her head back on the cushion behind her. Inexplicably, randomly, she'd somehow come home here.
#
A couple of years later Dion visited her. His hair had grown out a bit longer, and he was dressed in a new, red bomber jacket. Had he put a little weight on? Maybe. But there was no denying he still looked good.
And did she? Gillian: standing in the garden in soft faded jeans, with a loose, torn lacy shirt overtop, her hair hanging loose and wild.  She wanted to think she did, she wanted him to take a breath, get an almighty erection, think to himself: how did I ever lose a woman like that? What was I even thinking?
He kept any thoughts like those to himself. But he carried a rug as a housewarming gift and he kissed her on the cheek, shook hands with Tasha. Handed over a bottle of expensive wine – the kind you wouldn't find in the liquor store hereabouts.
They walked in the garden. He said, "You look good."
"You too."
"Hey, I'm sorry I didn't keep in touch. You know…"
"I know." And she thought: we should have yelled and screamed at each other. We should have done it properly, let it all out at the time.
"But I have thought about you, time to time."
"Sure. Ditto." I'm doing it again, aren't I?
"I thought I should come. I don't know if there are bridges to mend…"
"There's not." Trying not to be my mother.
"And I wanted to say this in person."
"Yes?"
"I'm engaged. It's just happened. Three nights ago."
The obvious words: "Congratulations."
"Listen, I hope this doesn't hurt. I didn't intend this to hurt you. But I felt like you should encounter this other than through the grapevine. And I did want to see you again. See that you were okay."
She spread her arms out. "Well, you can see."
He nodded, taking in something that he found significant.  "Yes.  I really can."
She said, "Is she nice?"
"Yeah."
"Does she eat weird Asian food that freaks you out?"
He shook his head, "Only you do that."
"And does she make lemonade like Mum used to do it?"
"That's not really her thing. But she's sweet. She's as gentle as a lamb. Don't take this the wrong way, but I am in love."
Gillian laughed out loud: "Well, I should bloody well hope so!"
"I was. With you as well. But that was then, and we've both gone forward."
She put her hand on his arm: "We've done good. Both of us."
He grinned at last.  "Yeah we have."
They enjoyed the sunset on her porch. And she thought how odd it was that they couldn't have made each other happy, though they cared for each other so much and still did. Odd that there should have been so much love, and nothing wrong with either of them in particular, and yet it had faded, soured, bleached of its own accord. Even while they were both still the same people, even while it felt good to have him sitting beside her right now.
But they belonged in different life patterns. And that was just what was.
Gillian raised a bottle to bright futures.
Dion leaned back, he said: "The sunset.  It's just amazing out here, isn't it?"
Picture credit/discredit: author's own work