Just Past Three in the Morning (12)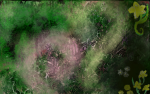 Sun, 08 May 2016
He walked home, thinking about Heather.
He didn't know why he was doing that. It wasn't as if he was trying to get her into bed or anything – although if she'd jumped on top of him, stripping off and going for his crotch... well, sure... But he hadn't been pursuing her. Things had just flowed, one moment to another to another. She was sexy, but she was easy to talk to – they were becoming friends.
And that: that was simple enough. He could work with it. There might be moments when he had to keep his mind from going in directions it shouldn't, but he was pretty sure he was old enough to handle that.
And big dreams?
Had life really gotten in the way? Had he fallen into that trap that so many people fall into of just living day to day, following a path of least resistance, doing what comes up? When had he last set off boldly in his own direction, deliberately, with purpose and promise?
No. This doesn't count. He was crossing the road, deliberately setting his feet along Beauland Road. A way he hardly ever walked. This time of year, even in the dark, there were woody lines of blossoms, alternating pinks and whites; there were daffodils huddled around the trunks of these trees, daisies and dandelions thick amongst the grass. A light drizzle was just starting to fall, and it caught the street lights, diffused the light into a soft, savoury mist. Up above him the big trees spread their arms, feathered with dark, sheltering leaves. Pools of light revealed a root-broken path.
Better, he thought, breathing in the quiet, damp air. He could feel his mind settling down, feeling at one, at peace, with nature. Feeling time stretch out, flow away from him in all directions. Remembering his childhood at the same moment as he imagined his old age.
He came out onto Arbidge Street, crossed the road and headed down. He planned in his head where to get wood, paint, nails; how best to construct a new railing for Heather's back porch. There were a few other things he could maybe put some work into...
He was surprised when the face came suddenly up in his – no more than an inch away. The man was about thirty, his hair and beard overgrown beneath a hood that left his face a guesswork of shadows. That's why he'd be hard pushed later on to describe the man, to match him to any photo or sketch. Because in truth he wasn't even really a face – a shape, with part of a face, with edges that could be made into a face shape because you knew what was meant to be there. The guy wore a loose jacket, torn at one sleeve; the nearest street light painted a nasty glint in his eye.
Pigsy didn't understand right away. Despite the doubling of his heart rate. He just tried to step to one side "Sorry, mate." He hadn't been paying attention to where he was going.
The man grabbed his collar.
From behind him, someone else.
A gang?
The first man seemed to magic a knife out of thin air. It was simply sitting there in his hand, where a second ago it hadn't been. It was big and sturdy, curved, gleaming a nice sharp edge.
Shit. It didn't seem like the sort of thing that could be really happening.
The guy said, "Wallet."
"Uh-"
"Do it."
"Okay." It was hard to make himself speak, hard to keep his head from spinning too fast to even think. He reached into his jacket, took the wallet out slowly: "It's here, okay."
"Give it here."
"I don't want any trouble."
The man shoved him a step or so backwards. The hard lump he staggered into was the guy's accomplice. And the first guy advanced again, knife still in hand.
"That's all I've got."
"Smokes?"
"I don't... sorry..."
"Don't you look at me like that, you hear? Keep your eyes down."
He did.
The knife found its way close to his chin. The edge felt sharp, almost itchy. His instinct to shy away came too quickly to restrain. Just don't provoke them. Just let them bugger off.
The guy behind him was laughing, and that made the other one start as well. When he laughed he showed a mouth with teeth missing, with teeth sideways, a tongue ragged and scarred with some long-healed injury or surgery. His laughter made him seem feral – there was a predatory undertone. His companion shoved Pigsy forwards, grazing him with the knife's edge. The first guy pushed him back again. More laughter, longer.
"Do it!" The back one hissed.
Should he run? Was he actually going to get knifed in the gut if he didn't? He scanned the road for any sign of help or easy escape. Nothing. And the blade suddenly back up there in his face. Pigsy flinched; he didn't choose any words, the half-plea, half-whimper: "Don't. Please." It just escaped him, found it's own way through his teeth.
It should have been clearer, what happened next; it shouldn't have seemed jumbled and out of context. One moment something thudding against the back of his head, the next moment lying on the ground. Being kicked? Maybe being kicked – the ground as hard as the boots. His knee being stomped on. Two figures running away through the bushes.
I'm done with sharp objects for the night.
Well, not so much.
And were they gone? He was sure they'd stopped kicking him – what he felt was just the residual shock, and the memory, and the bruising. Right? Pigsy sat up slowly, half afraid of being kicked down again. Gone, right? He was pretty sure. He sat with his arms around his knees, getting his balance back, his sense of what had just happened.
Just got robbed. And mugged. And beaten up.
The kind of thing that happened to other people, that you read about in the paper, felt vaguely sorry for the victim, and went on with your day like it was nothing. They could have killed me if they'd wanted to. Those hissed, buoyed words, the excitement in that voice: Do it! As if that faceless thing behind him had meant exactly what he said.
He felt as if he didn't know what he should do. Even though it was obvious. Stand. Walk. Hospital. Police station. Sensible steps. He just had to somehow propel himself forward, make the first one happen.
It was just at that moment – that moment – that he received a text. He didn't even read it intentionally, just held the phone in his hand, seeing it. Seeing the name: Heidi. And the message: Hi. It's been far too long. I'd like to catch up with you.